Uproar over party registration details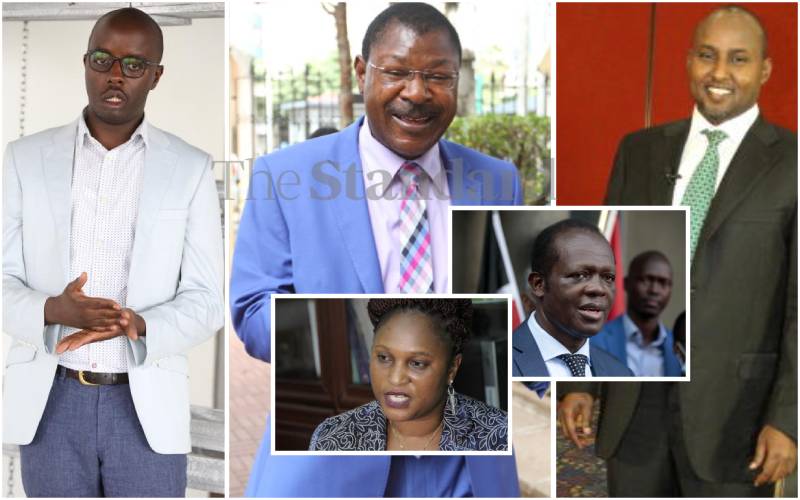 Opposition leader Raila Odinga's son, Raila Junior, and Ford Kenya leader Moses Wetang'ula yesterday joined a growing list of Kenyans protesting their registration as members of political parties without their knowledge.
Raila Jr protested the fact that the State's eCitizen platform had him listed as a member of Musalia Mudavadi's Amani National Congress (ANC) and not his father's Orange Democratic Movement (ODM) as would be expected.
"Aiy! What is happening here?" he posted on Twitter, evidently surprised at the revelation.
While many in Raila Jr's position raged at similar discoveries, his sister, Winnie Odinga, spotted a chance to jest.
"I always knew you were a mole," Winnie responded to her brother's post.
Wetang'ula lamented that some of his Ford-Kenya party members were registered in other parties without their knowledge, saying they would protest officially to the Office of the Registrar of Political Parties.
"We have received many calls from our members wondering how they became members of other parties," said Wetang'ula.
A perusal of social media shows that the situation may not be unique to Wetangula's party.
"I just registered to a political party last month, sadly the eCitizen has me in a different one," stated Kiplang'at Mosh, a Kenyan on Twitter.
For the second day, Kenyans took to social media yesterday to express their dismay at revelations that they were members of certain parties despite retaining no memory of when they registered with them, 13 months to the General Election.
Among those who found themselves enlisted in a party is civil society activist John Githongo.
"Well well... I just learnt from the ORPP that I joined the Roots Party of Kenya in 2011," said Githongo.
The Political Parties Act outlaws involuntary registration of members of political parties as is seemingly the case with the new revelations.
In a suspect process laden with discrepancies, some Kenyans reported to have been listed as members of President Uhuru Kenyatta's Jubilee Party as early as 2008, years before the party was formed.
Many registered in Mudavadi's party had no details of when they registered into the party.
Information, Communication and Technology Cabinet Secretary Joe Mucheru yesterday said Kenyans might have registered unknowingly into the respective political parties.
"Don't people forget that they signed up using USSD or even SMS and there are records? That said, it should be lauded that we have provided people the transparency and access to information," said Mucheru.
The ORPP yesterday said their office would take appropriate measures in cases involving involuntary memberships. Ms Anne Nderitu, the Registrar of Political Parties, had said that her body was running a pilot project that would help Kenyans arrest some anomalies in their registration status.
"It seems everybody is on eCitizen platform checking which party they belong. The question is: Where did these parties get the data of Kenyans to register them as party members?" posed Paul Otieno Onyango, on social media.
Nderitu, however, said her office is simply a custodian of the information.
"As an office, we do not conduct registration of members for political parties, we are just custodians of their registers and therefore the data in these registers purely belongs to individual political parties," Ms Nderitu told The Sunday Standard.
She further said her office would engage political parties to address the issues identified.
"We welcome feedback from Kenyans. This is in order to help in addressing anomalies when done with the pilot process," she added.
However, the process through which one could resign as a member of a political party is long.
"Send a written notice addressed to the political party and addressed and copied to the Registrar of Political Parties," ORPP said adding the notice shall be accompanied by a copy of an identity card and a passport delivered at the ORPP offices or emailed.
"It is as if the process to get yourself de-registered from those political parties has been intentionally made hard so you give up and remain fictitiously registered," lamented George Murage, a Kenyan on Twitter.
Mudavadi yesterday told The Sunday Standard that his party had been affected, adding that the matter cut across all political parties.
"Some of our national and branch officials - like Issa Timamy (former Lamu governor) have found themselves in smaller parties," said Mudavadi.
Jubilee Party secretary-general Raphael Tuju said the anomalies might be a way through which "small parties" acquire the required threshold fraudulently.
National Assembly's minority whip Junet Mohamed said the issue is perennial and needs to be addressed before the 2022 General Election given its possible implications on prospective candidates.
"Imagine someone presenting their papers to vie in one political party and they are told they belong to a different party. It is a very risky affair," said Junet, who is ODM's director of elections.
[Additional reporting by Patrick Amimo and Sophia Wanuna]