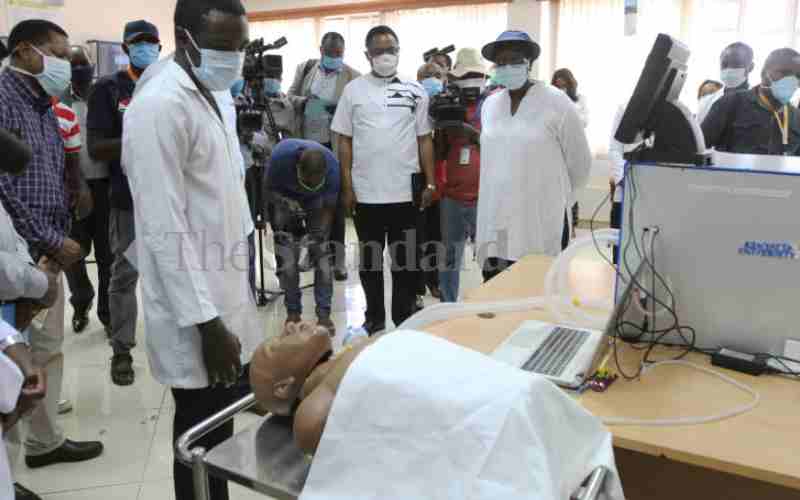 One of the key drivers of economic growth and development is the quality of a country's human capital. The attribute of quality of education goes beyond mere certification. It extends to the ability of the trainees to apply the knowledge acquired to offer simple and practical solutions to societal problems.
The knowledge that drives socio-economic development is not, however, limited to formal education. It also includes experiential learning in industries, workplaces, and indigenous knowledge.
The best-performing nations on key economic parameters have advanced linkages with industry. They also have elaborate structures to integrate indigenous knowledge into economic productivity and to respond to social problems in society.
China has developed a complex health management system that integrates English and indigenous Chinese medicine, cultural beliefs and value systems and physical exercise. The Chinese also strong linkages among institutions of higher learning, industries, township and village enterprises that connect them to the lowest levels of production.
In Germany and other European countries, enrolling in doctoral programmes often requires prospective candidates to find academic sponsors from a publicly available database.
Such a system provides a seamless interface among academia, industry, and practice. This probably explains why most of these countries consistently dominate the top ten positions in the list of international patent applications.
In 2020, evidence from statistica.com indicates that China submitted the highest patent applications at 68,720, followed by the US with 59,230, Japan 50,230, and South Korea 20,260.
The other six countries in the top 10 were all from Europe: Germany 18,643, France 7,904, UK 5,912, Switzerland 4,883, Sweden 4,356 and the Netherlands 4,035. Different political regimes in the country have prioritised different levels in the hierarchy of formal learning. The Moi regime seems to have leaned on basic education (primary and secondary) by the count and naming of these institutions.
The Kibaki government took a bold step to re-introduce free primary education in January 2003 after the disruptions of cost-sharing system under the Structural Adjustment Programme of 1980s.
However, President Kibaki set the precedent in the promotion of access to University education. Data from the most recent Commission for University Education (CUE) report for 2017-2018 shows that the number of universities and constituent colleges increased from two (the University of Nairobi and USIU) in the early 1970s to 33 universities (seven public and 26 private) and 24 constituent colleges in 2012.
CUE 2016 report shows university enrollment grew from 3,000 in the 1970s to 20,000 in 1989/90 fiscal year. This number rose to 67,558 in 2003/04 fiscal year, 240,551 in 2012 and 470,152 in 2015.
The academic staff numbers have equally grown, but it is doubtful whether they have expanded in similar proportions.
The 2019 National Census indicates that at least 17.8 million people were enrolled into learning institutions. Of this, about 10 million were enrolled in primary, 3.4 million in secondary and 3.3 million at pre-primary levels. The middle level/technical colleges had 500,000. At least 11.7 million left on completion, 6.9 million dropped out and 7.1 million have never been to school.
Economic implications
It is evident that access to education has phenomenally increased since the 1970s. This then leads us to the next question of quality.
By its nature, the impact of education at the micro and macroeconomic levels can take a long period to observe.
Further, there would be several intervening variables that can affect the intended outcomes of public and private investments in education. But the more complex problem is to establish a causal relationship between such investments and establish reliable indicators.
In general terms, higher levels of education are expected to result into higher levels of household incomes and higher productivity of labour.
Further, it improves uptake of safer health management practices and even affects the average size of families and hence population growth rate.
At the industry level, high-quality education would be expected to manifest itself through innovations around value addition, design and commercialisation of more effective and efficient systems.
Others would include better equipment, harnessing and improvement of indigenous industrial solutions and normalisation of creative destruction practices within the economy.
The framers of Vision 2030 had envisioned that education shall be a critical enabler towards the realisation of a middle-income country status. That would probably explain why the Kibaki regime went on overdrive to improve access to higher education. However, this strategy may have missed on the critical element of the quality and its interface with the productive side of the economy.
It is widely and consistently acknowledged through several public surveys that there is a disconnect between what is taught in our learning institutions and the industry demands. Besides, Auditor General reports have consistently shown almost all public universities as technically insolvent. It is an indictment on the capacity of our institutions of higher learning to offer quality when they become a target for externally driven conditionalities for national loans.
The impact of investments in education is transmitted into the economic system by creating a "competence skill set" of professionals to drive the various sectors of the economy. It is about time our own engineers build our roads, our pharmacist drove research in medicine for the local economy and institutionalise indigenous alternative medicine, and our economists offered credible, reliable and objective evidence to inform policy and budgets.
At policy level, we must demand our agriculturists, biologist and chemists find practical solutions to crop and livestock diseases and support farmers to enhance productivity. Our accountants and auditors must champion true openness in public spending. The bankers must drive innovations to cost-effectively link savers and economic units seeking capital as opposed to collusion to secure their profitability base.
Policy shift
For us to realise this, it demands that our higher education policy shifts from preoccupation with mere access and certification to a holistic industry-linked learning system. In functional economies, universities drive research, creativity and inspire best industry practices. It is unimaginable how ours can achieve this when they are struggling to pay basic salaries and statutory deductions.
Finally, it is time that somebody reminded our top professors and university councils that enrollment numbers don't drive sustainable revenue base. Great universities position themselves as the indispensable voice of reason in public policy, the undeniable creators of innovation and human capital for industry, and the true custodians of indigenous customs and traditions of the communities that they serve.
A sustainable financial endowment is then the inevitable consequence of a mandate faithfully executed for the benefit of the economy and society.