Chris Kirubi wanted to employ as many people as possible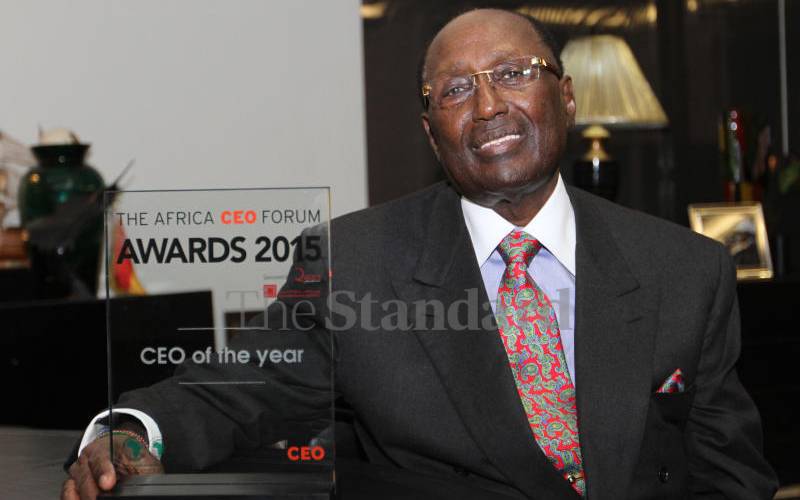 There were many things Dr Chris Kirubi was passionate about and top of the list was people.
During a prayer service on Wednesday, friends and family of the late business mogul described him as a people's person who always ensured his employees and those around him always had something to smile about.
"He believed in people and believed in giving them second chances. He believed that if an employee failed in his job, then it's because we have not provided adequate leadership," said Carol Muchiri, one of the employees at International House Ltd.
Head of finance at International House, Mercy Mwangi described a kind and caring side of Kirubi which sort to ensure that his employees' problems were his problems.
Mwangi remembers the chairman as someone who would call her requesting that she puts together funds to help an employee who had a family member in the hospital.
For a man who had business interests spanning across the manufacturing, media, real estate, insurance and investment sectors, Dr Kirubi's journey started from humble beginnings in a small rented space in what was called Queens Way Development Cooperation later known as International House.
Employed in 1983, Aisha Hussein is one of the oldest employees to have worked with Dr Kirubi in what was called Kiruma international company limited.
"When we started, we were very few people in a small office. Only three people. Dr Kirubi, myself and a messenger but even then the office was exquisitely furnished just like Kirubi," remembers Aisha, Kirubi's Executive Assistant.
It was in 1985 that an altercation between Kiruma International and the landlords over delay in unpaid rent led the owners of the building to threaten to switch off the power supply.
When Kirubi arrived in the office from a business meeting, the news of the landlord made him commit that they will come to own the entire building and cease being tenants.
"One day, we will own this building," Aisha remembers Kirubi's words more than three decades ago.
"He was talking about plans that were already underway and in September 1985, we were not tenants at Queens Way Development Cooperation. We took the building renamed it International House and the company formed was called international house Ltd and the journey started there," said Mwanaisha.
Like a fictional story from a movie, the man with only two employees would grow to become one of Kenya's richest businessmen with employees in the thousands.
Also at the prayer service, Professor Magaret Kobia described Dr Kirubi as a man who was committed to solving the unemployment problem and focused on ensuring as many people are employed
"In the year 2019, he offered almost 1200 National Youth Service recruits to his companies. For us, that really touched me and in that process of recruitment, when he stood and talked to them he brought energy and gave them a positive outlook in life," said Prof Kobia.
Describing him as a business-savvy person who always ensured his money served value, Nairobi Senator Johnson Sakaja humorously remembers how he went to Dr Kirubi for a Sh50,000 favour and was surprised he ended up paying for it in different ways.
Sakaja: When I heard the news of his death I was sad but more than sad I was shocked that he was 80. He was full of life.
"Although I was able to squeeze something from Chris. He got more away from me from that Sh50,000 cheque he gave. This was a true businessman. Before I got that cheque, the things I had done for him, was worth half a million," jokingly stated the senator.
Sakaja described the late Kirubi as a man "full of life" something that was echoed by all in the prayer service.
"Many times he was concerned about what happens in this city. He represented a lot of things, not just business and the industry," stated Sakaja.
Dr Kirubi died on Monday from what his family described as "a long illness bravely borne."
His funeral service will be held at Faith Evangelistic Ministry (FEM) church in Karen, Nairobi on Friday, June 18 from 11 am.
The Burial service will also be held at 11am at his farm in Thika on Saturday, June 19.