Calls for counselling of families, victims in missing child cases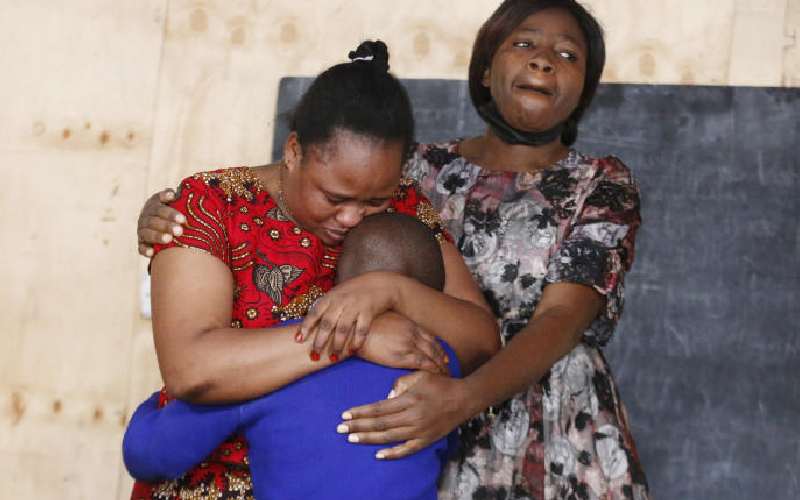 Take a moment and think about how many missing child posters you see daily on social media.
According to Maryanna Munyendo, Founder and Executive Director of Missing Child Kenya, when a child goes missing, every second counts. The biggest fear, for parents and authorities, is always that the child might be defiled, murdered, or both.
A report by the organisation shows that at least 242 children were reported missing between January and December last year. Out of these, 131 were reunited with their families, 10 found dead while 85 are still missing. The rest were 'lost and found'; under the custody of authorities, but are yet to be reunited with their families.
Any family can lose a child. However, in most cases, the families do not get the support that is needed, or when a child is found, they do not get counselling.
Uphill task
Munyendo says: "Counselling is very important when it comes to families of missing children, but sadly as Kenyans or Africans, we take counselling as a thing for Europeans. The needs of families of missing children are varied because there's a lot of concerns when a child goes missing, it affects the parents, the siblings, friends, it affects the community so it is important for families to get counselling."
The sentiments are echoed by Mercy Kimanthi, a social worker.
"This one depends on the person who comes into contact with them in the first place. The majority of children reunite with their family members without any counselling. The children are normally disturbed and psychosocial support should be given a priority. Unresolved traumatic events can lead to serious mental illness," she says.
Jacqueline Kalenya, 31, was recently reunited with her son Ronick Omondi after he went missing three years ago. "I came back home, saw the door was locked. I checked at my neighbours' houses and he wasn't there. We searched for him until 10:30pm then reported to the chief," Kalenya says.
She later went and got an OB number, and decided to seek divine intervention.
Ronick was found stranded by a stranger, then taken to a Neemaland Queens and Kings Children's home in Riruta Satellite, which is run by Grace Omundi.
"He was brought to the home by a boda boda rider in the morning after the rider found him stranded. He said he got lost and could not remember his home, or mother's name. So I told the rider to go to the police station and come back with an OB number. He did and later I decided to keep the boy, hoping he would remember where he came from," says Grace.
When KTN News aired Jacqueline's plight, Omundi's son alerted her about the story. Omundi then called the number that was on the screen and Kalenya was finally reunited with her son.
According to Missing Child Kenya, when a missing child is found, most of the time details of how they were found are never shared. This is because the families need some privacy to heal together from the trauma, and experts cannot measure how long it takes for one to heal from an experience.
"In some of these cases, sharing the information on details as to how they were found may endanger the child once more, or put them at risk," the organisation states in their report. "The child may be undergoing medical treatment/attention from any harm they suffered in the period of their absence, and need the privacy to get medical attention and recover."
Also, making the recovery experience subjective (entirely recounting actual details of the case while revealing the identity of the child) may have an impact on the child identity in future. "No one wants to be known as the child who went missing in certain circumstances," the organisation states.
"Not everybody online is an exemplary and compassionate citizen, some children and families end up being cyber bullied or trolled by insensitive or abusive/derogatory statements when they access personal case information about the missing/recovered children. We strive to protect families from cyberbullying," the report states.
The 2020 report posted on the Missing Child Kenya website shows that the organisation received an average three calls per day last year.
Kimanthi says the pandemic contributed a lot to the number of missing children.
"Child protection concerns increased rapidly during the pandemic. Society works like the anatomy of a human being. One part affects the other. For the society to reach equilibrium, all institutions must work in harmony. School closing indefinitely brought about family breakdown and separation, especially for the vulnerable children," she adds.
Kimanthi says some of the challenges they face are; a lot of people fear to rescue children due to fear that they might be told to keep them, while under-reporting and cases of children in need of protection end up being handled with a lot of unprofessionalism, hence exposing them to more harm.
Child trafficking is also a huge contributor to children's disappearance. The 2019 Global report Trafficking in persons report released in June by the US Department of State, profiles Kenya as a tier 2 source, transit, and destination for people subjected to sex trafficking and forced labour.
Cases of children who went missing
On May 31, body of eight-year-old Shantel Nzambi was found stuffed in a sack and dumped beside a busy road in Kitengela. It is believed that she was defiled before being killed. Shantel was abducted while playing.
In July 2020 the bodies of three-year-old Alvina Mutheu and four-year-old Henry Jacktone, four, were found decomposing in a car at a police station in Athi River. The two went missing from their KMC Estate in Athi River while playing outside.
The bodies were discovered by a man who had gone to the station to pick up his car – a Toyota Belta - which had been impounded after a crash. A witness who owns a kiosk near the police station claimed he saw the children walk in there alone, but never saw them come out.
Margaret Mwaura from Mugumoini, Kiambu County, suffered after her six-year-old daughter went missing, later the body was found. It was beyond recognition.
In November 2020, the bodies of two brothers, Delyan Harrison Wachira (three) and Kian Georgeson Wachira, two, were found in Sagana River. The children's mother, a former beauty queen named Eva Wangui was the prime suspect. Witnesses said they saw Eva walking with the two boys. A few days later, a fisherman saw the two bodies floating and alerted the police.
What to do when a child goes missing
Parents and caregivers of missing children should call the toll free number 0800 22 33 44 and provide the following information via the WhatsApp only number +254 704 447 417:
Police report with OB number and name of the police station (mandatory)
A clear and recent photo of the child
Full names as they appear on the birth certificate and any nicknames
Gender and age of the child
Where the child lives and county of occurrence
If/where the child goes to school
Date and time child was last seen
What the child was last seen wearing and any unique features/birthmarks
Description of child's medical condition/disability (if any)
At least three contact numbers which must include parents/guardians