Business mogul who picked and quit deals at the best of times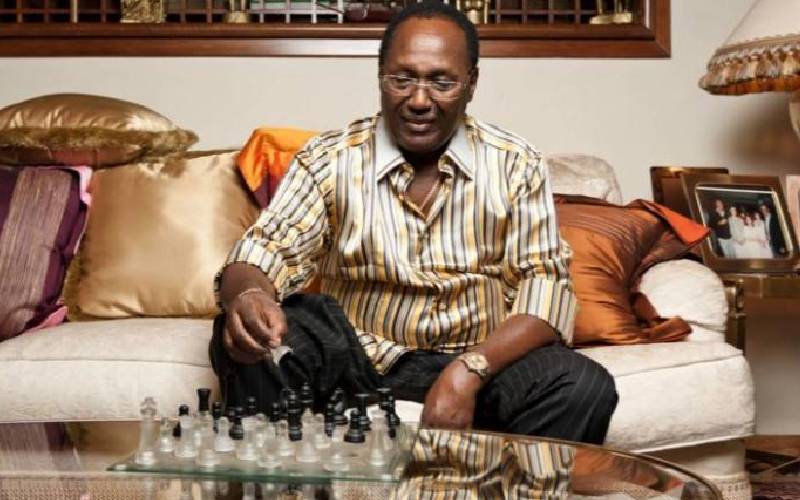 Kenya's prolific businessman Chris Kirubi was admired and respected for his versatile qualities. The man born in Naivasha spread his business empire in almost every sector of the economy.
Mr Kirubi was a Harvard Business School alumni and chairman of Haco Tiger Brands Kenya, Capital Media Group, International House Ltd, DHL Worldwide Express Ltd, Nairobi Bottlers and Smart Applications International Ltd.
He was also the deputy chairman of Bayer East Africa Ltd and is a director and major shareholder at the Centum Investment Group.
It is the latter that propelled him to become the country's second wealthiest individual at the Nairobi Securities Exchange after Equity Group's James Mwangi with a wealth of Sh4.1 billion.
In 2019, Kirubi paid Sh3 billion for an additional 19.9 per cent shareholding in Centum, making him the second largest investor in blue-chip stocks.
Before he bought the stake, Kirubi owned 28.94 per cent (192.56 million shares) of Centum and holds another 1.57 per cent (10.44 million) through his International House company.
He was a recipient of the Elder of the Order of Burning Spear (EBS) award, the highest State commendation awarded to a businessman.
In 2019, the billionaire was voted the most admired businessman in the country in a survey conducted by market research company TIFA, with five per cent of those surveyed naming him as the person they most admired or respected.
He was followed by industrialist and entrepreneur Manu Chandaria at four per cent.
But even as the mogul dazzled the business world with his investment prowess, his personal life was tinged with controversies.
Born in 1941, the billionaire would not hesitate to describe his rise to fortune as the proverbial grass to grace story, reliving the tough childhood he had while growing up in rural Murang'a.
He divorced with his wife in 1991 and remained single for 30 years, with recent media reports quoting him describing marriage as enslavement.
In 2018, Kirubi sold his BIC stationery, lighters and shavers franchise to French multinational Société BIC, in a deal worth close to Sh2 billion.
He staggered his payout in phases and received the first Sh703 million in 2018, Sh309 million in 2019 while last year he pocketed Sh348 million.
The phased out payment saw him get more money from the deal, buoyed by the weakening shilling against the dollar.
At one time, Kirubi owned 9.58 per cent of UAP Holdings, a conglomerate that provides investment and insurance services in East and Central Africa. He sold his shares to Old Mutual in 2015 and exited the stock.
He is survived by two children: Mary-Anne Musangi, the managing director of Haco Industries, and Robert Kirubi.
In a recent interview with a vernacular radio station, Kirubi said that "dependents who know the pain of hard work will know the shame of plunder".
He said the toils of estate building must be respected and "all these litigation be settled amicably where good faith is the guiding light".
The businessman noted that inheritance and building of estates are Siamese twins, that both have to survive after death.
"We cannot tell an investor to cease building wealth since there is uncertainty ahead in the form of inheritance worries. As long as you do your best to distribute your wealth to the dependants, using the fairest method and ratio possible, you will have no control of what else might ensue," he said.
"But I would urge peaceful transition of estates to dependants."
Interestingly, when the man who built the largest mall in Kenya - Two Rivers at Ruaka, Kiambu county - fell ill in 2017, his company Centum announced a pause in major infrastructure projects.
The company cited the dwindling allure of construction of malls that had taken the country by storm in the last decade.
When he bought Capital FM, the businessman became a disk jockey, going by the moniker DJ CK, and hosted a rock show.
In 2011, he made it to the list of Africa's richest people by Forbes Magazine with his total net worth pegged at Sh3 billion ($300 million) at the time.
Four years later, he was named "2015 Africa CEO of the Year" by the Africa CEO Forum based in Geneva.
Centum Investment remembered him as a dedicated team player and an affable man who they fondly referred to as 'chairman'.
Kirubi might have been the closest Kenya had to America's Warren Buffet, a successful investor. Or he might have been his worst version.
A business dealer par excellence, he knew when to snap up a penny stock and when to dispense with a blue-chip.
Of course, not all his deals had the Midas touch. His dalliance with Uchumi Supermarkets earned him a discomfiting spot in the High Court docks on criminal charges.
But his investment decisions were generally exquisite.