Kalembe's tongue could get him anything, including in and out of a heap of trouble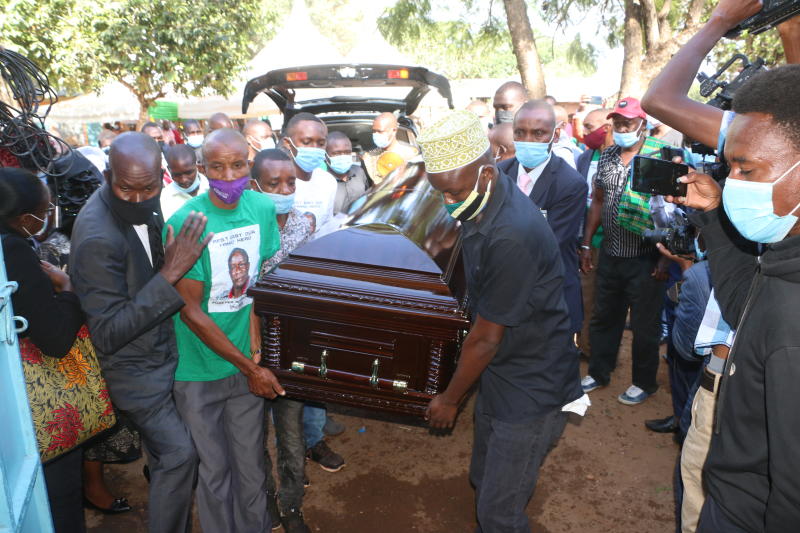 After leading an eventful political life, a limping Kalembe Ndile spent his last days by his man-made beach in Machakos, brooding over his scores and losses spanning 57 years.
Aptly named "Machakos Beach", Ndile crammed the little place with all manner of birds – from ducks to ostriches, and from turkeys to guinea fowls. He relished in feeding them, and watching the ducks floating in the "ocean" he created on the river.
An eventful but short life, Ndile rose from a son of a squatter to councillor, chairman of a county council, aMP, assistant minister, party leader to a director of a parastatal. He scraped it all by sheer hard work, sweat of his brow and, some say, a long tongue.
Born in Uganda, his Kenyan parents escaped Idi Amin's reign of terror to become squatters in Kenya. And thereon began his life long quest for land rights, culminating in his entry into politics.
Ndile's tongue could get him anything. He did not have to knock on doors, the tongue did the knocking for him. Always shooting from the hip, the tongue got him in as much trouble as it bailed him out.
"His oratory skills made him a much-sought political item. He dared to say things in ways not any other would dare to. I remember him as a fearless land rights activist… I remember police driving us out of Mukambita land as we endeavoured to assist the original cooperators to occupy their land," Makueni Governor Kivutha Kibwana remembers.
At the time, Kibwezi was a grabber's paradise. Kibwana says Ndile was instrumental in mounting a relentless campaign that pushed grabbers away.
"At one time, Kalembe was forced to hide in the ceiling of my residence as police sought him after he accused a senior politician of land theft at a burial where President Moi attended. Kalembe did not allow anything to blight his ambitions," Kibwana recalls.
With a smattering of education, Ndile enrolled for the Global Student Experience (GSE), schooling under Kibwana's tutelage. They said he did fairly well.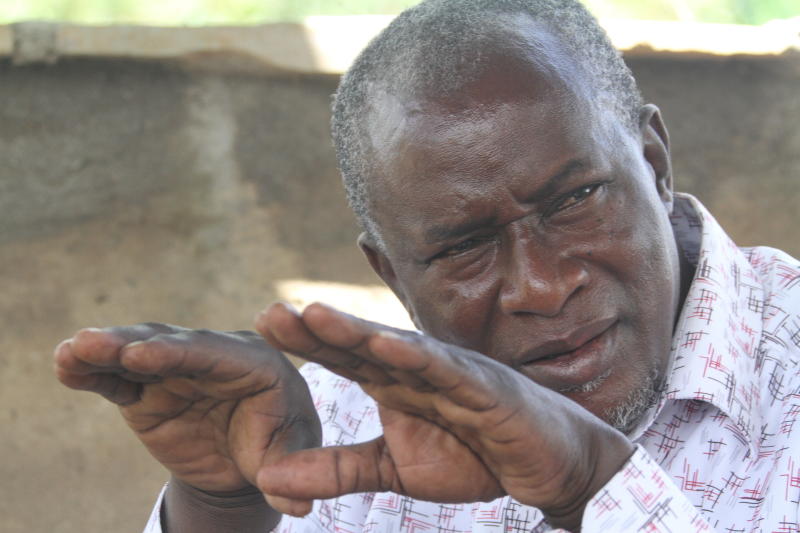 By 2002, Ndile had made a name for himself, taking a plunge in parliamentary politics. He bagged the larger Kibwezi constituency seat, romping into national politics to find a bubbling constitutional drive.
In the 2005 constitutional referendum, Ndile burst into the national scene, riding on the crest of the Banana campaigns. He may have lacked the brains of Amos Kimunya and Kiraitu Murungi, but his tongue did the talking.
He was rough in the campaigns, and personal too. He dismissed the Orange team as bunch of gray-heads who had bleached their hair black to con the republic.
When they lost, Ndile blamed the loss on the brainy but proud lot in Banana camp: "Whenever some people opened their mouths, we lost – at one fell swoop – thousands of votes."
For all his toils, Ndile was rewarded with an Assistant minister appointment in the sunset years of Kibaki. He reminded all who cared to listen that he earned it, by his mouth.
He struggled to read official speeches, but hang in there even as colleagues like Orwa Ojode, now deceased, teased him. He claimed smart brains were not a function of classroom education.
As 2007 approached, Kalembe came to terms with a backyard that was gravitating towards Kalonzo Musyoka. To survive the impending deluge he formed his owned political party, The Independent Party (TIP).
The launch of TIP was a comedy of sorts. Parading little children at a Mombasa slum, some on his laps, Kalembe led them in chanting his new slogan, "Amani Kenya".
Ndile's TIP gave succor to bigwigs who were boxed out of the mainstream parties. When Francis Nyenze, now deceased, lost his ODM-K bid, he fell in the arms of TIP and Ndile did not waste time to parade him as a "big harvest."
Norman Nyaga too fell to PNU scheming and ran to Ndile's arms, claiming there was no way he was going to let the people of Kamukunji down for all the love they had for him.
"The PNU secretariat and more so the board, in my own opinion and very considered opinion, is incompetent, is corrupt, is impotent," he fumed.
As it were, Ndile and all his 'projects" were walloped in 2007. He hang on to his TIP, while lying low through the grand coalition politics. Occasionally, he would come out to comment on politics of the day, surging back in 2013 to no avail.
It was during this period that he enrolled for a degree in Business Management but dropped, claiming he was far ahead of the curriculum in actual practice.
"He was a consummate politician, homegrown to the core. He carried with him the spirit of our people. Determination, tenacity, courage and honour," Kibwezi West MP Patrick Musimba told The Standard.
According to Musimba, Ndile will remain an icon and hero to not only Makueni, his home county, but also the country at large. He said Ndile brought honour to Makueni and that is why the leadership of the area closed ranks to grant him a decent farewell.
Despite always swimming against the current as far as local politics was concerned, Ndile made peace with his region in his last days.