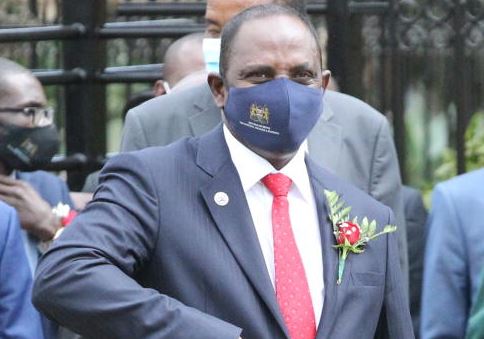 Health, Education and Defence ministries have got some of the biggest allocations in the 2021/22 national budget.
The 2021/2022 budget totals Sh3.64 trillion, up from Sh2.84 trillion in 2020/2021.
Treasury Cabinet Secretary Ukur Yatani said that this year's budget largely revolved around the impact of the Covid-19 and its containment measures.
"I assure Kenyans that their concerns of the high cost of living and Covid-19 pandemic have been taken into consideration," he said in his speech at Parliament on Thursday.
In light of this, he proposed the allocation of Sh14.3 billion to facilitate the roll-out of Covid-19 vaccines to create herd immunity, in addition to the Sh7.6 billion appropriated in the 2020/21 budget.
The Government has allocated Sh121.1 billion to the Health Ministry, Sh294.5b to Defence Ministry, Sh202.8 billion to Education, Sh182.5 billion to Transport and Sh60 billion to the Agriculture Ministry.
Here is how key ministries faired in the allocations.
Health
The Government has allocated Sh121.1 billion to the Health sector in support of its various programmes.
Broken down, Sh47.7 billion will cater for the Universal health coverage, Sh8.7 billion goes into the Covid-19 Emergency Response and Sh4.1 billion to maternity healthcare.
A further Sh1.8 billion has been allocated to elderly and vulnerable persons, Sh3.9b slated for vaccination and immunisation programmes and Sh14.3 billion will be used in the purchase of Covid-19 vaccines.
Treasury also allocated a further Sh15.2 billion to Kenyatta National Hospital and Sh11.5b to the Moi Teaching and Referral Hospital, to improve health service delivery.
Defence
In the 2021/22 budget, Sh294.5 billion has been allocated to the Defence, National Police and National Intelligence Service to support its programmes.
Treasury has set aside some Sh1.5 billion for the National Communication and Surveillance System, to step up the war against crime in Kenya.
Transport
The government has allocated a total of Sh182.5 billion to the transport sector.
A breakdown by CS Yatani shows Sh700 million has been channelled to support the Nairobi Bus Rapid Transport System.
Sh7.2 billion will go into the construction of the second phase of the Standard Gauge Railway (Nairobi Naivasha), and Sh7.5b into Lapsset project.
A further Sh100 million has been channelled to the Nairobi Metropolitan Services to support its infrastructure projects and an extra Sh111.2 million for the construction of footbridges.
Education
Another big winner in today's budget is Education Ministry, attracting Sh2.2 billion to support its various programmes.
Sh62.2b has been set aside for the free day and secondary education programme, Sh4 billion for examination waiver for Class 8 and Form 4 students, and Sh4.2 billion for primary and secondary infrastructure.
Teachers Service Commission (TSC) has been allocated Sh281.7 billion while Sh15.8b will go to the Higher Education Loans Board (HELB). Sh2.5 billion will go into the recruitment of teachers.
A further Sh5.2b has been set aside for TVET students, Sh76.3 billion for universities and Sh323 million for National Research Fund.
Agriculture
Government has also allocated Sh60b to the Agriculture sector, covering food security and its development programme.
Sh1.5b has been set aside for the agricultural sector development programme and Sh1 billion for the construction of a fish processing plant in Lamu, to boost exports.
The government will put more resources into livestock production and will set up a meat processing plant in Lamu to provide a ready market for livestock and increase farmers' income.
The CS however assured that Kenya's public debt, currently sitting at over Sh7 trillion is sustainable.
In the 2020/2021 budget, CS Yatani set aside Sh5 billion for the rehabilitation of roads and bridges across the country.
Treasury allocated Sh111.7 billion to the health sector. Sh50.3 billion went towards universal health care in all counties. Sh500 million went to the supply of beds and beddings to hospitals.
Agriculture was given Sh3 billion to subsidise farm inputs and Sh1.5 billion for flower and horticulture farmers to access international markets. Maize or corn seeds were exempted from value-added tax (VAT) to make them available to farmers.
SGR: Sh18.1 billion allocated to SGR Phase two development and Sh5 billion for Mombasa Port development.
Education: Sh59.4 billion for free day secondary education and another Sh1.8 billion for the school feeding programme. Sh94.9b went to university education.