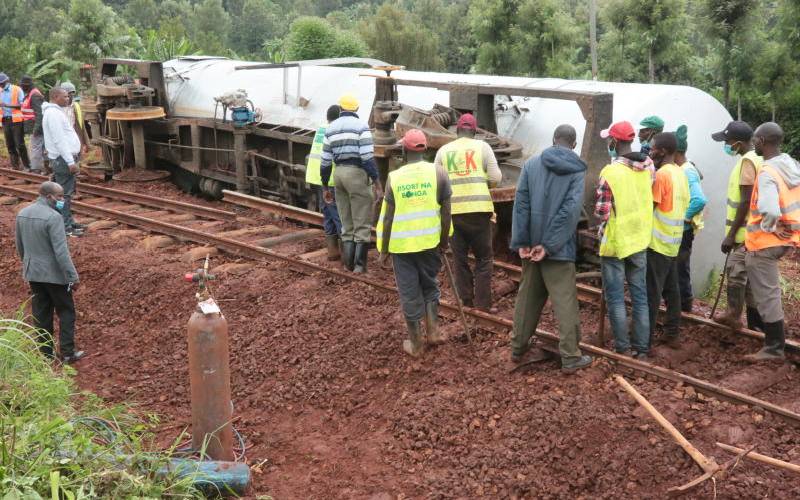 Last week, a cargo train heading to Nairobi from Nanyuki caught fire. Reports indicate that it caught fire near Sagana in Nyeri.
The mishap brings memories of the Lunatic Express in its infancy, journeying from Mombasa to Nairobi. It was an experience that today reads like fiction. Some of the experiences were chronicled by pioneer settlers and missionaries. They recorded some epic moments of the train's huffing and chugging, on its ways to Nairobi.
One of the most memorable experiences of travelling by train is best captured by Judy Aldrick, in her book: Northrup; The life of William Northrup McMillan.
She takes us back to 1905, when a train's departure from Mombasa had to be timed to coincide with the relatively cool temperatures at 5pm so that the engines did not overheat.
At some point, the lines were rougher than the most potholed tracks that elderly passengers with false teeth were advised to remove them on account of the rattling. At Taru, before reaching Voi, passengers were advised to wear white googles to protect their eyes from the blinding dust swirling from the plains.
There were blinds attached to the windows to keep off mosquitos from the carriages. The gauze nets were also used to keep soot and sparks, from the steam engines, from flying into the carriages.
The beauty of the slow train, which took three days to negotiate the uphill journey, was that passengers could order the driver to stop if they spotted a lion or buffalo they wished to shoot. Others would order the train operator to stop so that they could enjoy breathtaking scenery.
There are stories of impatient travellers who were not amused by these delays. At one point an irate passenger is reputed to have ordered a driver to continue with the journey, leaving another driver stranded in the wilderness together with a hunting party he had led into the bush.
Hunting was the main thing then. There were plenty rhinos and lions. One lion once forced Major Charles Harding Newman Ringer, who had just established Norfolk Hotel, to surrender his bedroom to his horse.
The horse had been clawed by the lion which had strayed into Major Ringer's ranch, Long Juju near Oldonyo Sabuk. Scared out of it wits, the horse obstinately refused to return to its stable.
Major Ringer later sold his land to McMillan. The lions have retreated to the Nairobi National park although once in a while they stray into human habitats.