Jane Muthoni: A potent mix of love, jealousy and vengeful murder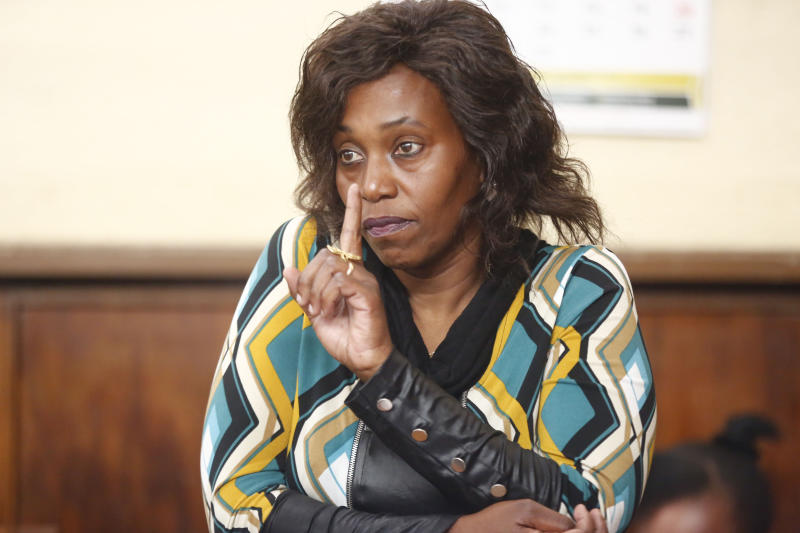 It was a case packed with all the ingredients fit to cook up a sizzling Hollywood thriller; a potent mix of love, jealousy, and murder.
At the centre of it all was former Ichachiri Secondary School principal Jane Muthoni; a grieving widow turned prime suspect and eventually a convict following the murder of her husband, Solomon Mwangi.
What began as a fairy tale romance between two teachers would end in tragedy, leaving a family torn apart by the unravelling evidence adduced in court against someone they cherished.
Muthoni had, according to court papers, hired criminals that included her co-accused Isaac Ng'ang'a alias Gikuyu, to kill Mwangi, who went missing on November 6, 2016. His mutilated body would be found dumped in a coffee plantation in Juja, Kiambu County, eight days later.
Yesterday, Muthoni sat pensively in a cell at the Langata Women's Prison as she followed the virtual court proceedings. Dressed in a yellow pullover and with her mask lowered to her chin, Muthoni appeared composed. Her eyes darted from one corner of the courtroom to another, perhaps seeking out a familiar face among those seated in the room. Besides her sat a prison warder.
It had been a nerve-wracking wait from the time she was convicted of her husband's murder in April. But Muthoni wasn't the only one waiting to hear the court's verdict. During the sentence hearing about two weeks ago, her daughter, June Mbuthi, one of the couple's four children, had made a passionate plea to the court to be lenient on their mother, since they had in a way lost both parents. Yesterday would finally be the day all parties would know their fate.
Inside the courtroom, Nakuru judge Joel Ngugi took on the task at hand with surgical precision, spelling out the sentence. Ngugi was recently in the news for handing a cold decision against President Uhuru Kenyatta and ODM leader Raila Odinga's pet political project, the Building Bridges Initiative.
By the time he was done, it was clear that Muthoni would be spending quite a good amount of her life behind the very walls she was listening in.
"Wicked and vengeful,'' were the words Justice Ngugi used to describe Muthoni when he sentenced her to 30 years in prison for her husband's murder, ending the five-year trial. Muthoni showed little emotion as the sentence was read out, only requesting copies of the proceedings of her case.
When she was found guilty, her family and friends as well as those of her husband showed a mix of emotions, an indication of the lingering effects her actions would have on the family.
A sister to Mwangi, who was a principal at Kiru Boys High School, said she was glad that justice had finally been served even as she recalled the good old days she shared with her brother and sister-in-law.
Stephen Mbuthi, a first cousin to Mwangi, who acted as a 'parent' to the couple, said the family had forgiven Muthoni for robbing them of their only remaining pillar. He was actively involved in the matter when Mwangi was reported missing to the day his body was recovered in Juja.
He also happened to have met Mwangi days before his disappearance, and Muthoni during the search for her missing husband.
"Jane (Muthoni) was very aggressive in life. She did everything to defend her family but we never thought she would go to the point of even killing," said Mbuthi.
After the death of his parents, Mwangi took over the leadership of the family, Mbuthi told The Standard.
But Rachael Muthoni, an elder sister of the accused still believes that Muthoni was framed and could not have organised the murder of a man she dearly loved.
Mary Mwangi, Muthoni's sister-in-law said she was still coming to terms with the death of her only brother.
"I am glad that justice has been served but I am yet to heal from the tragic end," said Mary in an interview conducted a week before the sentencing yesterday.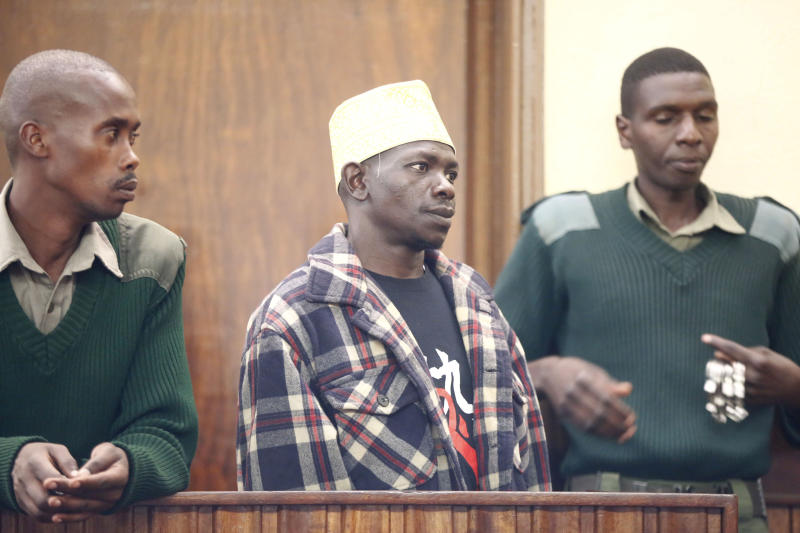 On the many occasions that she visited the couple at their Nyahururu home, Mary says she could not imagine that her sister-in-law would commit murder.
She said Muthoni treated her well and showed her respect. She seemed the perfect example of a sister-in-law.
She, however, says they did not engage in lengthy conversations whenever she visited as Muthoni was always busy. But the two enjoyed a warm relationship.
Rachael Muthoni Mucheru, an elder sister to Muthoni, is not convinced that her sister is a killer.
"It can't be my sister. She has been framed and convicted wrongly," Rachael told The Standard on phone.
Rachael, who claims to be a confidant of her sister, says her sibling loved her family deeply and could do anything for her husband and children.
"She is a jovial and down-to-earth person. I am actually surprised that she will be spending time in jail for an offence she did not commit," Rachael said.
She recalls how while growing up, the younger sister played the role of peacemaker whenever a dispute arose in the family. Muthoni, she said, played this role even in her adult life.
"Every time we have issues at home, Muthoni is always there for us. She will call both parties and sort out any issues and make sure that everyone is at peace," Rachael said.
And like other couples, Muthoni and Mwangi had challenges in their marriage, but Muthoni always employed her conflict management skills to sort out the issues.
Said Rachael: "They were just a perfect couple. They were the talk of Nyahururu where they lived." The couple, she said, even held a joint bank account.
But some of Muthoni's colleagues in Murang'a hold a different view.
"There is nothing positive to say about her," said an official of a teacher association in Murang'a, who knew the couple.
He spoke on condition of anonymity following the new directive by the Teachers Service Commission barring teachers from dealing with the media.
As a way of showing their love for the deceased, Murang'a Head Teachers' Association put together a documentary tracing the life and time of their colleague as a way of remembering him.
The teachers, according to the official, have also agreed to support the couple's children. He recalled an incident in 2015 when he first met Mwangi who thereafter introduced him to his wife. Muthoni was also a member of the association.
June, the couple's first-born daughter, is convinced that her mother is innocent.
A third-year student at the University of Nairobi, she last week pleaded with a Nakuru court to pardon her mother and clear her of the allegations.
An emotional June said she and her siblings want justice for their father, whom she described as her best friend, but at the same time maintained that her mother was innocent. She told the court that the absence of their father in their lives still hurts and it was unfortunate that it can't be undone.
"We are all students and have fee arrears. We also crave our parents' love every day and it's so hard. I believe my mother is innocent and I know that one day the person behind this will be known," she said.