Kondele crowd goes wild welcoming President Uhuru at Madaraka Day fete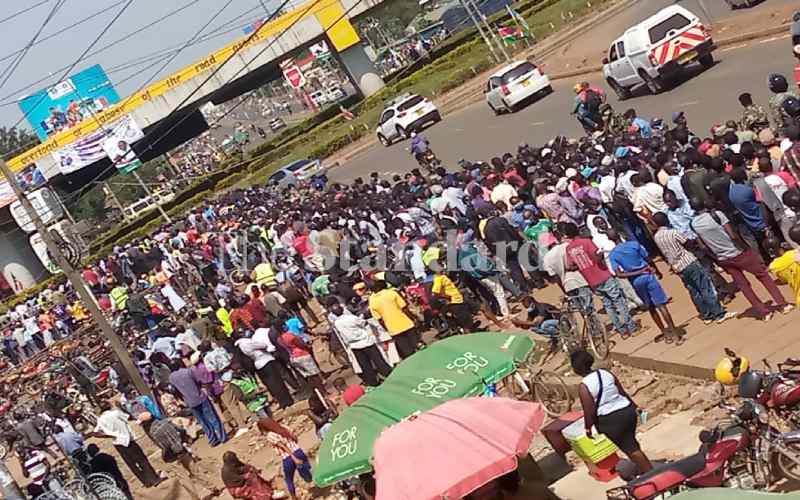 Police officers today had to disperse a crowd in Kondele that had lined up the Kisumu-Kakamega highway to meet him.
Some of the residents said they were excited about seeing the President "live".
At 11.40am, President Uhuru Kenyatta's motorcade snaked its way to the Jomo Kenyatta International Stadium.
But the police had to break the swelling crowd using teargas and clubs as boda boda reflector jackets created a green wave in the dust.
Some people themselves trampled on the ground as the crowd scampered.
A presidential security detail Land Cruiser drove close to the edge of the road, keeping the charging crowd away from filling up the road.
But Uhuru emerged from the sunroof of his car and waved, further exciting the crowd that was elated to see the President.
The president made his way and as expected switched to the topless ceremonial Land Cruise and made a lap waving at the Kisumu crowd inside the stadium.
Kenya army band Maroon Commandos kept the attendees entertained with the melodious tune of Kenya Taifa Letu.
Outriders led Uthe presidential motorcade at slow speed with the flashing sidelights in rhythm with the Maroon Commandos tunes.
In suits and masks, security men ran alongside the president's car all the time.
Up to 3,000 guests are expected to attend this year's Madaraka Day celebrations.
The Government has, however, called for strict compliance with Covid-19 protocols as Kenya marks the 58th Madaraka Day. This, afterit prohibited public gatherings amid the rise in infections.