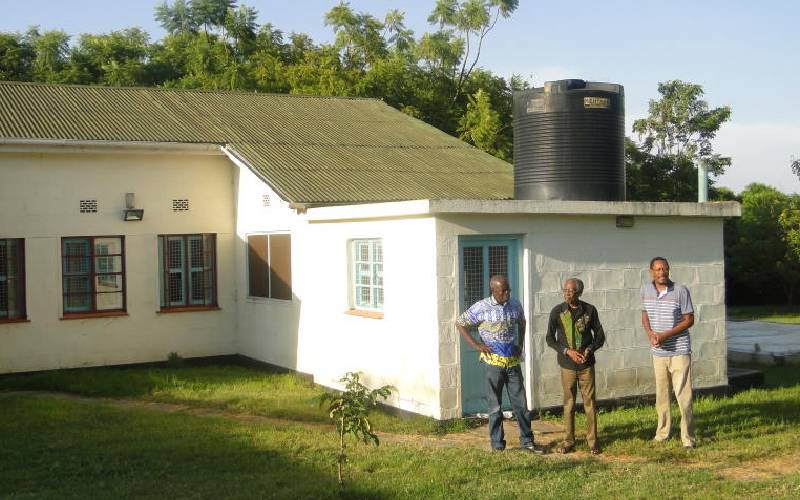 A neat plantation of indigenous and exotic trees welcomes you to the home of the longest-serving detainee in Kenya and one of the famous Kapenguria Six, Achieng' Oneko.
Sounds of birds perched on the trees break the quietness at the home that sits on 10 acres in Kunya, Rarieda Sub-county. A cool breeze from Lake Victoria sweeps over the home.
Oneko, who died 14 years ago, was detained alongside the founding President Jomo Kenyatta, Bildad Kaggia, Kung'u Karumba, Fred Kubai and Paul Ngei.
We meet three of Oneko's sons — Ong'ong'a, Olola and Dick. — who usher us into their father's 57-year-old house. About 30 metres away is Oneko's mausoleum.
In 1964, President Kenyatta was the chief guest during the house-warming ceremony and spent a night in the house.
"He was so challenged that my father built his own house after coming from detention. He (Kenyatta) went back home and built his own house," recalls Dr Ong'ong'a.
Inside the house, portraits of the late Jaramogi Oginga Odinga, Kenyatta and Pio Gama Pinto are conspicuous on the walls. As the country marks the 58th Madaraka Day, Oneko's family remains proud of paying the price for the country's struggle for independence.
"We feel proud to be part of the liberation struggle because, for nine years, we only saw our father in pictures as he was in detention," narrates Ong'ong'a.
In his book 'Not Yet Uhuru', Jaramogi writes that it was in 1952 that Kenyatta came to Kisumu again and Oneko introduced him to Kenyatta.
"And for several hours before the Kisumu public meeting, we had close talks at the Maseno store. Kenyatta told me we must get to know one another. The Kikuyu must get to know the Luo thoroughly', Jaramogi wrote.
Oneko, the only Luo jailed at Lokitaung Prison for 'managing the Mau Mau,' raised a powerful family of eminent personalities. His other sons are Lwande, Oneko, Nam and Biko. He had four daughters, Awinda Osusa, Atieno Leny, Awino Omolo and Adhiambo Oneko.
The fruits of Oneko's efforts together with the inculcation of strong virtues have seen his children and grandchildren record spectacular success in various fields in both public and private sectors.
Born in Tieng'a village in Uyoma, the then Bondo District, in 1920, Oneko's first job after leaving Maseno School was as a weather reporter for the Meteorological Department.
Then he tried his hand in politics in 1949 when he became one of the first African municipal councillors in Nairobi. The editor of Luo newspaper, Ramogi Weekly, in 1945, was also secretary of the Luo Thrift and Trading Corporation founded by his friend Odinga.
Considering that even today, more than 50 years after the country's independence, as the struggle for quality education continues, Oneko was a man way ahead of his time. His hard work saw him leave behind a family with remarkable material and intellectual resources at its disposal.
"When I was 18, my father took me overseas to study. This shows how he invested heavily in his children's education," says Ong'ong'a, the former managing director of the Kenya Tourism Board.
He recalls how they played on London's Collingham Gardens with Thabo Mbeki, Oburu Oginga and the children of Algerian revolutionary Ben Bella, while staying at Kwame Nkrumah's Africa Trinity House as his father negotiated the independence constitution at Lancaster House.
Dr Olola, an obstetrician-gynecologist has been applying the technique of cervicography to diagnose cervical cancer.
Lwande is an alumnus of the University of Nairobi (Education) and the University of Illinois (Masters in Entrepreneurship Development). He went into salt processing and coffee roasting under Kenya Industrial Estates before venturing into capacity consultancy in Africa, Asia, Latin America and the Mediterranean in curriculum development and training of trainers.
Dick, a management consultant sent tongues wagging for supporting President Uhuru Kenyatta's Jubilee Party. Most thought he should have been in the opposition - not knowing the long history of the Kenyatta's and the Onekos.
"I was my father's campaign manager in 1992 and I've also campaigned for former Prime Minister Raila Odinga," says Dick, who was also the brain behind the Friends of Raila, one of the biggest lobby groups in the country's political landscape.
While Oneko lived and died in politics, none of his children has shown interest in elective politics.
According to Ong'ong'a, education has kept them busy, arguing that joining politics was a personal choice. "Education has enabled us to contribute to the economic development of our country."
He says they have been supporting community development activities at home, including Ramogi Achieng' Oneko Secondary School named after their father.
Oneko's first wife Jedidah Achieng died in 1992. His second wife, Loice Anyango, was only 11 when Oneko was first detained and lived with Achieng before getting married at 28. She died in 2019. She was 79.
With the Madaraka Day celebrations being conducted in Kisumu and the launch of several projects courtesy of the handshake between Uhuru and Raila, Oneko's family says it was a good idea.
"This is a good start and our leaders should use this platform to bargain for more," says Dick.