Nelson Havi: Trouble-maker or man on a salvation mission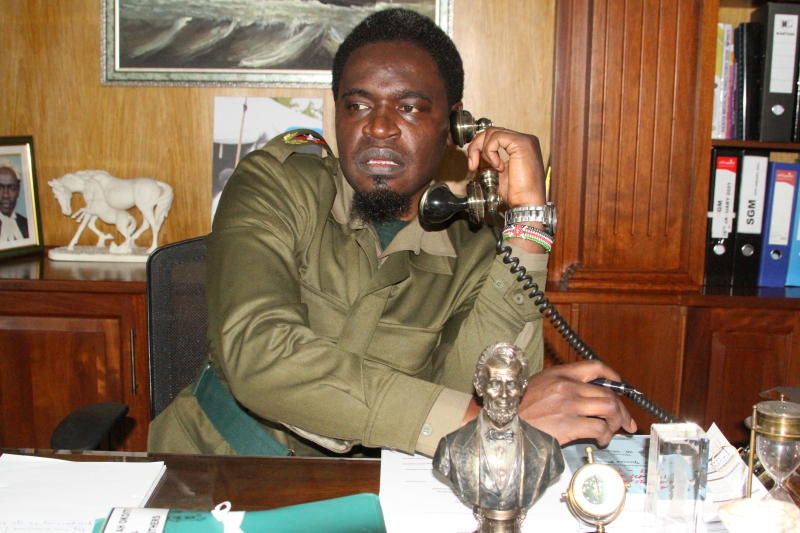 "Let's meet in one of the gazebos," LSK president Nelson Havi told me when I requested to have a meeting with him. There are two gazebos at Nairobi's Fairview Hotel in Upper Hill.
Havi is one bag full of energy.
"You look alright considering what has been going on lately with the lawyers," I remark as we exchange fist bumps.
"Driving into Havanna in 1959, Fidel Castro said that he had not expected that the job at hand would be so taxing. Soon he realized that he needed to do more and more," Havi shot back at me. Well, Fidel, a lawyer, went on to rule Cuba after the revolution for 50 years.
But it was the former LSK chairman Ahmednassir Abdullahi's counsel that summed things up for the 44-year-old University of Nairobi Law School graduate when he went to seek votes to be President of Law Society of Kenya: "If you want to work, you will be exhausted, if you want to do nothing you will rest for two years and leave."
That was to remind him that the President of the LSK was a powerful post and that "even the government will ask for favours".
And true to it, soon after he took over office, the government came knocking.
They came to cut a deal with Havi on the swearing-in of 41 (now 40 after one died last year) Court of Appeal judges, but four of them.
"I told them all or none."
His contention was that why not swear all of them and then file whatever complaint there was with the Judicial Service Commission. But the State officials persisted.
"They even warned me that some of the four judges were powerful and dangerous if I staked against them."
And it has been a rollercoaster of sorts for the last 12 months for a man who married his Law School sweetheart Fellicine Oriri and effuses about her being the "rock of his life".
He seems to have read my mind. I wondered how he survives through all these.
"The schemes by the Deep State and other lawyers keep on my toes."
Foremost is the power struggles at the LSK which he attributes to probity issues surrounding a development levy. Ostensibly, after questions were raised over the Sh5,000 per month per lawyer contribution, estimated at Sh500 million in 2020, the Council called for an audit to establish the correct amount in the account.
To facilitate a forensic audit, the CEO Mercy Mwende was suspended and a disciplinary hearing set up.
"Eight of the 12 council members went to court to stop the disciplinary hearing."
The Council has not had a sitting since.
Havi admits that he has been open to reconciliation and mediation efforts by among others former Chief Justice Willy Mutunga, renown lawyers John Ohaga, Charles Kanjama and Njaramba Gichuki have not resolved the stalemate. As a result, the LSK has no representation at the JSC and there has been audit of the accounts of the organisation.
"The eight were asked if they were aware of how the squabbling was hurting the LSK… the may have reckoned yes; but anything that hurts Havi is fair game."
Does he still want to reconcile with the eight?
"For a long time, I was accused of being a troublemaker; that changed as soon as I gave my side of the story."
He rules out reconciliation, unless, perhaps, on his terms. "After all, I have done what I wanted to do which is to do what is good for Kenya."
He is magnanimous about his achievements which he attributes to among others, Meir Mizrai an advertising guru who advised him to be patient and to know when to take leave, and his high school teacher a Mr Buliva (nicknamed Bokassa) who gave him bursary after his father's death in Form Two at Musingu High School.
A perfectionist, Havi confesses that he has Obsessive-Compulsive Disorder (OCD) - which plainly means he can be very particular about very mundane things to fit into his desired standards to a point of causing great distress if not done to his liking.
Could that explain why he readily takes on anyone on social media? He gladly wrestles in any brawl where others would ordinarily walk away. Perfectionists see the world as needing some serious fixing.
He is an Anglican, even though he was born a Quaker.
"The Anglican Church is very orderly. They do things on time and I admire the meticulous dexterity."
He lists challenging the Bill to amalgamate Kenya Airways and Kenya Airports Authority and the setting up of the Small Claims Courts and the objection to the minimum tax as some of the big wins for him.
But to him, the ones that stand out are the Advisory to President Uhuru Kenyatta to dissolve the 12th Parliament, the 10-year anniversary of the 2010 Constitution and the successful petition on the BBI at the High Court.
The mention of BBI stirs him up. Widely read, Havi punctuates his talk with quotes from history, philosophy, the arts and literature, Shakespeare, Prince and dexterously juxtaposes what he has read with the Kenyan situation.
When he went to present his memorandum to the parliament's Justice and Legal Affairs Committee, he was surprised that the most resistance came from lawyers who are members of the committee.
But he admits that the judgement upholding their petition was "phenomenal in substance."
Though he is quick to quip that anything is possible in Kenya, he comforts himself that an appeal will take "judicial deceit" to overturn the judgement.
His wide grasp of history in economic and sociopolitical developments across the world is quite impressive.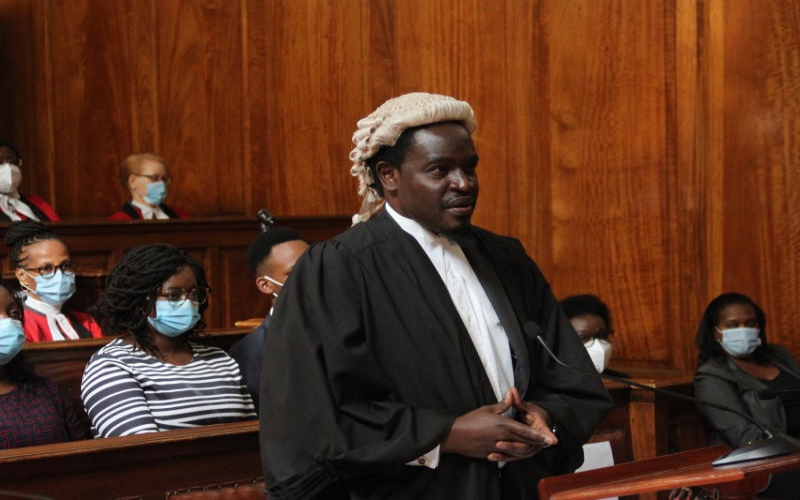 And even in the BBI petition he profusely quotes law scholars. I follow him on Twitter, and so I was drawn to a tweet from Richard Albert, professor of World Constitutions and Director of Constitutional Studies at the University of Texas at Austin.
"A truly historic ruling in the High Court of Kenya: the "basic structure" of the Kenyan Constitution is unamendable. Congrats to the petitioners on their winning advocacy. And a pleasant surprise to see two of my books cited by the Court" he tweeted last week
The petitioners had quoted Albert's Constitutional Amendments: Making, Breaking and Amending constitutions and The Foundations and Traditions of Constitutional Amendment.
He is adamant that BBI is not for the benefit of the Kenyan people.
He also decries that the think-tanks of the Second Liberation had become "modern-day conformists who see no evil and hear no evil."
"They are either wearied of the struggle or just became complacent."
I ask him how he and his co-petitioners managed to mount such a foolproof treatise that persuaded the judges.
"I was 100 per cent sure that we had a case. What we weren't sure was if it would be upheld 100 per cent."
He reveals that, a civil society group led by former anti-corruption tzar John Githingo and George Kegoro had invited LSK to join in the petition.
"I thought to myself that should we file a petition as LSK, then the group could file a counter and seek to withdraw our petition. and then what?"
In the end, they chose to go it as individuals and collating material from different lawyers. He proceeded with caution from lawyer Gibson Kamau Kuria, a past President of LSK: "Don't take theories to court as that will not make it justiciable. And do not attack the BBI project."
And they had to "seal all the loopholes" before the judgment.
"There are 23 Bills seeking to amend the Constitution all stuck in Parliament. We knew that there was no legal framework for a referendum."
"You see, Kipkemboi, the wagon must travel on the railway. BBI lacked that," he said resuming our talk. "The thing about this country is that we like shortcuts. We don't communicate our intentions."
"BBI is faulty because the promoters have not been clear about their real intention," he continues.
What is his contention with Chief Justice Martha Koome?
"My grievance with the Chief Justice is not personal and it she is not the one with the problem. The person with the highest responsibility is the JSC."
Rules to govern
"Transparency, accountability and the duty to give reasons is a modern society requirement. The JSC ought to have put in place rules to govern the process if only to avoid it degenerating into a farce," he explains.
He harbours political ambitions and is eyeing the Westlands MP seat currently held by Tim Wanyonyi.
He is a crowned chief of the Maragoli which among other things determines a lot of rites including offering libations in times of calamity.
He describes Fellicine is very supportive that she even wrote him a Sh2 million cheque for his failed 2019 campaign to be president of LSK.
"You are wasting your time looking for trouble for me; my wife has prayed for me," he says to his foes.
Obviously, his wife gets concerned with his travails.
On his dressing, he says the badge on his clothes is the star of Josiah Martinez – the Patriarch of Cuba.
"It is a symbol of assertion as opposed to a revolt," says the man who wanted to join the Airforce but was thrown out at the recruitment.
He sees a bright future for Kenya and predicts that the judgment invalidating the BBI would be a catalyst. And says if four of LSK Council membership could cause such impact what of the four million youth who sit behind their keyboards and issue revolution threats on social media?