MPs put Murathe to task on his role in Sh4b Kemsa deal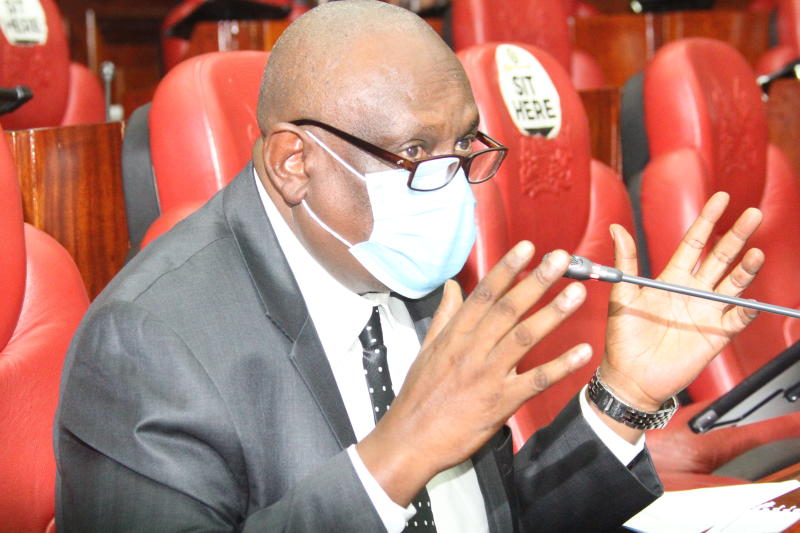 Lawmakers were yesterday treated to the intrigues surrounding a company that secured a Sh4 billion deal to supply the country's medical supplies agency with Covid-19 Personal Protective Equipment (PPE).
A parliamentary committee investigating the Sh7.8 billion Kenya Medical Supplies Authority (Kemsa) procurement scandal heard how the ownership of Kilig Limited, the company in question, changed hands, revealing links to top government officials.
When he appeared before the National Assembly Public Investments Committee, Jubilee vice chairperson David Murathe once again linked Deputy President William Ruto to the company through a series of ownership transfers of the said company, resulting in a verbal exchange with the MPs.
The outspoken Murathe found himself on the receiving end when tasked to explain his involvement with the company. He testified that he had been roped in after Kilig Limited failed to secure financing for some 50,000 PPE that were to be delivered by Chinese firm Entec Technology Limited.
Victim of relatives
He attributed the failure to people he termed as "associates of the deputy president", in response to queries on how he got to stand in as a guarantor in the cancelled deal.
"They (Kilig) needed financing and were approached by known associates of the deputy president… when they could not secure the financing they approached me," said Murathe, even claiming that he had become a victim of relatives who believe he is a "Covid millionaire".
He said: "I have never supplied anything, not even a single mask or PPE. It is so sad people think I am a Covid-19 millionaire and everybody is calling me for money."
The Jubilee vice-chair, however, denied standing to benefit from being a guarantor in the said deal. He said his actions were only aimed at providing "comfort" that Entec would be paid once Kemsa had issued payment to Kilig Limited.
This was in response to claims that he was brought on board as a signatory to Kilig's Equity Bank account to influence Kemsa.
Ruaraka MP TJ Kajwang' questioned whether the offer to guarantee the deal was as a result of his position of influence within the ruling Jubilee party.
"I had no way of influencing Kemsa and I had no reason to suspect that they would not pay for the equipment. Entec wanted assurances that if they gave Kilig the equipment they would be paid… there was no agreement for guaranteeing it (the deal)," said Murathe.
The company was formed in January last year by Willbroad Gachoka and Zhu Jinping and secured a commitment letter to supply 450,000 PPE kits to Kemsa in April. But days after landing the deal, the two directors sold the company for what Gachoka yesterday termed as "a nominal value", which essentially means at no cost.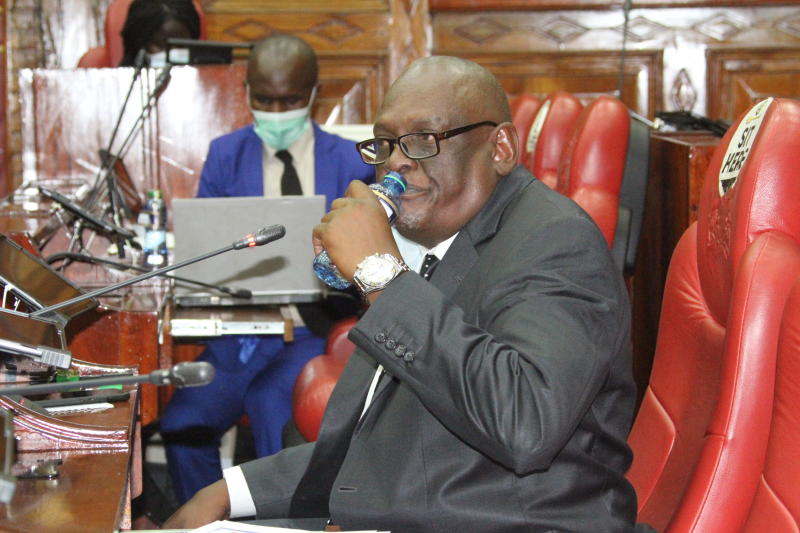 Later when he testified before the committee, Gachoka said the company was sold to clients of an advocate by the name Collins Bush Wanjala.
These were the same clients that Murathe had termed as associates of the deputy president. The Jubilee vice-chair also tabled a letter of credit allegedly from KCB Bank to facilitate Wanjala's financing of the Sh4 billion deal.
Without disclosing the identity of the clients he was referring to when he appeared before PIC, Gachoka stated that he had negotiated the transfer with Anthony Gichuru.
In a strange twist of events, negotiations to sell the company had commenced even before the Kemsa business was secured.
MPs were curious about how talks to sell the company had begun before the deal was sealed, terming Gachoka a proxy working at the behest of other individuals.
The MPs faulted the apparent fact that Gachoka was still conducting business on behalf of Kemsa, even after he had resigned from the company.
In an affidavit tabled before the Mvita MP Abdulswamad Nassir-led PIC, Chen Chao, the director of Entec, had stated that Gachoka had approached them with the PPE kits deal in June. At the time, the company was under the directorship of Ivy Minyow Onyango.
MPs also questioned Gachoka's affidavit that hinted at his possible involvement with Kilig Limited after his resignation.
Contradicting statements
"In your affidavit, you say that Ivy (Minyow) was nominated to ensure that the stakes of all shareholders were guaranteed. Who gave her such authority," posed Nassir.
Goaded by MPs for a response, the co-founder of Kilig Limited made contradicting statements. At some point, he stated he stepped in when "Wanjala's clients" failed to provide financing to Kilig as he had "a reputation to keep" with his Chinese business associates.
"You are asking me about matters when I was not in the company," he said at some other point.
On Murathe's role, Gachoka testified that the Jubilee vice-chair was brought in to "vouch" for the payment expected by Entec owing to his status.