I am not a covid billionaire, a pressed Murathe tells PIC Kemsa scam probe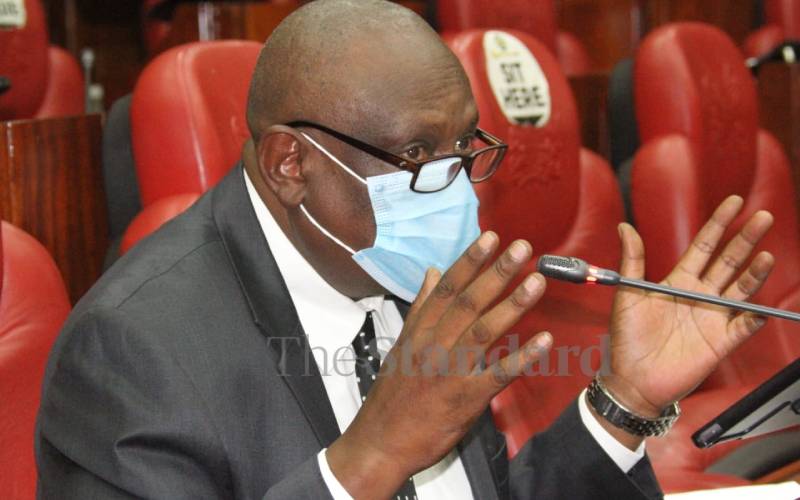 Jubilee Vice Chairman David Murathe has denied any involvement in the Kenya Medical Supplies Agency scandal.
Appearing before the National Assembly's Public Investment Committee, Murathe said it was unfair for him to be tagged a covid billionaire yet he had nothing to do with what happened at Kemsa.
An agitated Murathe told committee members said all he did was to facilitate a friend to do business acting as their bank guarantor.
"Mr chairman people out here have been made to think that I am a Covid billionaire, you need to protect me. Facilitating a friend to do their business you do not need to ask for benefits, it is sad when we allow such innuendos," he said.
He added, "I have not supplied not even a single mask or any PPE, now my relatives think I am a covid billionaire. This title has given me much trouble because now everyone is calling me to lend them money".
This comes after he admitted he was a bank guarantor for a firm implicated in the Sh7.8 billion Kemsa scandal.
He said he only played as a guarantor to Kilig Ltd that was awarded a Sh4 billion tender to supply 450,000 personal protective equipment to Kemsa.
The firm was awarded the contract two months after registration yet it was not pre-qualified to tender by the Kenya Medical Supplies Agency, the house team heard
But Murathe argued he was requested by Kilig, then under the directorship of Wilbroad Gachoka and a Chinese national Zhu Jinping – to guarantee payments to a Chinese firm trading as ENTEC Ltd.
Entec was the supplier of the PPE kits and Murathe was to guarantee that the company would be paid upon Kemsa effecting payments to Kilig.
Murathe told the Abdullswamad Sharrif Nassir -ed committee that Kilig is a firm owned and operated by close allies of Deputy President William Ruto.
"I am not a director of Killig, I did not get a contract with Kemsa and I did not supply to it. Killig is a company owned by people associated with the DP. They approach people who can finance through the lawyer and transfer the company to the new owners," he said.
"Mr chairman the directors of this company has been changing over time. When the lawyer came here, he said he could not identify his clients but the bank details I have provided have the signatories to the accounts," he added.
Murathe said after Kemsa cancelled the commitment letter, the company changed hands and was transferred to Bush Wanjala who is the beneficial owner.
"It is worth noting that although the company supplied 1,000 PPEs as samples before the commitment letter was issued, there was no delivery nor payment that was made after the letter was cancelled," he said.