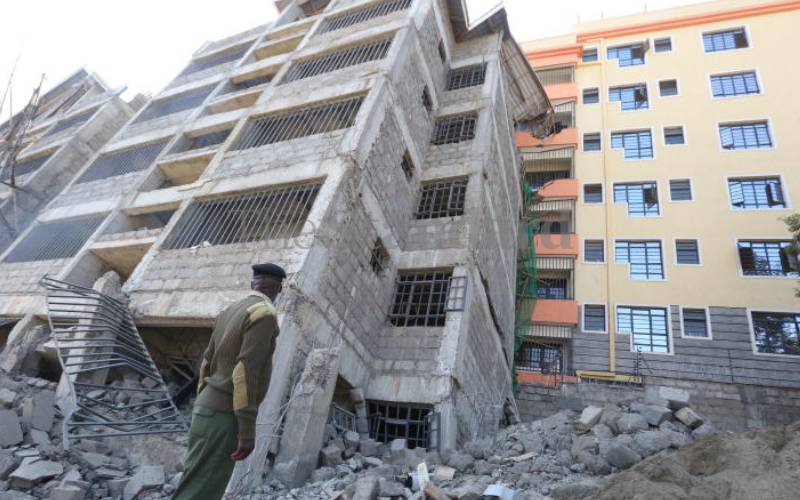 The National Construction Authority has said the Kinoo building collapsed due to its weak foundation.
The five-storey building under construction leaned into an adjacent building on Sunday night. There were no casualties.
Mr Maurice Aketch, the NCA executive director, said all the signs point to structural failures. Since the collapse of the building, Mr Aketch and his team have been camping at the site searching for clues. He said the weak foundation caved in, bending beams that support the apartment that was under construction.
"There was no proper geotechnical survey, which means the study of the soil structure, to help the engineer know how much he should have done to have a stable structure," said Mr Aketch.
According to the NCA boss, the soil test informs a lot in terms of materials to use.
NCA said the approvals were right but the procedure of construction was wrong.
"We need to test the quality of the materials and the workmanship as we determine the extent of the damage to the adjacent house which has developed cracks," said Mr Aketch. Mr Francis Mwangi, an engineer from Horicon construction who was at the site concurred with Mr Aketch, saying the foundation was unstable.
Mr Mwangi said the rear columns were poorly done for such a highrise building.
"The adjacent house has developed cracks. It will require underpinning which means reinforcement from the ground to make it safe for habitation," said Mr Mwangi.
Mr Michael Kariuki, also an engineer, said since the building did not have a basement, the surface foundation was not of uniform strength, which is why it caved and leaned in one direction.
"Kinoo is largely a red soil area, and excavation with intent to build a highrise building should be given special attention. There is a big difference between how we excavate cotton soil and how we do for red soils," Mr Kariuki said. Panicking tenants from the adjacent house are still moving their belongings as police try to keep away youths who were trying to cart away metal from the collapsed building.
A multi-agency team is looking into how to bring down the building.