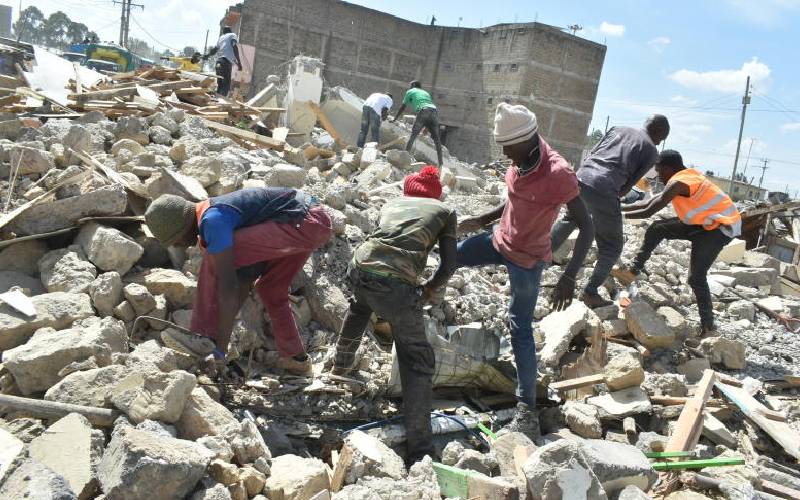 The Environment and Lands Court in Nairobi has dismissed a case seeking to block Mukuru Kwa Njenga residents from being evicted and their houses demolished.
Justice Oguttu Mboya in his judgment found that the case filed by a section of slum dwellers, politician Irshadali Sumra alongside 11 others, had no merit as there cannot be another title issued parallel to that held by Orbit Chemicals Limited.
He found that the contested property is private and belongs to Orbit.
The more than 26,000 residents claimed they have lived on the property since 1958 and, as a result, expected not to be evicted.
They argued that having occupied the contested property for over 40 years, they should be declared owners through adverse possession.
According to the residents, the High Court in a separate case had ordered that Orbit Chemicals be compensated and thereafter the land was supposed to be allocated to the landless residents of Mukuru Kwa Njenga.
In the case, they also claimed that President Uhuru Kenyatta had ordered that not all landless persons in the contested property should leave; instead, they should be issued with titles or leases.
They asked the court to block any sub-division, selling, alienating, evicting, removing, demolishing or doing anything prejudicial to persons residing on the property.
However, the court found that the president has no powers to direct Lands Ministry or any other entity to issue titles or leases.
"Assuming that the circular alluded to, which has not been exhibited and/or annexed is to the effect that Uhuru Kenyatta, decreed that all landless residents of Mukuru Kwa Njenga be issued with title deeds or leases, then the question that arises is whether the President has any powers to direct issuance of title or leases and/or alienation of any land, let alone private land," argued justice Mboya.
The judge noted that the 2018 case took long to settle, as the residents delayed complying with court orders on filing their submissions.
He also declined to find that the residents owned the property through adverse possession.
According to the judge, there was no evidence that they had lived on the land since 1958.
The residents were also opposed to the government's plan to build Catherine Ndereba Road in the area.
They claimed that they were not consulted and were not involved in the design process.
However, Kenya Urban Roads Authority disputed the claim.
Orbit also asked the court to dismiss the case filed by residents. Its representative Sachen Chandaria told the court that the firm had bought the property from the National Bank of Kenya in a public auction.
He asserted that Orbit has a right to develop the property and that those in it were illegal occupants.