I was defending my boyfriend, stone-wielding Gor Mahia fan says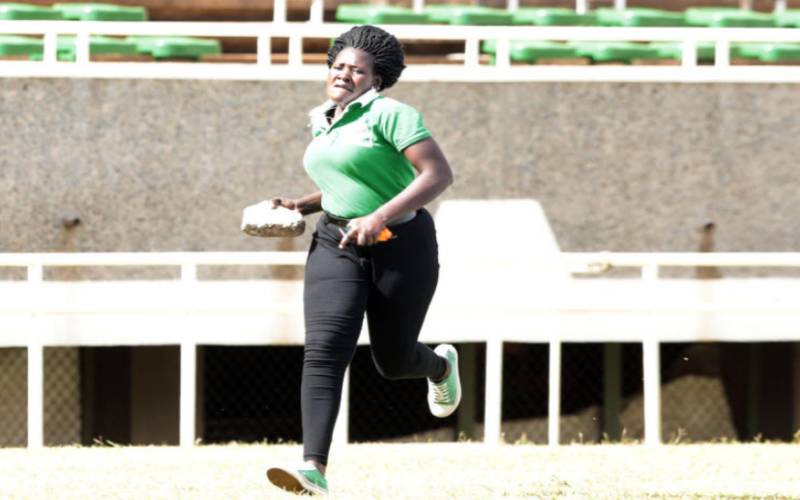 On February 13 this year, Winnie Nyar Kasagam, whose real name is Sheryl Aluoch, was photographed running across Kasarani Stadium in Nairobi with a relatively large stone in her right hand.
Wearing a green T-shirt, green pair of rubber shoes, a black pair of jeans trousers, a black belt, with her hair braided, Winnie's appearance matched the environment she was in – a tense football match between Gor Mahia and Vihiga Bullets FC.
Chaos rocked the FKF Premier League match which was approaching half-time, leading to its cancellation. By the time the game was being called off, Gor Mahia were one goal up, against Vihiga Bullets' zero.
The chaos started when some of the football fans attempted to jump over the fence to avoid paying a Sh200 entrance fee.
Gor Mahia's head of security Lawrence Odhiambo is said to have been caught up in the melee, which pitted him against fans attempting to invade the pitch.
One of the three people who sustained serious injuries during the fracas was Winnie Nyar Kasagam's boyfriend identified as George Odinga.
Winnie, a resident of Huruma Estate in Nairobi, now says she carried a stone to go and revenge on behalf of her boyfriend, who was lying injured on the ground.
"I am a calm person. The Winnie you saw carrying a stone at the stadium wasn't the Winnie that every other person knows. That day I was emotionally disturbed; my heart was aching. And you know when the heart aches, the mind and body responds," Winnie said in an interview with Standard Group journalist Stephen Mukangai.
"My boyfriend had been assaulted. It angered me because my lover supports me financially, and is the bread-winner in our relationship.
"Initially, there were rumours that he'd been killed. I had just arrived at Kasarani Stadium, only to hear that (my boyfriend) Odinga had been seriously assaulted. When I entered the stadium, I found him lying on the ground unconscious.
"That triggered intense anger in me. I, immediately, picked a stone to go look for the person who had assaulted my spouse.
"On reaching where the assailant was, I was shocked to discover it was a person who I know well. I was aware of my anger problems. So, I dropped the stone to avert an action that I risk regretting later," said Winnie.
The 29-year-old mother-of-three said her spouse, whom she has been with for one year, is currently in a stable condition.
"However, his treatment has cost us a lot of money," she said.
On how the viral pictures affected her image, Winnie, who works as a vegetables vendor, said: "I felt embarrassed when the photos went viral. That's not the reputation I would want to have. Many people forwarded the pictures to me on WhatsApp."
"But I'm glad I have gradually gotten over it," she said.
Winnie has appealed for financial assistance, saying her vegetables stall was recently demolished, and that she'd appreciate if a well-wisher would come through.
"For two months now I have been jobless, hoping a well-wisher comes to my aid," said the native of Kasagam in Kolwa East Ward, Kisumu East Sub-County.
She has three children; a daughter aged 12, and two sons, with the youngest aged three.