Family accuses maternity hospital of negligence after expectant kin dies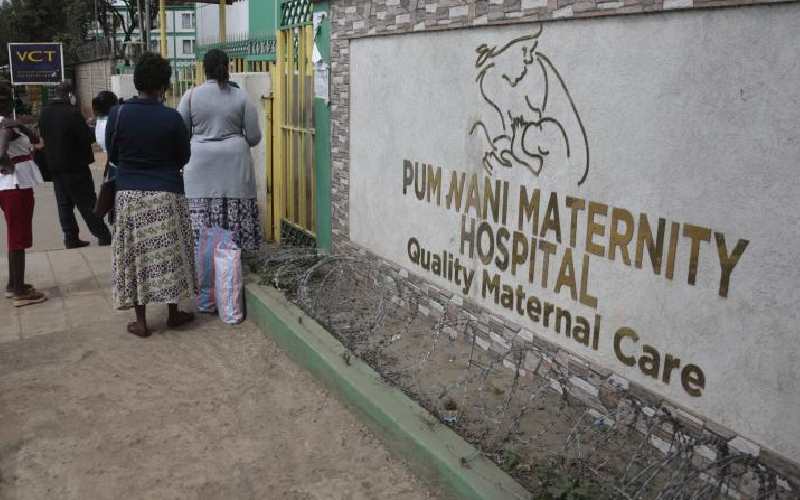 Pumwani Maternity Hospital is in the news, again, following the death of a pregnant woman.
The family of Mary Anyango has blamed her death on alleged negligence by the hospital.
Anyango's husband, Peter Mwangi, 30, said the hospital did not provide them with any information on what transpired, from the time his wife was admitted to the time she was referred to Kenyatta National Hospital (KNH).
"All that nurses told me was that my wife had a stillbirth but there were no records or any further information," said Mwangi.
He said he was also told his wife had suffered eclampsia which had led to her death.
Eclampsia is a condition where convulsions occur in a pregnant woman suffering from high blood pressure.
It all started on December 15, around 4am, when Mwangi took the 32-year-old to Pumwani after she developed labour pains.
"They did not allow me to see her after she was admitted. They didn't even allow me to take food to her," said Mwangi.
He said he became suspicious when Anyango was asked to do an ultrasound at a different hospital whose results were not handed to the family.
"We paid Sh1,400 for the ultrasound. Later, my wife called to say she had been told she had a stillbirth," said the father of two children.
The hospital's Medical Superintendent John Mwangi said Anyango developed epileptic seizures and had to be put on oxygen.
"The patient was not undergoing any procedure in the theatre. We kept her there to support her breathing as we sourced for an Intensive Care Unit bed at KNH because it had become an emergency case," said Dr Mwangi.
"The patient was seven months pregnant but she had a stillbirth."