45 witnesses set to testify against Gachagua in Sh7.5 billion case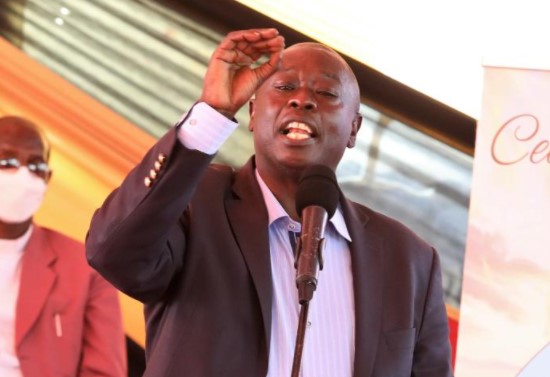 Some 45 witnesses will testify against Mathira MP Rigathi Gachagua (pictured), who faces trial over an alleged conspiracy to defraud Sh7.5 billion.
State prosecutor Vera Hamisi told the court the prosecution was ready for the hearing and that it had supplied all the evidence, and requested that they be given two weeks every month until the case is concluded.
"We have 45 witnesses ready for the hearing, and we intend to take at least two hours with each. That is why we are asking for a block of days to expedite the hearing of this case," said Ms Hamisi.
However, lawyers representing Gachagua and his co-accused opposed the prosecution's application to have the hearing fast-tracked, arguing that they had not been supplied with all the evidence and witness statements to enable them to defend the accused persons.
Lawyer Sam Ogutu told the court it would not be possible for them to proceed in the absence of the evidence, as it was key for each of the accused persons to have before preparing their defence.
The Anti-Corruption Court magistrate Rose Makungu agreed that the defence needed to be supplied with the evidence before the hearing takes off. She directed that the case be mentioned on February 24 next year for further directions, and scheduled the hearing on September 5, 2022.
Gachagua is facing six counts of conspiracy to commit economic crimes alongside William Mwangi, Anne Nduta, Julianne Jahenda, Samuel Murimi, Grace Wambui, Lawrence Kimaru, Irene Wambui and David Nguru.
In count one, the MP was charged with conspiracy to commit an offence of corruption, where it was alleged he defrauded the county government of Nyeri Sh27.4 million between May 2015 and December 2016.
The second charge stated that on December 29, 2014, Gachagua fraudulently acquired Sh6 million from Nyeri Provincial General Hospital for the supply of dialysis machines.
He faced two other counts of money laundering, in which the prosecution alleged the MP received a total of Sh112 million from Bungoma and Kwale counties and engaged in transactions to conceal the money trail while aware they were proceeds of crime.
The gist of the charges was in count five, where the MP was accused of fraudulent acquisition of Sh7.3 billion through his personal accounts at Rafiki Micro-Finance Bank.
The charges stated that between 2013 and 2020, Gachagua fraudulently received Sh7,330,011,265 through three bank accounts registered under the name of Rigathi Gachagua, domiciled at Rafiki Micro-Finance Bank while knowing they formed part of the proceeds of crimes.
Gachagua is facing another battle at the High Court, where the Asset Recovery Agency (ARA) filed a suit to compel him to forfeit Sh202 million to the state since that was proceeds of crime and money laundering.
ARA in its application, which is pending determination at the High Court, claims Gachagua's three personal accounts conducted a series of huge suspicious debit transactions amounting to Sh7.3 billion and a total credit of Sh12.5 billion between 2013 and 2020.
But Gachagua argued that he was being persecuted politically. He denied claims of money laundering and fraud involving his three companies.