The biodigester trick: Treasure cow dung to fight deforestration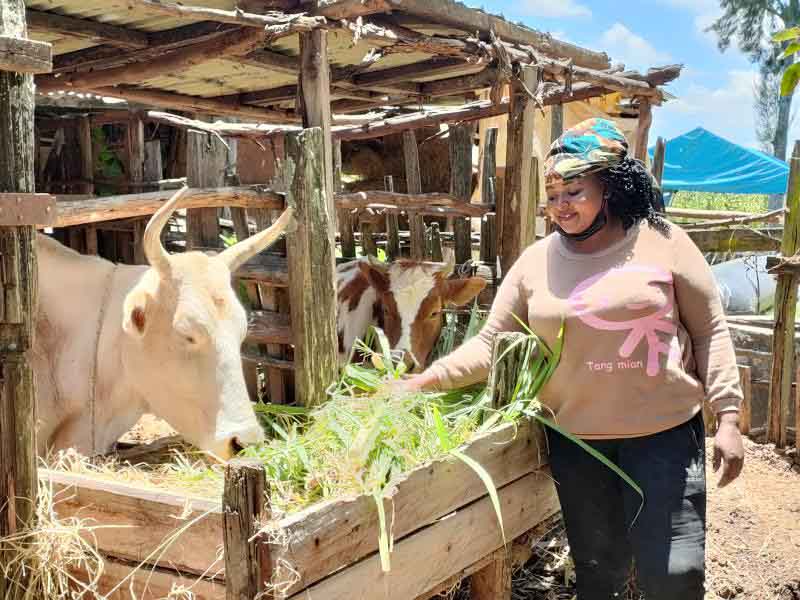 Cecilia Njambi cannot tell the number of trees she felled to provide charcoal and firewood for her daily cooking. "They were many," she confesses, reminding this writer that this had happened since the early 1970s, when she was married in Leshau, Nyandarua County.
Yet, deforestation is one of the major causes of environmental degradation, contributing to effects of climate change such as unpredictable rain patterns, flooding, drought, cyclones, and all that threaten food production.
Already the World Bank, in a report, has warned that the climate crisis could push more than 130 million into poverty by 2030. Climate-induced migration may also affect 200 million people by 2050, the report says. The report recommends investing in climate adaptation to help countries and communities.
As a way to minimise deforestation, Ndaragwa Sub-county in Nyandarua has witnessed installation of biodigesters, sponsored by Kenya Agriculture and Livestock Research Organisation (Kalro), Kenya Climate-Smart Agriculture Project (KCSAP) and other partners.
The initiative, dubbed Integrated agro-waste and bio-slurry improvement for climate change mitigation and improved crop and livestock production systems, is providing clean energy for cooking and lighting, replacing firewood and charcoal.
Njambi, one of the 5,000 targeted beneficiaries, already got a biodigester free of charge and is surprised at how more useful the cow dung is. "I had never known cow dung could be this useful. For many years, cow dung has been just animal waste, in fact, a nuisance that forced me to clean cowshed every day to maintain health and wellbeing of my dairy cows," she says.
Seeing the benefits, Njambi now knows cow dung is a treasure. In fact, her three cows are not giving enough dung to run her biodigester, and at times she has to source some from neighbours. And now her house is lit, and she has clean energy to cook.
She still uses the fertiliser for maize, beans and various vegetables.
Njambi says: "It has not only saved me from wandering in the forest, looking for firewood but also, we stopped cutting down trees to burn charcoal."
Njambi was last year visited by a team from Kalro and KCSAP and informed that since she had dairy cows, she could benefit from biodigester. "I was trained and told the biodigester would utilise cow dung and provide us with lighting and cooking gas. At first, I didn't believe but agreed to follow their instructions," she says.
She later, during a seminar, learnt the importance of the biodigester at her home, and also the fertilizer generated. Farmers can use a biodigester for up to 20 years.
In the project, Kalro has partnered with Kenya Biogas Programme, who are overseeing the biodigesters construction, farmer extension and training for quality. Pwani University is also a partner, taking the lead on socio-economic expertise.
Afrisol is constructing the biodigesters and training farmers on the bio-slurry decomposition processes in Taita Taveta, Nyandarua and Nyeri counties.
Another beneficiary, Jane Muhuri, says: "My mother is aged and all the time we have had to look for charcoal or firewood to warm her house. That struggle is now over, because apart from lighting our homestead and providing cooking gas, it also warms her room."
The area has not yet benefited from the government's last mile electricity connection. But their houses are lit and they are thankful that their children can also study with less polluting light.
According to the United Nations, 3 billion people still rely on wood, charcoal, dung and coal for cooking and heating, which results in more than 4 million premature deaths a year due to indoor air pollution.
Speaking during the launch of the biodigesters to beneficiaries, Kalro Director General Eliud Kireger said the project targeted to help farmers maximise utilisation of biodigesters for clean cooking and soil health improvement.
He said it was critical that technologies provided to farmers were functional and well suited for their energy and bio-fertiliser requirements. "We need to remind ourselves of the challenges of climate change, which continue to be a key issue in the global development and sustainability goals. To avoid catastrophic scenarios, we must undertake a swift shift to low-emission, climate resilient growth," says Dr Kireger.
He challenged Kenyans to consume less energy, reduce wastage, use renewable energy and cut global emissions by half this decade and reach net-zero emissions by 2050.
Dr Kireger is optimistic: "These efforts can go a long way in reducing greenhouse gas emissions. Interventions like this one we are witnessing today can make a significant contribution to the nation's contribution to climate change carbon emission reduction."
Peterson Njeru, a principal investigator, Kalro, Muguga, says the programme is testing, analysing and promoting use of bio-slurry from biodigesters as inorganic fertiliser for Irish potatoes production in the three counties.
"We also target to increase crop productivity from bio-slurry utilisation, building resilience to climate shocks by use of bio-slurry in farming and reduction of greenhouse gas emissions, from the multiuse of biogas," he says.
He adds, the technology has been found to improve soil health and reduce costs of clean cooking for households by almost half. The project targets to increase food and nutrition, household income and environmental conservation for more than 5000 households.
According to Njeru, to benefit from a biodigester, one must have at least three cows in zero-grazing, to help maintain the biodigester. With each beneficiary owning a biodigester, the stakeholders are optimistic about environmental conservation locally that will mitigate effects of climate change.