Agony as Nairobi slum houses brought down to pave way for link roads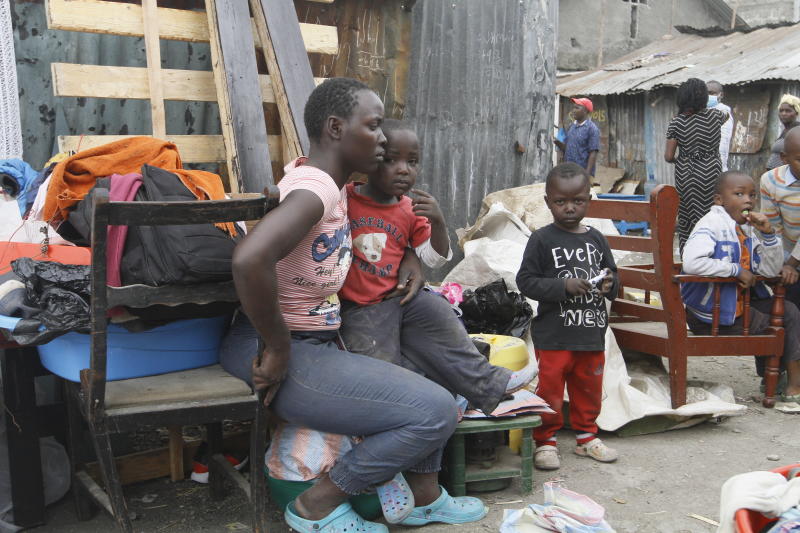 Agnes Nyanchama, 70, sits alone on an old sofa on a cold morning looking at the remains of what she has called home for more than two decades.
Today, she is not waiting for the sun to rise as she usually does but she's watching her neighbours pull down their shacks in the sprawling Sinai slums after they were given notice to vacate in two days. Her shelter is also being brought down.
"I have lived here for more than 20 years. When my husband died about 10 years ago, he bequeathed me six houses that he had built and even these ones have been demolished," she laments.
She tells us that she spent the night in the cold and now she has no place to call home.
The granny is among hundreds of other slums dwellers in Mukuru and Sinai areas who have been ordered to vacate a strip of the slums to allow construction of the Expressway.
The new road will act as an exit from the Expressway at a link road that is being constructed around City Cabanas junction. Once completed, the 27 kilometre stretch, will connect Jomo Kenyatta International Airport and Nairobi-Nakuru highway.
Residents who spoke to The Standard say they had not been notified over the planned demolitions and will now be forced to spend more since some landlords in adjacent areas have doubled the rents.
"I had just paid Sh1,500 rent when I got the order to vacate. I spent the night out in the cold with my two children. I tried to secure another house but the rents for the available houses have been doubled," Brigitte Atieno, a resident, said.
In the process of moving out, another resident Mucheke Wachira said he has lost about 100 chickens. "I think they were stolen by the gangs around slums."
Not long ago, a sewer line was dug through the same area where the Nairobi Metropolitan Service (NMS) hospital is under construction but locals say some administrators sold the plots to willing customers which led to some people putting up houses that were sitting on the line.
Nairobi Regional Commissioner, James Kianda said the link road will help residents access amenities like schools and hospitals.
Area Member of Parliament George Aladwa said the Government should have allowed the residents to move first.
"It is not fair to evict them without giving them alternative homes or food since most of them have just paid school fees and many are still recovering from challenges brought by Covid-19" said Aladwa.