Jowie shot self after Maribe kicked him out of her house, witness tells court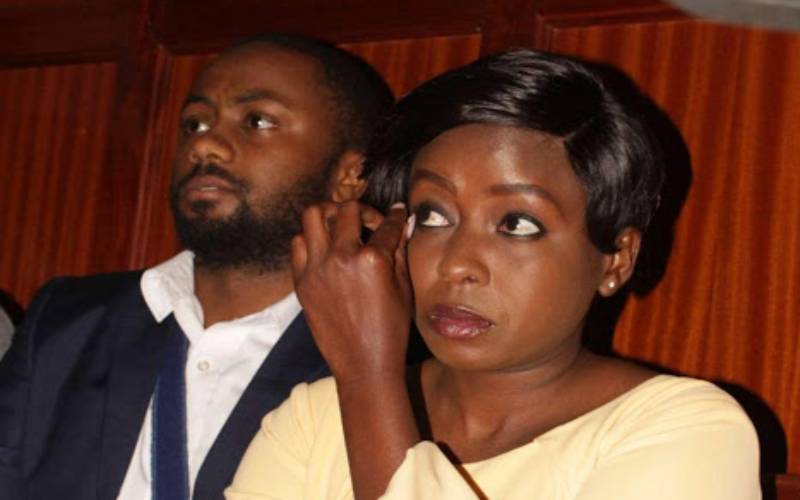 A witness has told the High Court in Nairobi that murder suspect Joseph Irungu, alias Jowie, shot himself in the arm at 1am on September 21, 2018 to protest his eviction from co-accused Jacque Maribe's house.
Brian Kasaine, who was Maribe's neighbour at Royal Park Estate in Lang'ata, said Jowie exhibited signs of a disturbed person a few days after news of Monica Kimani's death broke. Kimani died on the night of September 18, 2018.
Kasaine said that Jowie called him via WhatsApp at 2am on September 20, 2018.
"I was asleep with my wife, when his call woke me up. He enquired if I had paraffin in my house. I asked him why he needed the paraffin, and he said there were things he wanted to burn. I, thereafter, told him that I did not have the flammable substance," said Kasaine.
According to the witness, it was "strange" for Jowie to call him that late.
Kasaine said at 3pm on that day, he met Jowie in the estate. "He appeared disturbed and in deep thought," said the witness.
The following day (September 21), at around 1am, Kasaine heard someone knocking vigorously on his gate.
When he responded to the alert, he found Jowie lying on the ground near the gate.
"He was bleeding from the upper part of his arm; near the chest," said Kasaine.
"His fiancée, Maribe, was standing near him, and had her phone in the hands. Maribe told me Jowie had shot himself," said the witness.
According to Kasaine, Jowie was screaming, accusing Maribe of evicting him from her house.
"He (Jowie) told her: 'you want me out of your house? It is fine! Bury me in Lang'ata when I die'. He, thereafter, went silent. Maribe stood there quietly watching him."
Kasaine told the court that Jowie asked him to access Maribe's house and take the gun he'd allegedly used to shoot himself.
"On entering the house, I saw a blood trail leading to the master bedroom. In the room, there were bullets scattered on the floor and a firearm. Upon checking the firearm, I realised it was mine," said Kasaine.
The witness claims he found 28 rounds of ammunition, but couldn't immediately establish the ammunitions were to be used in which firearm.
That morning, he (Kasaine) and Maribe took Jowie to the Lang'ata Hospital, but were referred to Nairobi West Hospital for advanced medical attention.
Jowie was immediately attended to at the Nairobi West Hospital, but couldn't be admitted because of insufficient admission funds. The hospital wanted Sh50,000 paid upfront, said Kasaine.
According to the witness, Jowie had earlier confessed to him that he had "stabbed someone" on September 19, but he (Jowie) didn't disclose the identity of his victim.
Jowie and his former partner Jacque Maribe are the main suspects in the murder of businesswoman Monica Kimani, whose mutilated body was found in her Lamuria Gardens home in Kilimani on September 19, 2018.
Jowie is represented in the case by lawyer Hassan Nandwa while Maribe is represented by lawyer Katwa Kigen.
The trial resumed on Tuesday, September 28, when Kimani's friend, Anthony Kariuki, revealed that he had received a "strange" message from the businesswoman's phone. The message read: "come and help me sleep".
Kariuki had visited Kimani at her home at 9:20pm, but she excused herself, saying she had two friends in the house who needed her attention. According to Kariuki, the two friends disclosed by Kimani were a "Lebanese national and a security guard working at State House, Nairobi". It was after leaving Kimani's house that he received the "strange" message, nearly two hours later.