2,040 bullets recovered from car in Nairobi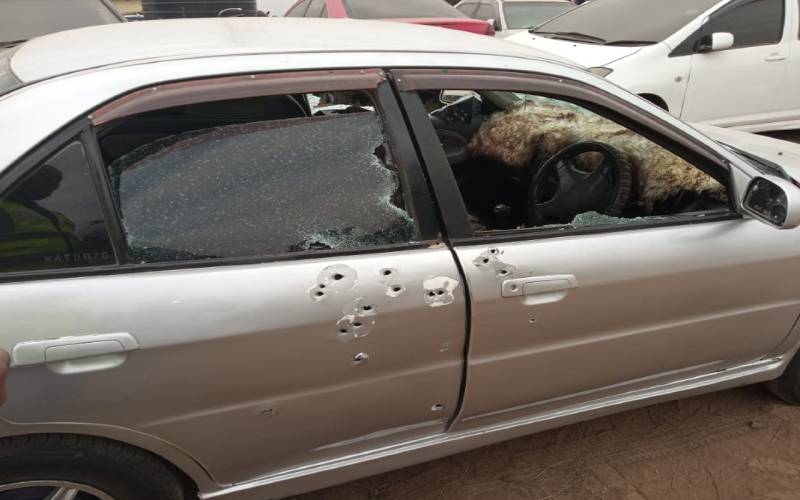 Police have recovered 2,040 bullets from an abandoned saloon car in Mihango, Nairobi.
It was reported at the Mihango Police Station at 12:30pm on Wednesday, September 15, that the 7.62mm bullets were found in a silver Mitsubishi Lancer of registration plate KAT 887G.
The driver of the saloon car had abandoned it opposite Be Energy Petrol Station on the Eastern Bypass shortly before occupants of another vehicle arrived at the scene and shot haphazardly at the Mitsubishi Lancer.
The registration plate of the second vehicle, which was white in colour, was not captured, police said.
Twenty (20) bullet holes were spotted in the Lancer, which had its windscreen shattered.
"Some of the fired bullets exited through the vehicle's windscreen, which was badly damaged," police said.
Two other vehicles parked near the Mitsubishi Lancer were also shot at.
Police have identified the two vehicles as a white Toyota G-Touring of registration plate KAW 161P and a Toyota Vitz of registration number KBM 713Y.
"The G –Touring had a bullet hole in the rear windscreen while the Vitz had a bullet hole in the right rear door," police said.
The two vehicles had been parked on a roadside garage for repair, according to authorities.
Police accessed the abandoned Mitsubishi Lancer, and discovered 2,040 bullets were in brown cartons placed on the seats.
A total of 34 cartons were found in the vehicle, with each box containing sixty 7.62mm rounds of ammunition.
Police also recovered two mobile phones, a Tecno Camon (model not specified) and an X-Tigi.
"The Mitsubishi Lancer was towed to Ruai Police Station, while the 2,040 rounds of ammunition and a spent cartridge have been kept as exhibit," said the report filed at Mihango Police Station by a mechanic
The Directorate of Criminal Investigations (DCI) detectives say a hunt for the owner of the Mitsubishi Lancer has been launched.