NMS lorry among vehicles impounded in fuel crackdown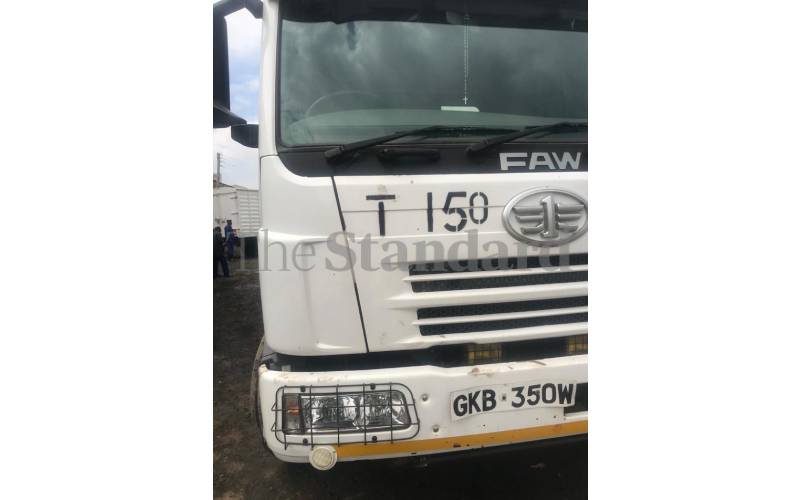 A lorry belonging to the Nairobi Metropolitan Services (NMS) is among dozens of vehicles that have been impounded by the police in a crackdown on dealers of adulterated fuel.
The driver of the truck is among eight suspects who were arrested yesterday by officers from the Nairobi Area Operations Unit, which conducted a raid in the city's Industrial Area.
Police suspect the NMS vehicle was driven into a godown dealing with adulterated products either so unscrupulous traders could siphon from it, or so it could be filled up with sub-standard fuel.
The operation started at noon and targeted dealers of adulterated fuel and those who siphon fuel from government vehicles.
The police said they have been receiving complaints from petrol station operators and dealers on an increase in adulterated fuel in the market.
National Police Spokesman Bruno Isohi said officers would continue with the operation to weed out illicit fuel from the market, and had already intercepted thousands of litres of adulterated fuel destined for petrol stations.
Three years ago, the police conducted yet another crackdown on dealers of adulterated fuel, focusing on Nakuru and Eldoret towns where the government had received numerous complaints.
During the operation, a multi-agency team that included security personnel and Energy Regulatory Commission officials raided 12 sites and destroyed storage facilities believed to have been used by unscrupulous dealers to siphon and sell sub-standard fuel.
At the time, Uasin Gishu County Police Commander Agustine Nthumbi (who is now in Nairobi) told journalists that the dealers were adding paraffin to diesel.