City trains jammed as commuters avoid torturous Mombasa Road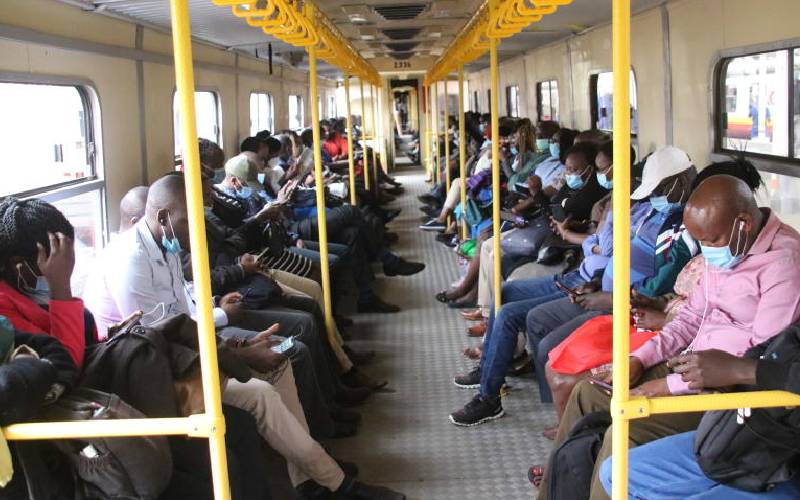 Lilian Mbithe, 35, works as a receptionist at a real estate firm based in Upper Hill, Nairobi.
She lives in Kitengela in Kajiado County, one of the bedrooms of Nairobi residents. She has been driving herself to work for six years now.
However, since the construction of the Nairobi Expressway on Mombasa Road in mid-October, she has not been using her car. She instead switched to using the city commuter train to avoid the maddening traffic jams that start to build as early as 5am.
Using the train has been both good and bad.
"Since traffic jam increased on Mombasa Road due the contractor closing some lanes, majority of those who were driving to work parked their cars and now use the train. This has created a huge demand for train services.
"Nowadays, getting an empty seat is a nightmare. We are forced to stand all the way to the Central Railway Station, a distance of over 30 kilometres that takes over one hour,'' said Ms Mbithe.
To get the train destined for Lukenya, the last point on the Athi River route with stops at Kitengela, Mlolongo, Embakasi, Imara Daima and Makadara, one has to leave work one hour earlier to be assured of a seat owing to high passenger numbers.
In the morning, the train leaves Kitengela at 6 O'clock and arrives in Athi River at 6.18am, Mlolongo (6.39), Embakasi (6.57am), Imara Daima (7.12am), Makadara (7.26am) and ultimately Nairobi's Railway Station at 7.40am.
We found Wycliffe Onyiego at the railway station after he missed a seat in a train that was departing to Athi River. He said Kenya Railways should add two to three more coaches to accommodate the increased numbers.
"With the increased number of passengers, the management of Kenya Railways should add more coaches,'' appealed Onyiego.
Another passenger, Mule Musimi, who has been using the train since May last year and commutes every evening to Syokimau, said the train is normally full.
"Recently at Imara Daima in the evening, I witnessed a near-stampede as passengers dashed to get space. They managed to enter the train and stood even near the doors. We were very crowded and squeezed but we arrived safely," said Musimi.
He said the company should also build a station at Mlolongo, where he boards the train.
"Kenya Railways should construct a station there because where we board the train is like a thicket and even people with disabilities and the elderly are getting it hard to board," said Onyiego, who said indeed the train had helped avoid traffic jams.
Kenya Railways Corporation Managing Director Philip Mainga admitted that passenger numbers have increased since the construction of Nairobi Expressway started, and said that there were plans to add more coaches and increase the number of trips.
"We have noted the huge demand and congestion on Embakasi and Athi River routes on long trains and even now getting a seat on Diesel Mobile Units (DMU) is hard," he said, adding that there will be a total of 22 coaches per long train and four coaches for a DMU during the day.
He said the corporation was planning to introduce weekend trains on busy city routes like Embakasi and Athi River, and one that plies Nairobi and Thika route to decongest Jogoo Road, Mombasa Road and Thika Superhighway.
Kenya Railway is currently operating about 15 trains per day on Embakasi and Athi River routes.