Mother's two-year nightmare ends in joy after son is found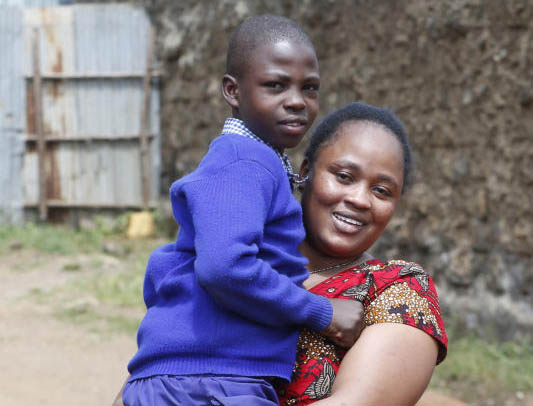 Jacqueline Khalenya stepped inside Neemaland Queens and Kings Centre in Riruta Satellite, Dagoretti, Nairobi, with a sense of hope she had not felt in months.
Following an appeal aired on KTN News Khalenya was reunited with her only child, Rhonick Omondi, after two-and-a-half years. A good Samaritan had found the boy a day after he went missing from Kiambiu slum, Nairobi.
"This is God's call. I didn't expect this to happen," Khalenya whispered as she walked into the children's home.
Before that phone call at 10.40 pm on Monday, Khalenya's hold on sanity had been tenuous at best. She would find herself stopping to stare at children who looked to be about eight, the age Rhonick was when he went missing. She would chase after groups of playing children, convinced they would lead her to her son.
But then Grace Omundi changed all that. At Neemaland Queens and Kings Centre, the director saw Khalenya's heartbreaking story on KTN News and recognised Rhonick.
She called the TV station and was put in touch with Khalenya. A few hours later, a small crowd of children living at the rescue centre cried along with Khalenya and Rhonick as they hugged for the first time since January 6, 2019, the day he went missing.
"This is God's miracle. I am the happiest mother on earth today."
According to Omundi, a boda boda rider brought Rhonick to the centre. The boy was found stranded along Kabiria Road in Riruta Satellite.
"I asked the rider to report the matter to the police station and bring an OB number so we could house the boy as the police traced his guardians," said Omundi. Rhonick joined 65 other children at the centre. His reunion with his mother will be finalised by the centre's management in collaboration with the Children's Department and the police, after which he will be allowed to go home.