Two police officers who killed City Park woman jailed for 7 years each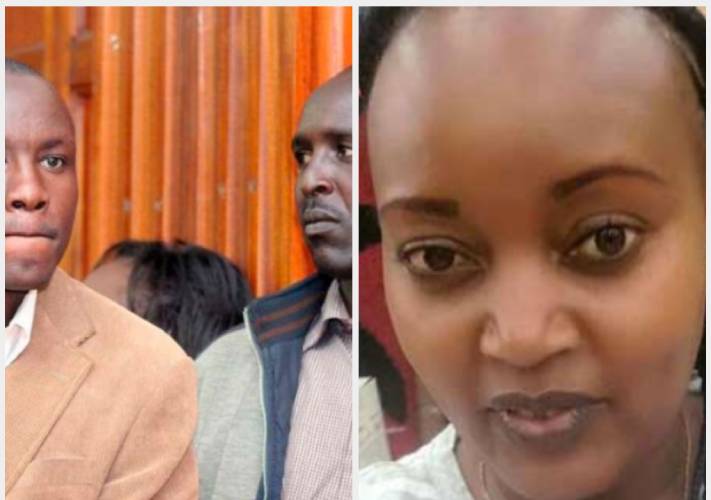 Two police officers found guilty of killing a middle-aged woman in City Park, Nairobi in May 2018 have been sentenced to seven years in jail each.
The convicts, William Kipkorir Chirchir and Godfrey Kipng'etich Kirui, shot dead Janet Waiyaki, 41, when she was relaxing at the park with her nephew.
Chirchir and Kirui were initially charged with murder before the suit was reviewed to manslaughter.
Accepting Justice Stella Mutuku's ruling on Thursday, May 27, Waiyaki's family said a more severe punishment would have been appropriate.
"The police officers interfered with evidence during investigations, hence the watering down of the case from murder to manslaughter," Chris Waiyaki, the deceased's brother, told The Standard.
How Waiyaki met her death
It was mid-morning on May 20, 2018 when Janet Waiyaki and her nephew, Bernard Chege, were resting inside her car at City Park in Nairobi's Parklands area after a night out.
Waiyaki had apparently wanted to sleep after a long night of binge and chewing khat (miraa). She, as a result, moved to the back seat from the front passenger seat while Chege, then 27, remained on the driver's seat.
No sooner had they slept than they had bangs on the car door ordering them to open. Upon waking up, they saw two police officers pointing guns at them.
Chege panicked and, out of fear, ignited the car engine in order to flee.
However, he did not go far as the officers sprayed the vehicle with 15 bullets. As a result, Waiyaki was killed while Chege was left fighting for his life with gunshot wounds.
Constables William Chirchir and Godfrey Kirui, were on May 11, 2021 found guilty of manslaughter after Justice Stella Mutuku ruled that their actions did not amount to murder.
Justice Mutuku observed that although the officers acted recklessly in shooting Waiyaki and Chege, they could not be accused of murder since they were operating under a threat of terrorism, which required extra attention after the aunt and nephew refused to open the car door and attempted to flee.
"I am persuaded to give the [police] officers the benefit of doubt that their intention was not to kill Waiyaki, even though the court finds that they acted against the law. The offence proved by the evidence brought in court is that of manslaughter and not murder," ruled Mutuku.
Justice Mutuku said although a murder crime had been established, the court could reduce it to the lesser offence of manslaughter since the cops had no malice aforethought or intention to kill Waiyaki.
She further observed that even though Chege might have acted "foolishly" by refusing to open the car door and attempting to flee, the accused were not justified in using the excessive force that resulted in the death of his aunt since they could have shot at the tyres to stop the vehicle.
"The two [police] officers stated that they did not intend to kill Waiyaki or to injure the driver, but the court finds that they acted recklessly, given they were not under any threat after the vehicle drove off and it could have still been intercepted without harming the occupants," ruled Mutuku.
While pleading for a non-custodial sentence on May 11, William Chirchir and Godfrey Kirui, told the court they regretted their actions, stating they should have acted differently on May 20, 2018.
Chirchir, 36, told Justice Stella Mutuku that he is a father of two children – aged seven and one –, plus an aging mother, who depend on him.
He said he has been in the police service for ten years, where he served diligently.
Twenty-eight-year-old Kirui, on the other hand, said he is a father of two and besides his family, he has been taking care of his two siblings.
"He pleads for a non-custodial sentence. He is also deeply sorry for what happened," said his advocate.
Facebook to boost local films
Available to view on a dedicated 'Made by Africa, Loved by the World' microsite and the official Facebook Africa page.