Prof Moni Wekesa: How altercation in Finland made me study law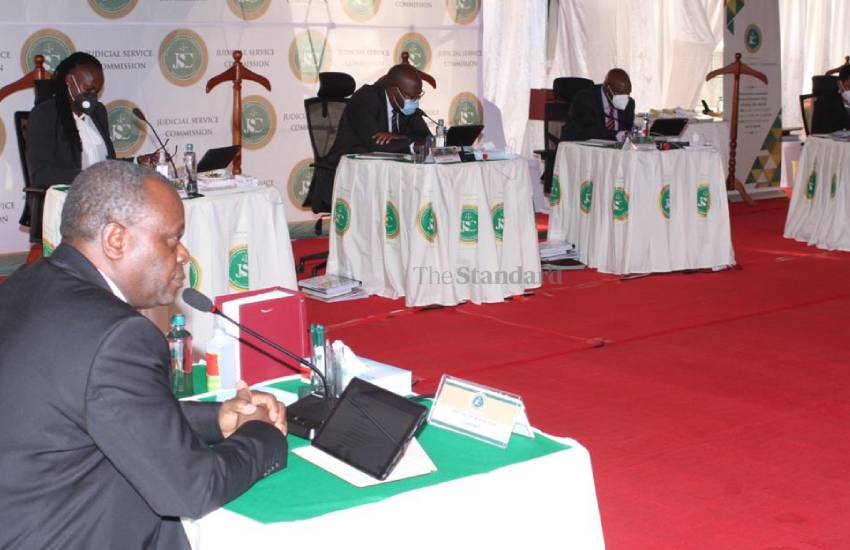 A football tournament in Europe transformed Prof Moni Wekesa's outlook on life - and made him study law.
Revealing his journey to the bar on Thursday when he was being interviewed for the position of Chief Justice, the Dean of Law at Daystar University said he was a member of the National Junior Soccer team that toured Helsinki in 1992.
The double PhD holder who has 16 years of legal experience under his belt said the arrest of a Kenyan footballer during the trip after an altercation in Finland's southern capital was the turning point, as he was requested to negotiate the footballer's release.
Prof Wekesa – who had at the time obtained a Bachelor's degree in Education (1981), a Masters and a PhD in Sports Medicine and Rehabilitation in 1986 and 1989 respectively - said he felt compelled but recognised his inexperience in criminal defense.
"One of the boys punched somebody there and was arrested. The coach and team managers said 'Dr, you can plead with them for his release. Help us'. Honourable chair, I felt handicapped, I thought I had attained and read it all. Of course, I went to the police, we had a long talk, they released our boy and that ended it," said the founding Dean at Mt Kenya University School of Law.
According to the scholar, the incident made him ponder about law, especially the question on the authority Finland vested [on its officers] when handling the case of the Kenyan footballer.
The law career seed was sowed further when the Kenyan senior team visited Cairo in 1993. Dr Wekesa was again called upon to intervene after the team's manager was arrested for producing a false passport.
"The following year [1993] we travelled to Cairo with the senior team. Normally, clearances are very easy at customs; the national team collects passports, so they are stamped en-masse. We were received by footballing officials before customs stamped the passports and we got in. On exiting the country, each person was required to have their passport," recalled Prof Wekesa, adding: "It turned out that the team manager had taken a passport [photo] that belonged to a different player and attached it to a player who didn't have a passport. So, he [the manager] was arrested at customs. Once again, the coach and team manager said 'Dr, you understand this – help us' I went to the customs officials and we had a long chat."
Take a quick survey and help us improve our website!
Take a survey
Explaining how he convinced Cairo officials to free the manager, Prof Wekesa said he told customs that the plane to Kenya was already on the tarmac and there was no need to hold the manager at the country's expense as the issue would be sorted in Kenya.
"Here is the plane waiting, this person is going to his home country. Why would you want him to sit here and live on your expenses? Kindly, just allow us to go, we shall sort out this issue when we get home," Prof Wekesa pleaded in Cairo.
"He [team manager] was eventually released. From then on, the seeds of studying law were sowed. So then I went to Law School and graduated with a Bachelor's degree in 2002."