Will Judiciary insider Justice Ouko reform courts?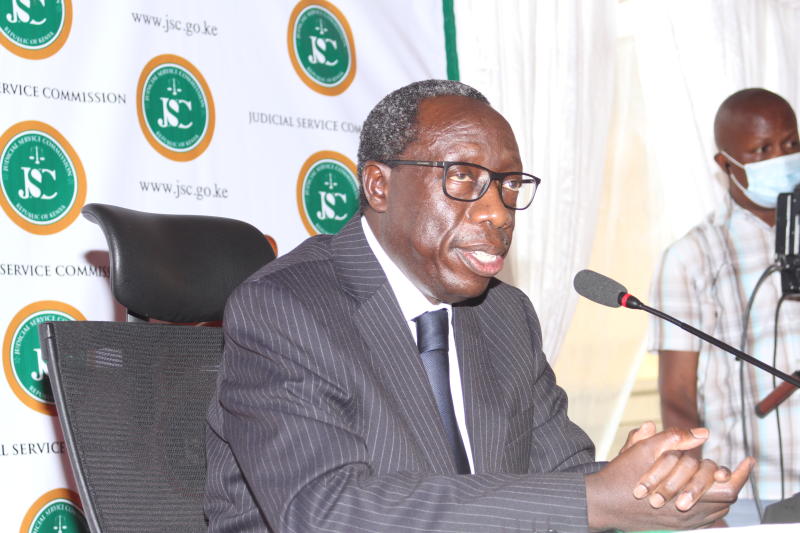 Court of Appeal President Justice William Ouko's long service in the Judiciary became the centre of focus in his quest to become the country's next Chief Justice with questions over his failure to initiate reforms.
Justice Ouko was also put to task for being a police reservist for ten years rising to the rank of an inspector at a time when he was the Registrar of the High Court, and for not doing enough to help political dissidents who were put in detention.
But the judge defended himself stating that they were working under difficult circumstances from the time he became a court administrator in 1990 to 2004 with limited resources and workforce that made it impossible for the Judiciary to improve on its services.
"I agree things were difficult and we faced many challenges but if you don't have finances and human resources then you cannot achieve much. We also tried to initiate some changes but there was resistance from the judges," said Ouko.
He also defended his move of being a police reservist saying he took up the role as a community service to honour the dream of his father who wanted him to become a police officer and that his duty was to train other officers and not arrest criminals.
According to the judge, his experience in the Judiciary where he started as a district magistrate and rose through the ranks to become the Appellate Court president has given him enough experience to be the next CJ and head of the Judiciary.
Justice Ouko told the Judicial Service Commission interviewing panel that his vision, if selected to be the CJ, will be to build on the reform agenda initiated by his predecessors, Dr Willy Mutunga and David Maraga and to restore public confidence in the institution.
"I want my legacy to be a satisfied litigant who comes to court and leaves satisfied. I will achieve this through proper case management and establishing small claims courts to take the pressure off magistrates and High Courts," he said.
Ouko said his leadership skills started from the time he joined the Judiciary in 1987 and that it was during his time as a court administrator that he established a medical scheme and other allowances for Judiciary staff.
He is said his style of leadership is democratic and if appointed the CJ, he will not make any decision alone but will consult to get a collective agreement on any issue.
On whether his lack of private practice will affect his worldview having spent his entire 34 years legal career in the Judiciary, Justice Ouko said that it will actually work to his advantage having seen the good and bad in the Judiciary.
"I do not think that my lack of outside experience would be a disadvantage because you can have the experience of both sides and still fail to understand the Judiciary. Outsiders will take a bit of time to learn the judiciary but an insider knows everything," said Ouko.
The judge said that his approach to fighting corruption in the Judiciary will be to strengthen the office of the Ombudsman and to punish those who offer bribes.
"Corruption is like night running and it takes two to tango. We must not only address corruption in the judiciary but also look outside for those offering the bribes," he said.
On the contentious appointment of 40 judges, Justice Ouko said his court is the most affected by the president's refusal to swear in 11 judges to the Court of Appeal, and that his approach to resolve the stalemate will be to seek a round-table meeting with heads of the three arms of government.