Kangundo residents protest 'dangerous' sand harvesting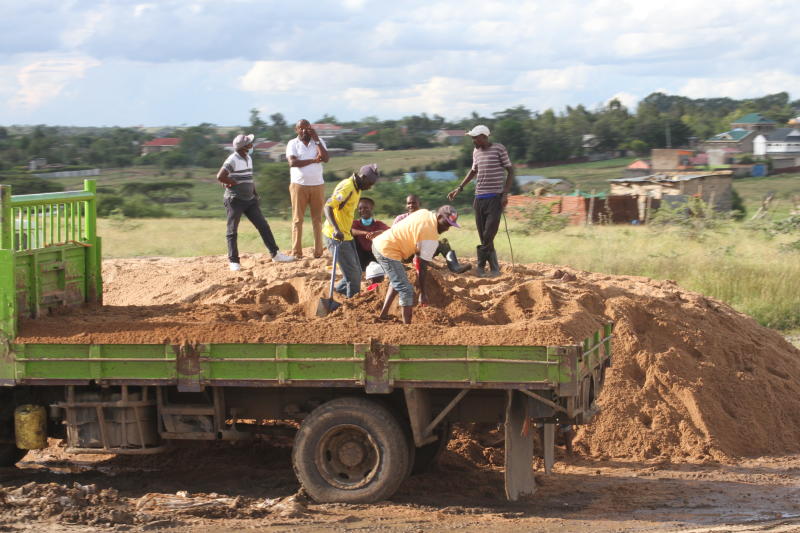 Residents of Mukunike village in Kangundo have raised the alarm over illegal sand scooping near an electric power line which has left electricity poles exposed and in danger of falling especially during the rainy season.
The worried residents said rampant sand mining was being carried out by known individuals who go about their business oblivious of the danger posed to the rest of the local community.
Aggrieved by the looming danger, a section of them have petitioned Interior Cabinet Secretary, Fred Matiang'i and his Energy Counterpart, Charles Keter seeking their intervention to avert a potential disaster.
In the letter, which The Standard obtained a copy of, the residents protested that their persistent efforts to report the matter to local administration as well as the local KPLC office in Tala bore no fruits, as Government officers continued to look the other way as the vice escalated.
"The destruction has been caused and continues to be escalated by the perpetrators who are well known to local administration but have done nothing about it as they are beneficiaries of the proceeds of the said illegal activity," reads the letter, which was also copied to NEMA Director-General and the KPLC managing director.
The petitioners claimed said five electricity supply posts feeding the main power transformer at Matetani AIC Mixed Secondary School could fall any minute due to exposure.
"The illegal activity has left five posts almost uprooted and which are definitely bound to fall down anytime in the rain season and will cause danger, injury and possibly death to innocent residents, they said.
They lamented that the sand harvesting had extended to a public road has further caused the destruction of the road thus inconveniencing road users.
They went on, "By reason of the aforesaid we humbly appeal to you to urgently take the appropriate preventive measures including prosecution of those involved.
Local Nema official, Jane Njehia acknowledged receipt of the residents' complaints and promised to address the matter in a letter dated 30th March 2021.