Woman: Nigerian man never conned me Sh31m, I gave him the money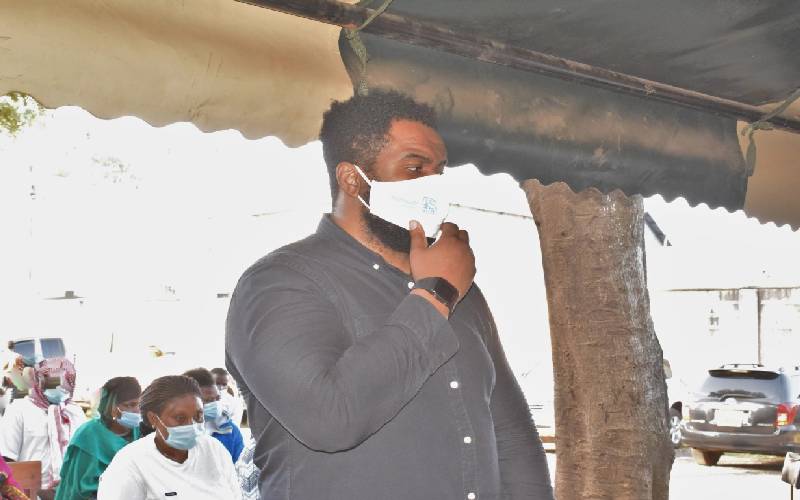 A Kenyan woman on April 16 stunned the court when she admitted that she was never conned money by a Nigerian male friend, and that it is her who loaned him the said cash.
Appearing virtually before Senior Magistrate Derrick Kutto at Kibera Law courts, Bella Bronislavia admitted that she had loaned Edwin Okoye (pictured) Sh31 million to invest in his business but struggled to pay back prompting her to move to court.
Bronislavia also told the trial magistrate that she never had any sexual relationship with Okoye but were just friends.""
In documents presented in court, Bronislavia transferred Sh5 million to the said account on December 18 in 2017, Sh8 million on January 2, 2018 and Sh5 million in the same month.
She also transferred Sh5 million on February 16, 2018, another Sh6 million on February 24, and finally Sh1 million in March.
The revelation comes after the magistrate had in December 2020 ordered the two resolve the dispute amicably and report back to court with a definitive agreement.
"I am giving you time to settle the case amicably and report back to court with a definitive agreement on a settlement," ruled the magistrate.
The two seemed to have found a middle ground with Bronislavia even told the court that she had received Sh500,000 from Okoye in form of loan repayment.
She also made it clear they never had any sexual relationship as earlier claimed by a section of the publications.
Charged
In December 2020, Okoye was charged with obtaining money by false pretense after being accused of swindling his Kenyan girlfriend Sh31 million.
Okoye was reported to have conspired with other people to defraud Bronislavia between May 2017 and May 2018.
While testifying in court, Bronislavia revealed that she met Okoye at B-club Kilimani and started dating shortly afterward. Bella revealed that they shared business ideas on several occasions.
Okoye in his defence said that he was amicably settling the matter with the complainant.