Judge Koome: I will consult the president on stalemate in appointment of judges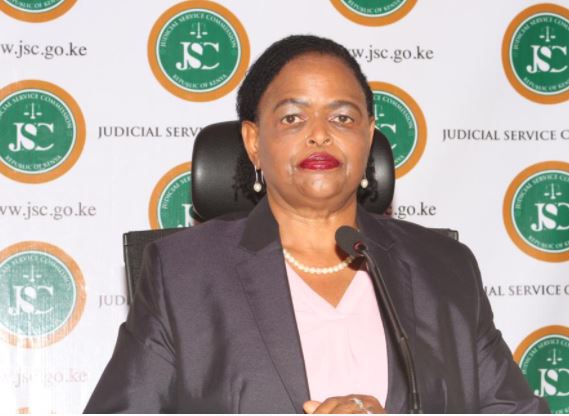 Court of Appeal Judge Martha Koome is facing the Judicial Service Commission (JSC) panel today and becomes the third person to be interviewed for the position of Chief Justice.
Judge Koome currently heads the Criminal Division at the Court of Appeal.
The judge is making her second shot at the CJ position having tried unsuccessfully in 2016.
She is among 10 candidates shortlisted for the position of Chief Justice, and among three women eying the position.
She told the JSC panel on Wednesday morning that she has 33 years' experience and had practised law for 15 years before becoming a judge. Koome says she was actively involved in public matters.
Judge Koome was admitted to the bar as an advocate of the High Court in 1986 and started as a legal associate at Mathenge and Muchemi Advocates until 1993 when she opened her own law firm and became the managing partner until 2003.
During her time as a High Court Judge between 2003 and 2011, Koome served in different capacities as head of Land and Environmental Division in Nairobi, Resident Judge in Nakuru and Kitale, and at the Commercial and Family Divisions in Nairobi.
Take a quick survey and help us improve our website!
Take a survey
She was also a council member in the Law Society of Kenya under CJ Willy Mutunga's reign and was associated with the promulgation of the Kenya Constitution 2010.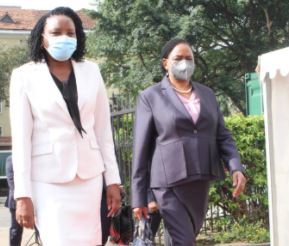 Some of her responses to the JSC panel include:
Panel: Are you a visionary leader?
Judge Koome: I believe I am both. I start by seeing the objective of the bigger picture by what we want to achieve. Is it to clear the backlog of cases? My leadership is transformative. What I bring is local, regional, and international expertise to the role of CJ.
Panel: If you become the first woman CJ in Kenya, what challenges will you face and how will you mitigate them?
Judge Koome: I believe the challenges are similar whether a male or female CJ. It will be historic for the commission to nominate a woman for the office of Chief Justice. Leadership is gender-neutral. It doesn't require a man or woman. It is skills that will deal with the challenges we face. You need managerial skills because you will be overseeing various things. As a lady, I appreciate everybody brings something to the table.
Panel: How do you intend to solve the backlog of cases?
Judge Koome: This is a problem and it needs to be solved immediately. Back then, we were few but somehow we managed. Now, we are many but cannot manage. What needs to happen is for every judge to have their own docket. We need a case management system.
Panel: How will you resolve the dilemma of 41 judges?
Judge Koome: This must be resolved through negotiations. We are independent as Judiciary and nobody should attempt to take its dependence. Therefore, when the right hand doesn't agree with what the left hand is doing (Kenyans), the body suffers. When I look at Judiciary, we are inter-dependent as far as delivery of service is concerned. Where do we come together? We will hold regular meetings with the Executive and Legislature to end the standoff. We must discuss this issue of the appointment of 41 judges with the president, find out where the problem is and resolve it.
On Tuesday, Prof Patricia Kameri Mbote faced the panel, while Justice Juma Chitembwe was interviewed on Monday.
Other candidates are justice Marete Njagi, Philip Kipchirchi Murgor, Prof Patricia Mbote, Justice Nduma Nderi, Senior Counsel Fredrick Ngatia, William Ouko, Moni Wekesa and Alice Jepkoech.
Out of 133 applicants, only 10 met the minimum statutory requirements for the CJ position. They are seeking to succeed former Chief Justice David Maraga.