Interior CS announces radical changes in police recruitment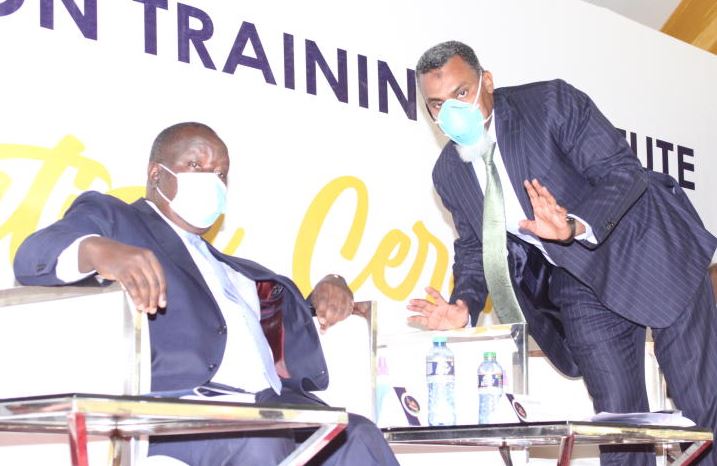 Interior Cabinet Secretary Fred Matiang'i has said the qualification for recruitment into the police service should be raised from D plus.
Dr Matiang'i yesterday questioned the service's capacity to deal with emerging crimes, saying Kiganjo Police Training College graduates were no match for tech savvy criminals.
Speaking during a graduation ceremony for 46 prosecutors in Prosecutor Training Institute, Loresho, Nairobi, the CS said the National Police Service will turn to professionals like doctors and lawyers to crack complex crimes.
"This is why I have been fighting that we look at the cut-off point of the people we are admitting. Surely, if we are admitting you with a D plus then we are telling you to go to the complex science of analysing blood and preparing a document that the DPP is going to use in court to prove murder, are we serious honestly? Are we serious?" he posed.
"That is why I am saying there are many things we can do. The time is here for us to face the reality to know that we are facing challenges that we must confront in a serious manner and... we need to start new capacities on law enforcement terrain so that when I give you a file, you will not say we have no competencies."
Matiang'i said Kiganjo is not producing manpower that can crack complex and evolving crimes.
"Let me be frank and I am not besmirching you my brother, the capacities we need are not there because we cannot hope that the constables we have trained in Kiganjo are the ones who are going to deal with the complexities we are discussing to help the DPP deal with a rape case," he said.
Director of Public Prosecutions (DPP) Noordin Haji, who was also present at the ceremony, said the correctional facilities are full and cannot hold more convicts and remandees.
Haji said between July and December last year, over 150,000 criminal cases were filed before various courts in the country.
He said there is a need to decongest the facilities, adding that those in remand prisons should be considered as a way of also containing the spread of Covid-19.
Ethics and Anti-Corruption Commission CEO Twalib Mbarak called for collaboration between agencies in the fight against corruption.
Twalib said the new crop of prosecutors will be vital to the enhanced fight to ensure the country does not lose money.
Law Society of Kenya (LSK) President Nelson Havi opposed the proposed constitutional changes, saying they will be a drawback to the gains the country has made under the current Constitution.