Sombre mood as senator laid to rest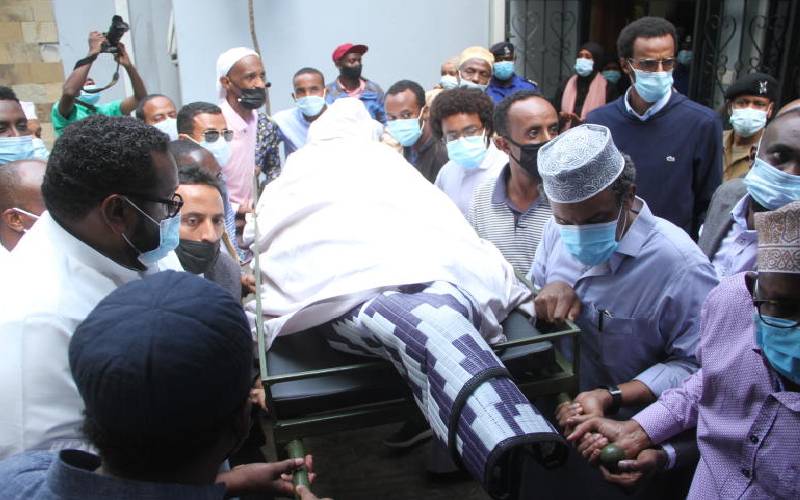 Garissa Senator Yusuf Haji was yesterday buried at the Lang'ata cemetery in Nairobi, hours after his death.
Haji, 80, died at Aga Khan Hospital after a long illness. The long-serving politician and career civil servant had returned to the country a few days earlier from Turkey, where he was on treatment.
Mourners made their way to his residence tucked away on Riverside Drive in Nairobi, while others converged in Ijara, the constituency where the senator was born. He represented Ijara in the National Assembly for three terms.
The family said they had discussed burying Haji in Garissa, but instead opted for Lang'ata cemetery.
Leaders visited the home of a man they saw as a father and mentor, having been a leading light in North Eastern politics for more than three decades.
Garissa Township MP Aden Duale said he mourned the loss of a father.
"At a personal level, he was my father, my senator, political mentor, advisor and above all, leader of my community," the former National Assembly Majority Leader said.
Take a quick survey and help us improve our website!
Take a survey
Duale said Garissa County would miss Haji's guidance.
"He was a man who advocated peace and harmony among the pastorals communities during his lifetime," he said.
Religious rites
Nominated Senator Abshiro Halakhe referred to Haji as a father. "Every other place has their baba and to us, Haji was our baba," she said.
At Masjid Nur in South C, mourners had gathered, some from mid-morning, waiting for the arrival of Haji's body for 'Jannah' prayers.
Religious rites to purify the body were performed at his home.
His body was laid in a room at the back of the mosque that is reserved for the purpose.
It was wrapped in a white shroud, as required by the Muslim faith. Only his face was partially revealed for mourners to see.
The body was briefly taken inside the mosque, where it lay as the faithful said Asr prayers and finally prayed for the departed.
At around 5pm, Haji's body, shrouded in a white sheet and carried by those who were closest to him in life, was lowered into the red earth at the Lang'ata Muslim cemetery.
A crowd of mourners, all men, elbowed each other for fistfuls of soil that they threw over his body. After a short prayer, President Uhuru Kenyatta was granted a rare opportunity to give a speech.
He kept it short and focused only on the values of Haji - his wise counsel and a listening ear.
President Uhuru eulogised Haji as a person who was ready to offer his counsel without any thought to his own benefit.
"It came from his heart and his mind and that is why I trusted him as I did," he said.
Uhuru added: "I trusted and believed in him. Not once did he ask for anything to benefit him personally, but for the benefit of the country."
The Head of State said Haji's death was a loss to the country.
"I have received condolences from leaders of neighbouring countries who knew Haji and who are still appreciative of his efforts to bring peace to their countries," he said.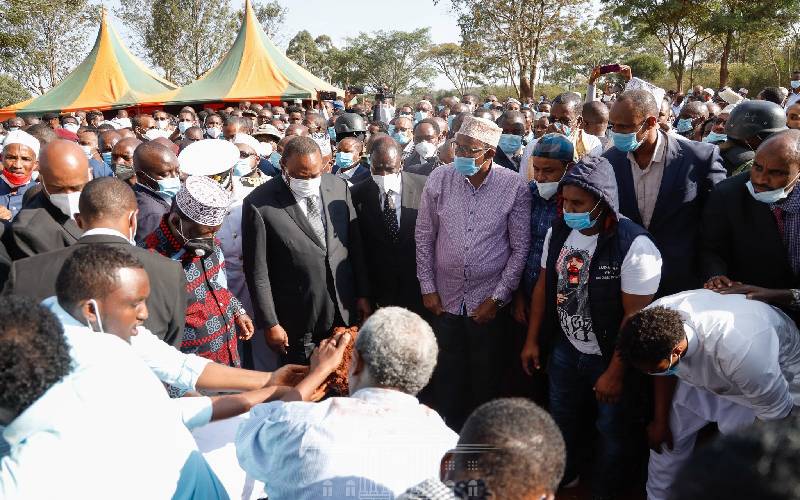 Uhuru was accompanied by Deputy President William Ruto and ODM leader Raila Odinga after they left the burial of former Cabinet Minister Simeon Nyachae in Kisii.
In his days in public administration and politics, Haji became one of the most recognisable figures in North Eastern politics. He was the Minister for Defence when Kenya sent troops to Somalia more than a decade ago.
Raila said in Haji's death, Kenya has lost a dedicated patriot and a humble servant.
"We can only thank him for the years of his life that he gave in service of our country, his last great public passion being the Building Bridges Initiative," he said.
The DP eulogised the senator as a devoted and indefatigable administrator, who was cause-driven. "Senator Mohamed Yusuf Haji was a gifted politician, modest, yet strategic schemer with ground-breaking mediation skills. We will fondly remember Honourable Haji as a leader who robustly upheld and reinforced the reputation and integrity of public service," said Dr Ruto.
Kanu chairman and Baringo Senator Gideon Moi said Haji served the public with dedication, diligence and passion, with his latest assignment being the Building Bridges Initiative chairman.
Former President Kibaki, in a condolence message, said the senator commanded deep respect in his community way beyond the immediate spheres of his constituency and county. "His thoughtful approach in dealing with matters concerning community leadership and public administration made him the man to turn to in times of incertitude and consternation," he said.