Union wants security guards sacked due to Covid-19 reinstated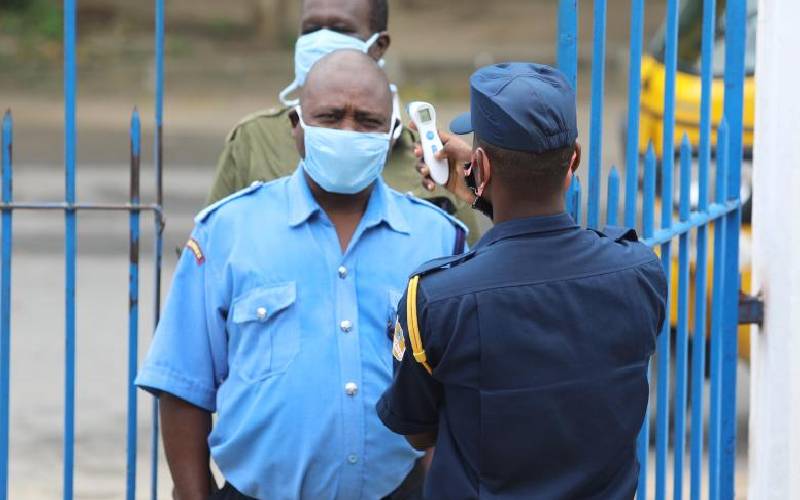 A workers 'union is demanding that thousands of security guards sacked due to Covid-19 effects should be given back their jobs.
Kenya National Private Security Workers Union (KNPSWU) said the country's economy is showing signs of recovery hence the need for the government to compel security firms to reinstate dismissed workers.
Speaking during a special delegates' meeting where he was endorsed to defend his seat in upcoming national elections, union's Secretary-General Isaac Andabwa, about 5000 security guards were rendered jobless as employers readjusted operations to remain afloat.
Andabwa now wants guards who were sent home on unpaid leaves to return to after his union realised employers were not keen on returning them to work.
"We call on the Ministry of Labour to intervene and have our members back to work. They were sent home without any compensation and now some of them are unable to survive," said Andabwa.
He said the guards living in town are hardest hit since they can no longer afford basic needs especially food and shelter.
"Some have been kicked out of their houses for accrued rent arrears," said the KNPSWU boss.
All unions affiliated to Central Organisation of Trade Unions (Cotu) are currently conducting elections for new office bearers as per labour requirements.
The union's officials from the 13 branches across the country met in Nairobi ahead of the national delegates conference slated for next month and unanimously agreed Andabwa including his entire team should continue serving.
He told members interested in running for elective posts in the union to follow the rules to avert division in the party.
Andabwa hit out at some unnamed group of trying to remove the union's leadership through the back door.
"We have successfully thwarted some attempted coup orchestrated by a former employee who was sponsored by some security firms opposed to regulation and reforms," he said.
He promised to ensure guards are properly remunerated and their welfare is well taken care of while fighting security companies trying to frustrate the Private Security Regulation Act, that seeks to professionalise the vital but neglected sub-sector.