Sonko to spend two days behind bars pending bail ruling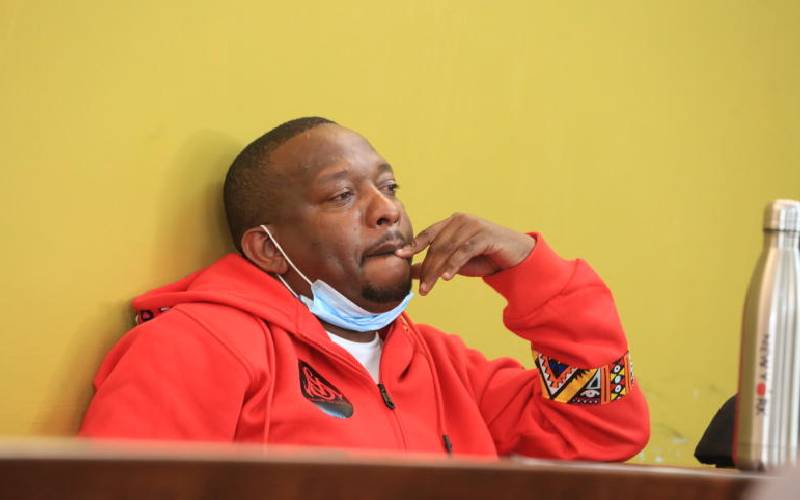 Former Nairobi Governor Mike Sonko will remain in police custody until Thursday when a Kiambu court is expected to issue a ruling on his bail application.
Sonko has been remanded at Gigiri Police Station for two days pending his bail application ruling.
The ex-governor was on Tuesday arraigned in a Kiambu court to face various counts of assault and forcible entry of property in Buruburu Phase Four.
Sonko who appeared before Senior Principal Magistrate Stellah Atambo, denied the charges of forcible entry and nine counts of assault causing bodily harm.
Sonko is being represented by Senior Counsel John Khaminwa, Assa Nyakundi and Danstan Omari.
According to Chief Inspector Geoffrey Ndatho the former governor is said to have committed the offences on May 25, 2019, at LR NRB block 78/863 at Kamukunji sub-county in Nairobi County.
Sonko is said to have stormed the said property in Buruburu Phase Four accompanied by youths and committed the offences.
Ndatho pleaded with the magistrate to deny Sonko bail arguing that he is being investigated for other criminal offences.
The prosecution maintained that Sonko being a politician has influence and can interfere with the witnesses.
"There is a likelihood of Sonko or his followers directly or indirectly to interfere with key witnesses if he is released on bail," said the prosecution.
The court heard that Sonko has been charged with a serious offence and if found guilty he shall be sentenced to serve a custodial sentence hence there is a high probability Sonko might abscond court attendance.
Sonko, who yesterday, spent over six hours being grilled by the detectives over his conduct is now facing ten charges emanating from the incident.
He is being represented by lawyers John Khaminwa, Danstan Omari and others
More cases
Yesterday he was grilled over robbery with violence cases and assault. The cases are said to have happened in the past years.
Detectives are seeking more time to hold him for further grilling over claims on the 2017 election chaos and other cases.
The ex-governor was summoned to appear before the Directorate of Criminal Investigations on Monday to shed light on claims that Interior PS Karanja Kibicho and himself jointly participated in causing mayhem in 2017.
The summons directing Sonko to appear before the Head of Serious Crime Unit Kuria Obadia at the DCI headquarters along Kiambu Road were issued last week. He was supposed to give his side on the matter.
This was after Kibicho recorded a statement with the DCI distancing himself from the remarks made by Sonko at a rally in Dagoretti South, Nairobi.
Sonko alleged that he and Kibicho were part of those involved in the hooliganism witnessed in Nairobi as ODM supporters protested.
But Kibicho has since obtained orders stopping Sonko from continuing to mention his name in relation to the disruption of ODM rallies after the 2017 election.
High Court Judge Msagha Mbogholi ruled that Dr Kibicho's reputation and good public standing will continue to be damaged if the former governor is not stopped from uttering the false statements, pending the determination of the suit.
Dr Kibicho, through Senior Counsel Fred Ngatia, filed the application claiming Sonko uttered the false words on January 24 with the intention to injure the PS's reputation.
"The libellous utterances against Dr Kibicho were not an isolated case but a continuation of sustained and systematic false, malicious and reckless statements the former governor has been making concerning the PS since 2017," said Ngatia.