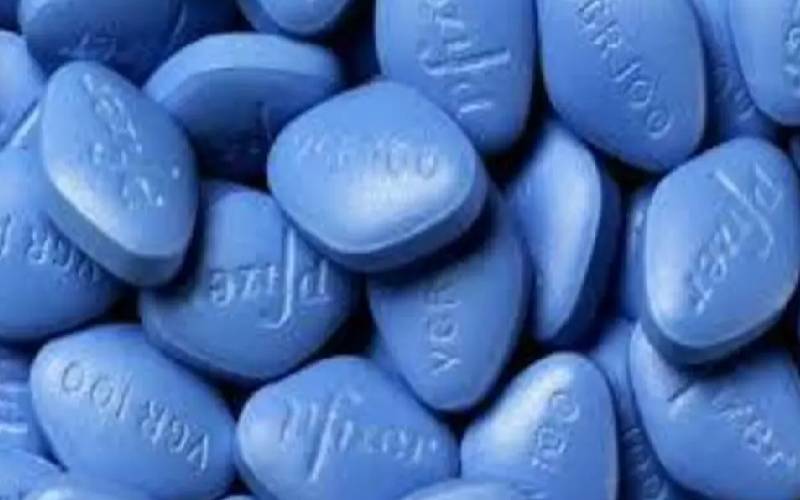 The Pharmaceutical Society of Kenya (PSK) has warned the public against the use of sexual enhancement drugs commonly known as the 'Blue Pill' without the advice of a qualified medical practitioner.
In a statement released on Friday, PSK cautioned the public against taking Sildenafil, Tadalafi, Vardenafil and Avanafil drugs pills without the advice of a qualified medical practitioner and a valid prescription.
"The use of these medicines without prior medical evaluation makes one more prone to their harmful effects," the statement read in parts.
PSK said if misused, the drugs have mild to moderate side effects including headache, nose bleeding, discomfort and pain in the upper abdomen, trouble falling and/or staying asleep, redness of the skin, diarrhoea, dizziness and skin rash.
Read More
Side effects
As for the severe side effects, the users will experience a mild and short-lived decrease in blood pressure, vision loss, unwanted persistent erection and potential for cardiac risk with sexual activity in patients with pre-existing cardiovascular disease.
The society also cautioned those with underlying conditions and those on other medications to be more careful with the supplements because they are likely to experience the severe effects.
"Whilst we acknowledge these medicines have been used to effectively manage erectile dysfunction, we caution the public to refrain from accessing the medicines without a full evaluation, diagnosis and prescription by a qualified medical practitioner," PSK said.
PSK told those with valid prescriptions to obtain their medicines from only legally registered pharmacies.
"A legally registered pharmacy must have on display a health safety code issued by the Pharmacy and Poisons Board," PSK said.
The warning comes amid reported deaths emanating from the use of sex enhancing drugs in the recent past.
On December 30, a 59-year-old man died in Migori after reportedly taking sexual enhancement drugs (Blue Pills) in readiness for his mistress who changed her mind in the last minute.
According to police reports, the man unaware that his mistress was in her menses, booked her at Urembo Bar in Ntimaru sub-county ahead of the merrymaking.
After booking the room, the deceased is reported to have bought for her 'mpango wa kando' bread and a soda at the bar as he waited patiently for the woman to finish eating.
Things turned for worse when the woman joined the man in the room and reported that she was in her periods and could not 'help him out'.
On January 7, a 35-year-old man died during an intimate relationship with his girlfriend in Dandora.
Robert Maina, a Kenyatta National Hospital (KNH) employee, fainted and died instantly while in the act with his girlfriend, in his house.
According to a police report, assorted drugs and a medical report summary were found at the deceased's house.
The body of the deceased has since been moved to the City Mortuary awaiting an autopsy as investigations continue.