Now Uhuru owns up on Sonko ouster as ODM demands slot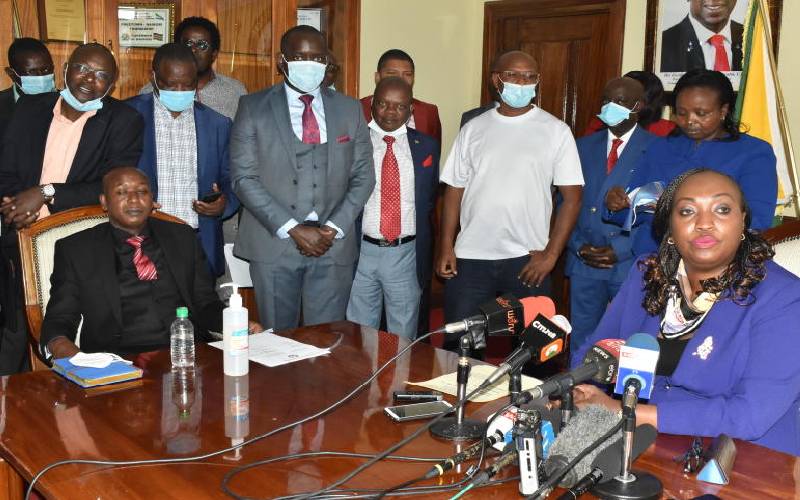 The leadership saga in Nairobi County took a new twist yesterday after acting governor Benson Mutura stepped down.
This paved the way for the embattled deputy governor, Anne Kananu, to ascend to the throne on a day President Uhuru Kenyatta narrated how he instigated the ouster of Nairobi Governor Mike Sonko, offering an insight into how powerful individuals were behind Kananu's swift ascension to take over running of the city.
But even before the ink with which Mutura had used to draft his statement had dried, yet another hurdle was placed on Kananu's path after the Law Society of Kenya obtained orders barring her from being sworn in as a substantive governor.
Minutes after news of Kanau's impending swearing-in as the governor filtered through, Orange Democratic Party waded into the controversy, demanding that one of their members be appointed deputy governor since the party had actively participated in kicking Sonko out.
There were also reports that Kananu's occupation of the governor's office would be temporary, with some sources hinting that plans were afoot to have her resign as soon as she named her deputy, who would effectively succeed her.
"I am not aware of such plans. I have also not named my deputy as plans have not been finalised. Once this is done, we will communicate it officially," Kananu told The Standard.
She was, however, non-committal on whether she would pick her deputy from ODM, explaining that that had not been agreed on, but she did not rule out the possibility.
ODM's Director of Elections Junet Mohammed said his party expected nothing less of the deputy governor's slot.
"We have called a meeting of ODM's Central Committee to deliberate and come up with the name of the person we wish to be nominated as the deputy governor. We assisted in kicking out Sonko on the understanding that this slot would be given to us," Junet said.
Kananu yesterday took over from Mutura as the acting governor, setting the stage for her to take over as the city's next governor.
Meanwhile, in an interview aired on several Kikuyu vernacular radio stations yesterday, President Kenyatta admitted that he instigated Sonko's removal from office because the former county boss had opened battlefronts with everyone, adding that everything in Nairobi had ground to a halt at some point because of his leadership style.
"I am the one who helped him (Sonko) get elected, but we fell out because he was always fighting people. Chaos everywhere. You can now see what our new person ( Maj-Gen Mohamed Badi) has done on city roads and cleaning up Nairobi," he said.
His sentiments were reiterated by Members of the Nairobi County Assembly, who said the events leading up to Kananu taking over office yesterday had the backing of the president, and that they were part of a well-orchestrated plot that began with Sonko's ouster.
Deputy Minority Whip Moses Ogeto said even before plans to oust Sonko began, there was a clear plan backed by both Jubilee and ODM allied MCAs on how the events leading up to yesterday's takeover by Kananu would unfold.
"During the impeachment process, there was a clear roadmap on how we should do what and at what stage. The plan was to first have Sonko impeached and succeeded by Kananu, who would ensure that there was service delivery by working closely with the Nairobi Metropolitan Services," said Ogeto.
Another MCA who sought anonymity said the plan to have Kananu replace Sonko began five months after a State House meeting early last year.
This, he said, was evidenced by the shock takeover last week where Kananu was vetted, approved and sworn in as deputy governor in a record five hours.
"The whole idea of finding Sonko's replacement before his impeachment was aimed at avoiding going for a by-election in Nairobi. Jubilee party was determined to ensure the handover of power was as "seamless" as possible," said the source.
He said Kananu was settled on as the most suitable candidate since she had already been nominated by Sonko for the deputy governor's position.
Yesterday, Sonko hit out at President Kenyatta for owning up that he instigated his ouster from office.
In a strongly-worded statement, Sonko accused the president of advancing his own interests by orchestrating "my illegal and hurried removal from office".
"For the record, it is not Uhuru Kenyatta who made me the Governor of Nairobi. I was validly elected by close to one million residents of Nairobi, garnering more votes than the president himself. And governors are not presidential appointees," said Sonko.
Sonko defended his record in office, citing projects such as the transformation of Pumwani Maternity Hospital, construction of the Karandini, New Wakulima, Mwariro, Westlands and City Park ultra-modern markets, with a combined capacity of over 15,000 traders.
"It is...ridiculous for the president to allude to failure of any administration," Sonko said.