Anne Kananu has officially taken over as Nairobi Deputy Governor two days after she was sworn in.
Ms Kananu, while officially taking over office on Monday, January 18, pledged to prioritise service delivery in Nairobi County for the sake of the social and economic development of the City.
She urged Nairobi residents to cooperate and participate in providing feedback on county development matters while making it clear she was not going to participate in politics.
Read More
"I'm not a politician and I will not start being one. I'm focused on bringing a new spirit of cooperation, collaboration, partnership and mutual respect with all organs of the government," she said, adding that her key partner in service delivery for the County was Nairobi Metropolitan Services team headed by Maj. Gen. (Rtd.) Mohammed Badi.
She vowed to support and work with NMS, unlike former Governor Mike Sonko who was at loggerheads with the entity.
Mutura had been holding the position for the past one month, having been sworn-in as the county's acting boss.
He assumed the role of the Governor in an acting capacity following Mike Sonko's impeachment over charges of abuse of office, a gross violation of the law, committing a crime under the national and international laws and lacking the capability to run the county.
Kananu swearing in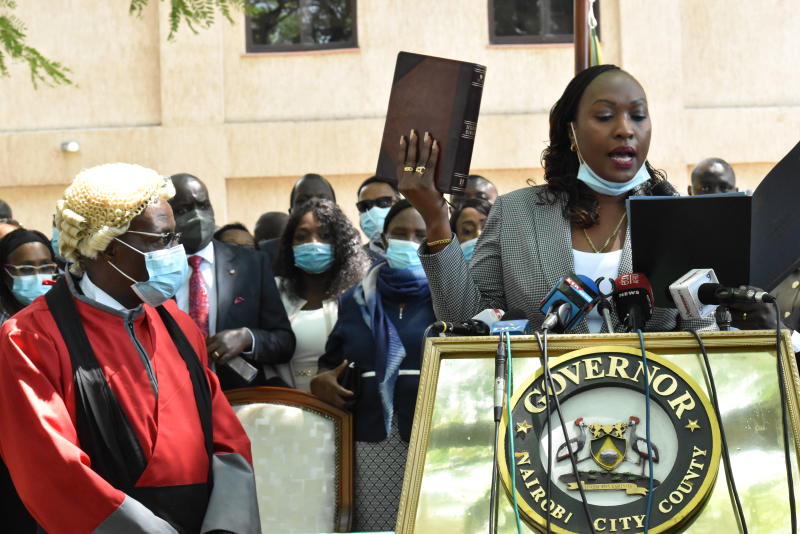 Kananu was sworn-in as Nairobi County's third Deputy Governor on Friday, January 15 after a swift confirmation process by ward representatives the same day, becoming the first female deputy governor.
The office fell vacant in January 2018 following the resignation Polycarp Igathe.
Nairobi's first deputy governor was Jonathan Mueke who served under Evans Kidero's reign from 2013 to 2017.
During her swearing-in ceremony, Ms Kananu pledged to work together with NMS to make sure whatever plans are put in place are accomplished.
The deputy governor also had plans of removing PSVs from the CBD to ease traffic congestion.
On garbage collection, the incoming deputy governor noted that she would implement the Garbage Collection Act and look into converting waste into energy as well as seeking alternative sites for dumping.
The 40-year-old further pledged a good working relationship with assembly leaders.