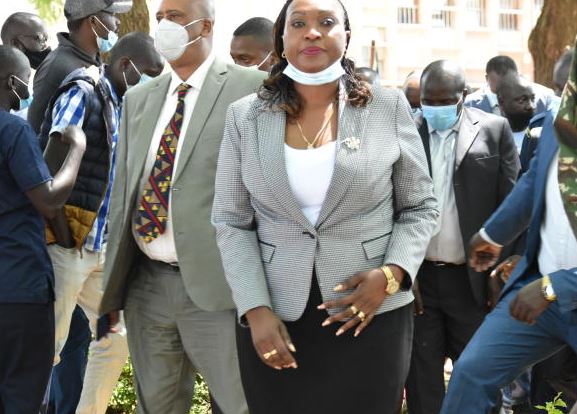 The High Court in Nairobi yesterday morning dismissed two applications, paving the way for Ann Kananu (pictured) to be vetted as a deputy governor and subsequently sworn into office later in the afternoon.
But Justice Anthony Murima cautioned that Kananu's appointment could be reversed after hearing the cases fully.
The judge first threw out an application by activist Okiya Omtatah at 8am and when former governor Mike Sonko asked him to stop Kananu's swearing-in order to allow him to appeal the decision, the judge declined.
According to the judge, the applications were not merited for the court's intervention.
Read More
He noted that although the case had a likelihood of success, the petitioners did not move him to issue temporary orders.
"The parties in this matter are not in agreement and most of the issues remain largely disputed. This court is not convinced that the petitioners have demonstrated that they will suffer any prejudice. They have not demonstrated that the nominee will be approved upon vetting. The court will issue the order for removal of the nominee if in the event if it finds that the vetting and the process is against the law," ruled Justice Murima.
The fight to keep Kananu off the position started crumbling when a voter Peter Agoro withdrew a case filed last year, claiming that Sonko had no powers to appoint Kananu as he had graft cases against her.
Justice Hedwig Ong'undi ruled that the file containing the case by Agoro should be marked as withdrawn and also disregarded a last-minute case filed by Sonko and which sought to block Kananu from assuming office for failing to pay the required assessment fees.
When Agoro sought to withdraw the case, his former lawyer Eliakim Owalo claimed that he was pressured to do so and asked the court to allow him to introduce a second petitioner in order to salvage it. The judge dismissed the application to have a new petitioner come in.
Following the ruling, Omtatah filed a constitutional case, urging the court to halt the vetting. In this case, Sonko was an interested party and supported it, arguing that he had revoked the appointment.
According to Sonko, the plot is to have her vetted, assume the position of a deputy governor, and subsequently take up the capital city's throne.
"The issues involving these petitions revolve around an act which is to be committed. The root points to her being appointed as governor of Nairobi. Ann Kananu is not elected and is unknown to the people of Nairobi and the sovereignty of the people is on the test," said his lawyer Wilfred Nyamu.
For the umpteenth time, lawyers for Sonko pleaded with the court to stop Kananu's vetting process.
At the same time, Nairobi county's acting Governor Benson Mutura claimed the letter now being relied on by Sonko to argue that he revoked Kananu nomination was done after the governor's impeachment and has never received it.