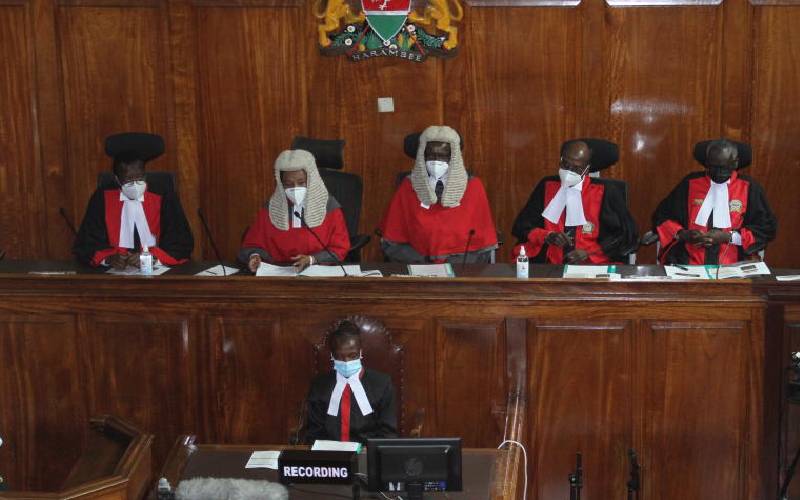 When he turned up for swearing-in as the country's first post-2010 Chief Justice on June 20, 2011, Dr Willy Mutunga was wearing a suit and ear studs.
Together with his deputy, Justice (Rtd) Kalpana Rawal, they had dropped the colonial wigs and robes, which had featured in judicial ceremonies since independence.
With that single act, they triggered a reflection on the place, relevance and utility of relics such as robes, wigs, hats, medals and even gloves in the new dispensation. These relics had featured in Kenya's judicial attire at one point or another.
Much earlier, before them, a judge in England had opined that the formal attire made them look antique and ridiculous. Another American judge claimed that the attire nourished pomposity.
In a long treatise justifying his move, Mutunga traced the history of the regalia through monarchical eras, analysing their utility and concluding that overly formal attire has an inverse relationship with access to justice.
"From the early days of secular courts, authorities were concerned not with providing access to justice for the benefit of their citizens, but with reinforcing support for their own power. Robes and other formal wear were borrowed from clergymen to create the perception of a dignified reign, or from nobles to display their reign's wealth and power," he said.
On utility, he argued it may make slightly more sense- especially since he looked forward to a contested implementation of Chapter 6- to invest in bulletproof vests for judges than to insist on wigs.
"Implementing the new Constitution will soon dawn on us that we may discard robes and wigs and spend money on bulletproof vests, as well as Kevlar jackets as we interpret and rule," he said.
On functionality, he found the wigs and robes "cumbersome, hot and impeding." They have "a distancing effect," negative connotations and "non-African heritage."
After balancing the scales, Mutunga retained ceremonial piece for occasions, but was categorical there would be no wigs or headgear of any type in the new Judiciary. Similarly, lawyers would wear suits of sombre colours and no wigs.
All that obtained, until David Maraga came into the picture in 2016 and the crimson red robes, complete with the "hot and impeding" wig that buried the CJ and the Deputy CJ's ears to litigants surged back.
Nostalgic judges and lawyers itching to go back to the good old days, gleefully, buried the green robes of Supreme Court judges.