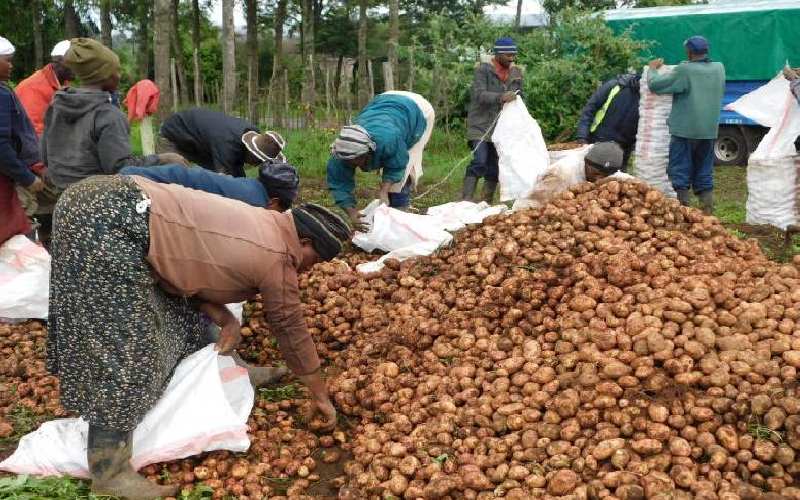 A court has handed farmers a big win after dismissing a case seeking to block the law on packaging potatoes in 50kg bags.
The High Court in Nairobi threw out a case filed by 17 farmers seeking to bar the government from implementing section 42 of the Agriculture Fisheries and Food Authority Act.
The section makes it illegal to package potatoes in bags which can hold more than 50 kilogrammes.

Justice Weldon Korir found that the petitioners did not have evidence to support their case that the packaging law was unconstitutional.
"Nowhere in their pleadings have the petitioners challenged the constitutionality of Section 42 of the Agriculture, Fisheries and Food Authority Act, 2013. The impugned directive was therefore issued in accordance with a valid law. For the stated reasons, I find the instant petition without merit. The same is dismissed," ruled Justice Korir.
The case was filed by Julius Mutiga, Rose Njoroge, Susan Wanjiku, James Wambugu, Joseph Njega, Augustus Vundi, Edith  Wambui, Simon Kabuu, Gideon Kinyua Mwai, Daniel King'ori, Bernard Karanja, Daniel Wachira, Joseph Gachomba, Samuel Muiruri, John Waweru, John Kigogo and Mary Njoki Paul.
Read More
They argued that the directive by Agriculture ministry was issued without consultation with farmers.
According to them, the law had caused suffering and losses stemming from harassment by county governments and the police who enforce it on highways.
The petitioners also claimed that traders were refusing to buy potatoes in smaller bags, adding that they were incurring more cost in packaging and transport.
While opposing the case, AFA told the court that the case was mischievous as there was no complaints that the law was unconstitutional or was being implemented illegally.
Previously, the court heard, brokers opted for exploitative packaging, weighing more than 120 kilos per bag that were bought at a general price without considering its weight.
The authority argued that the directive was also in line with the International Labour Organisation's Maximum Weight Convention No.127 which stipulated that the permissible weight which may be transported manually by one adult should not be more than 55 kilogrammes.
Further, the court heard that the Convention which came into force in Kenya on March 10, 1970, also prohibits the manual transportation of a load which by reason of its weight is likely to jeopardise the health and safety of the transporter.
The government argued that farmers have the liberty to adjust prices in line with the size of the package.
In the case, it continued that farmers were being exploited by middlemen who often repackaged the overloaded bags into smaller bags for their own benefit.
AFA deposed that middlemen who did not adhere to the measurement requirements led to huge price differences of up to 1,000 per cent as a result of usage of extended bags of 130 to 260 kg.