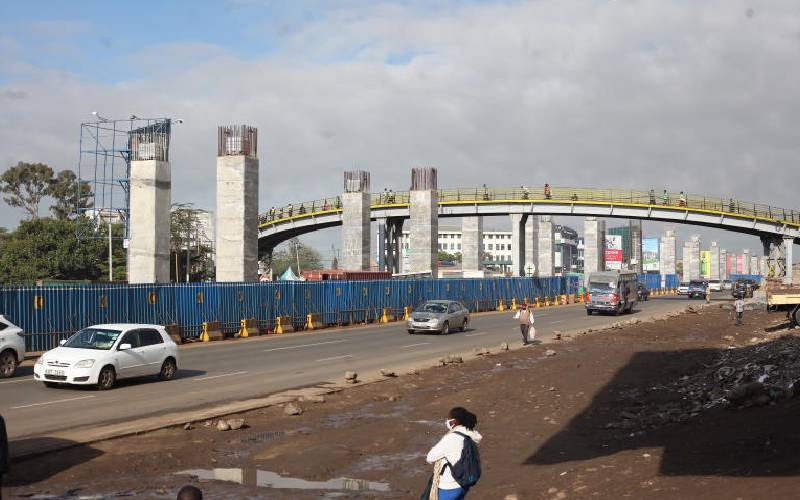 In life, the warrior was not taller than six feet. He lived at the time might was everything and one survived depending on how far he could expertly hurl a club or spear at the enemy.
The only images available are of a muscular, spear-wielding man, clothed in skin and proudly displaying a tobacco snuff container hanging from his neck.
His name conjures up memories of a distant past when Kenya was just a fantasy of penniless adventure-seeking missionaries and renegade empire builders.
But next year, when the futuristic Nairobi Expressway comes into being, everybody driving through Westlands and beyond will have to encounter Waiyaki Wa Hinga. His eyes questioningly peering into space, perhaps wondering when the 128-year injustice committed by his "blood brothers" will be corrected.
Read More
Happy ending
The feat to locate him here has been a long and bitter contest promising a happy ending.
On March 21, 2018, Mbari Ya Hinga Society, which has 3,000 members, scored a big win after it got the green light to erect a monument along Waiyaki Way.
The letter formalising the feat was short but pregnant with meaning. "This is to inform you that Nairobi City County has received and evaluated the proposed site for putting up the Waiyaki Wa Hinga Monument."
Writing on behalf of the city's Director of Urban Designs and Outdoor advertisement, Patrick Analo added: "Please be advised that in order to finalise your approval, seek the consent of development on the proposed site from the Kenya National Highways Authority (KeNHA)."
KeNHA indicated on July 17, 2019, that it did not have any problem with the monument.
KeNHA's Director General Peter Mundinia wrote: "Please liaise with our representative engineer in identifying where the proposed statue will be located upon completion of ongoing road works."
It is expected that once the construction of Nairobi Expressway is completed, the monument will be strategically located possibly where the Westlands roundabout exists.
The inanimate bronze statue of Waiyaki will give a face to a century of colonialism, struggle for self-determination and the problems of a free Kenya trying to run away from the ghosts of its past.
One of the legendary chief's great great-grandsons, Evans Jomo Waiyaki, estimates that the creation of the bronze statue by Kenyatta University sculptors will cost Sh20 million.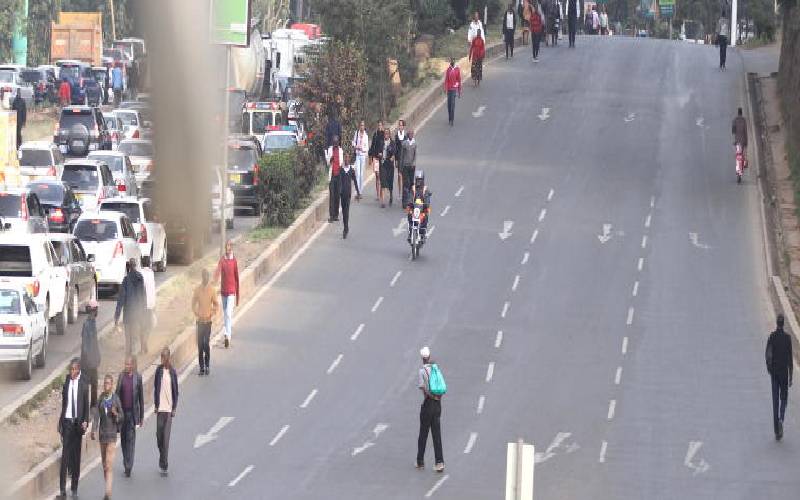 And many who encounter the statue will ponder how fate conspired to unite two hitherto warring communities to produce three families whose progeny has dominated the history and politics of Kenya for more than 130 years.
Waiyaki Wa Hinga's story further deconstructs the bloodline of two of Kenya's presidents and how the Waiyaki, Muhoho and Kenyatta families have negotiated the blurring lines separating colonial collaborators and freedom fighters but never danced too far away from power.
Long before the colonialists came into Kenya and started cobbling up a country, there lived Kumale ole Lemotaka in Koiyaki area in Loita of Transmara District.
Faced by inter-clan wars, livestock diseases and famine, Lemotaka fled from Mara accompanied by his mother Naisiria at around 1840 and settled in Gatundu in Kiambu, according to Evans Jomo Waiyaki.
He was hosted by Gathecha Wa Ngekenya, who implored ole Lemotaka to undergo a cultural ritual of being born again so that he too could become a naturalised Kikuyu. Lemotaka declined. The Kikuyu had an elaborate ritual of 'bestowing citizenship' to a person who had no blood relation with the family, clan or even the community to create a sense of belonging.
The ceremony mimicked the birth of a child where a goat was slaughtered. Thongs from the goat's meat would be used as a bond to tie and unite the host and the adopted son or daughter. Clan secrets would be divulged to the new members after which choice pieces of meat were shared by the person joining the clan, family or community.
There was beer for libation and after the blessing, the new member was bestowed all rights and privileges enjoyed by biological daughters and sons of the community.
A reverse ceremony could be held, presided by elders to cast away a wayward family or clan member who had broken all the taboos and codes of behaviour.
After the solemn ceremony, such an outcast was symbolically "thrown away" with an arrowhead.
The two men became close friends. To the locals, ole Lemotaka simply became known as Hinga (hypocrite) because he was conversant with Maasai and Kikuyu languages and was suspected to be a spy when inter-communal cattle raids were being plotted.
Young maid
To cement the relationship between the two friends, Hinga was gifted a young maid, Enkena, which in Masaai meant 'my breasts' but was kikuyunised into Ngina.
The young girl would later give birth to Koiyaki ole Kumali, who was later to be known as Waiyaki wa Hinga.
To put things in proper perspective, Gathecha Wa Ngekenya had also migrated from Maasai land and settled in Gatundu earlier, where he was assimilated by the locals and became a Kikuyu.
Waiyaki's father migrated to Karura Ka Nyungu in Kiambu and procured land from the Dorobo, according to Evans Jomo Waiyaki. The family branched off from Karura after Waiyaki and his brother, Githieya ventured to Gataara River, the source of Mbagathi River, and would later occupy the land around Dagoretti.
Paul Sulivan, in his book, Kikuyu District, which is based on letters written by Francis Hall, a pioneer administrator, writes that Kikuyu district in 1892 was dangerous and a no man's land as it acted as a buffer between the warring Maasai and Kikuyu warriors.
This is what he had to say about Waiyaki's men. "The Kikuyu are treacherous. They have continually worried the company, Imperial British East Africa (IBEA), ever since they arrived. To begin with, they attacked and destroyed the first station the company built near here.
On another occasion, they attacked a caravan that was carrying up the steel boat in sections and wrecked it. Then, they murdered the mailmen and destroyed the mails.
The real reason for the hostility between the locals and IBEA men and their caravans is contextualised by a Scottish missionary, Robert McPherson, in his book: The Presbyterian Church In Kenya: An account of the origins and growth of Presbyterian Church of East Africa.
According to McPherson, the relationship between the locals and IBEA officers deteriorated after Captain Fredrick Lugard, who had signed a blood brotherhood pact with Waiyaki on October 20, 1890, departed to Uganda in November 1890.
The author writes that the caravans heading to Uganda required food supply. "The armed porters and askaris were freebooters almost to a man accustomed to looting as an opportunity might offer. The local tradition is that armed parties sent to buy food helped themselves without payment."
Women were molested and Kikuyu friendlies (locals who assisted the whites to molest Africans) exploited the friendship with the armed porters to settle personal scores.
In April 1891, a punitive expedition was dispatched to Kikuyu following the burning down of a fort in Dagoretti and when it reached Waiyaki's village, it destroyed the thorn fence and established a fort, which would later be called Fort Smith.
In August 1892, just a few days before the arrival of the railway survey team, a food-collecting party of 15 was duped by Kamau Wamagata to assist him to collect dowry arrears in form of some goats in Githiga from Kiarie Gathuura, who was an in-law.
The party, among them Maktub, the head man which was armed with guns and spears tried to take the goats by force and they were all killed.
In retaliation, Purkiss (nicknamed mbaya by the locals) who was in charge of Fort Smith sent men armed with 200 rifles to Githiga guided by a Kinyanjui Wa Gathirimu. There, 30 villages were burnt down, all the crops destroyed and 50 goats confiscated.
On learning this, Waiyaki stormed Fort Smith on August 16, 1892, to confront Purkiss and his men over the anarchy unleashed in Githiga. Waiyaki was subdued, injured and held captive.
His father pleaded for Waiyaki's release and when all failed, Ngina, his mother gave a goat as a sign of blessing and to forestall any evil spirits which might befall him on the way to Mombasa where he was supposed to be charged for the attack on whites. The goat was slaughtered and eaten but Waiyaki spent the night chained to a flagpole outside the fort, where the Union Jack was raised the following morning. Since Waiyaki was too weak to walk to Mombasa, on account of the wound inflicted by his tormentors, he was buried alive at Kibwezi.
These are Evans Jomo Waiyaki's recollection: "My grandfather, Munyua Waiyaki, who was a boy just about to be circumcised, witnessed this debacle and later narrated it to my father. He often told how the entire Waiyaki family scattered and only reunited three years later in 1895."
After Waiyaki's capture, a caravan of 400 porters and a group of white men set off from Fort Smith with their captive warrior who was weak and in chains as a group of local warriors timidly trailed them.
When they reached the present-day Mukuru Kwa Reuben, Waiyaki pleaded with his followers not to engage the caravan fearing they would all be annihilated as the porters were heavily armed with guns.
Waiyaki Way in Westlands is named after this chief and it is in recognition of the resistance he mounted to protest the oppression of his people and the seizure of his land that a monument will be constructed by his family to immortalise him.
Unlike Hinga's family, Gathecha Wa Ngekenya's found favour with the colonial government, which took over the assets and liabilities of IBEA when it went broke.
Long before Kenya became a colony, Gathecha was made the chief of Ngenda but like Waiyaki, he defied the colonialists. In turn, they deposed and exiled him on March 2, 1914, exactly 22 years after Waiyaki was killed.
Although the colonial government publicly said it had exiled Gathecha for five years in Nyanza after he was deeply implicated in a judicial murder which took place in his division, his family was later horrified to learn that he had been killed.
"My father (Muhoho Wa Gathecha) told me he saw chief Gathecha being fetched from the compound he had been confined to and led away to an unknown place. My father later learnt that my grandfather (Gathecha) had been tied to a horse and dragged along a road until he died," recounts one of the administrator's grandson, Paul Gathecha Muhoho.
The grandson explained that the colonial government was determined to kill the chief because he had defied orders to allow settlers to occupy land beyond Gathege and Kimunyu areas.
When Muhoho was allowed to return to Ngenda location, he found that it had been split into two and he was directed to take over Kiganjo as its new chief.
Like his father, Muhoho too earned the wrath of the colonial government during the struggle for Kenya's independence when one of his daughters, Ngina, was married by Jomo Kenyatta. Muhoho Gathecha was sacked as chief and replaced by his brother Kinyua Gathecha.
And just like had happened to the Waiyaki Wa Hinga family in 1892, the Gathechas too were targeted, according to Paul Muhoho.
Muhoho recalled how the family was scattered as his father, Ngina and Kenyatta were all locked up in various detention centres by the colonialists.
"My father was incarcerated, my sister Ngina was also locked up at Kamiti," Muhoho adds.
During this year's Mashujaa Day celebrations in Kisii, President Uhuru Kenyatta, whose mother is related to the Waiyakis, paid special tribute to the iconic warrior.
"Chief Waiyaki wa Hinga led a resistance movement of the Agikuyu against the leadership of the British administration towards the end of the 19th Century. His main complaint was that the colonisers were excessive in their demand for livestock and labour from his people. And during one of the disagreements, he is said to have burnt down a British establishment in his jurisdiction in 1890".
Uhuru remarked: "Two years later, in 1892, Waiyaki wa Hinga was arrested and buried alive at Manyani Maximum Prison in Taita Taveta. He died a hero. And today, I cannot be more proud than I was last week when in the same venue in Manyani, I introduced the future heroes of our Nation."
Uhuru will be more fulfilled when the bronze statute finally comes up in Westlands under his imposing legacy project, Nairobi Expressway, which will hopefully be completed at the tail end of his 10-year presidency.