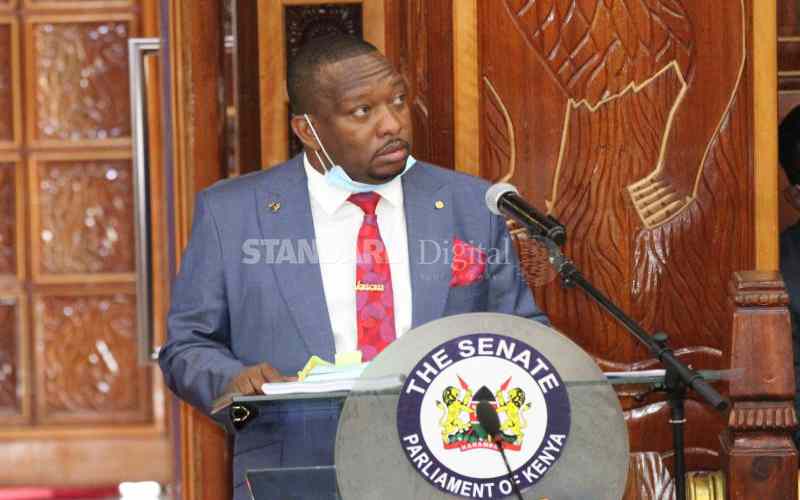 Former Nairobi Governor Mike Sonko now wants the electoral commission stopped from conducting a by-election for the seat he held.
Through an urgent application filed at the High Court, Sonko had also wanted to stop Nairobi County Assembly Speaker Benson Mutura from taking over as acting governor but that was overtaken by events since Mutura had been sworn-in by the time the suit was filed.
Mutura is expected to act for 60 days before Independent Electoral and Boundaries Commission (IEBC) conducts a by-election for Nairobi residents to elect a new governor.
But Sonko, through lawyer Wilfred Nyamu, argued that his impeachment by both Nairobi County Assembly on December 3 and the Senate on December 17 was illegal since it did not meet the threshold to remove him from office and occasion the by-election.
"IEBC will be proceeding on an illegality if they proceed to hold elections for the gubernatorial seat for Nairobi City County."
Read More
Nyamu said the speed at which Mutura was sworn-in when the law allows for 10 days before the swearing-in showed there were powerful forces who wanted Sonko out in total disregard of his rights to fair administrative action.
Sonko, in his affidavit, said his removal was compromised from the beginning.
"No select committee was appointed by the County Assembly to investigate allegations levelled against me.
They did not give the public a chance to participate in the proceedings and ended up with a decision that has been disowned by over 57 MCAs," he said.