Theatre gloom kills holiday mood as local films bloom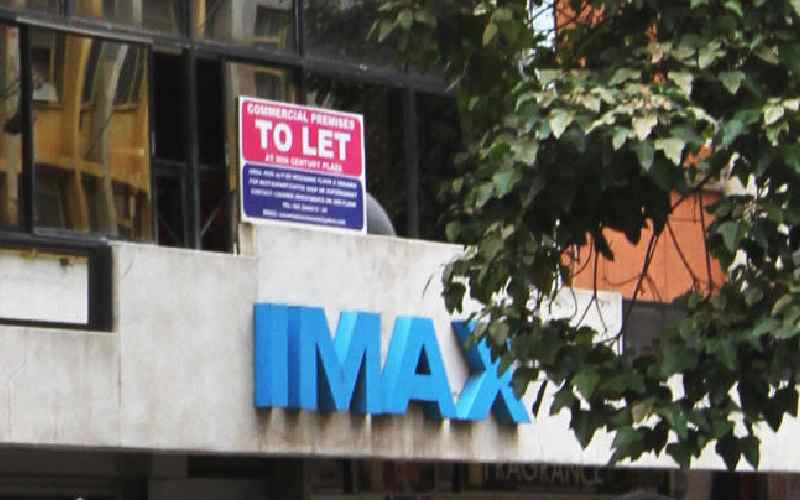 The oldest and iconic film theater in Nairobi, 20th Century – IMAX – along Mama Ngina Street, has been converted into an eatery.
Having closed down earlier in the year as bills piled, with no one attending the filming shows due to Covid-19-related reasons, the exit spelt a perfect warning that the theatre world is facing tough times.
The full effects of the worst year in the theater industry is being felt this holiday season. Hollywood is not releasing any blockbusters to mark the usually busy Christmas season. Local theatres have nothing to show. And movie lovers who throng theatres for their leisure have to look elsewhere.
Since the beginning of the pandemic, catching a flick now means getting comfortable on the couch with Netflix or other streaming sites. But not being inside a theatre has not been the only downside as far as film is concerned.
Many of our favourite and most anticipated blockbusters had their opening dates pushed, some more than twice, leaving us constantly yearning for film entertainment for months on end.
The year started off on a high note with lots of promise, with Sony Pictures Entertainment's Bad Boys For Life and Paramount Pictures' Sonic the Hedgehog. The year's most anticipated films like a new James Bond movie, a live action remake of "Mulan", and the return of the Ghostbusters were all lined up to be released in the course of the year.
But that was not to be. Most of the movies were either delayed or pushed to next year because productions stalled due to the pandemic.
The first major film to be most affected is No Time to Die. It is the 25th adventure in the James Bond series and has moved its release date thrice now. With the last time Bond was seen on the big screen being 2015, it was expected that in April fans would get a chance to see Daniel Craig's last 007 adventure, but that was moved to November, only to be postponed yet again to April next year.
This comes after other big budget productions, such as Mulan and Trolls World Tour, made the decision to forego theatres entirely and premiere on streaming services. Wonder Woman 1984, which is the sequel to the 2017 hit, expected to be one of the biggest films of the year, and has bounced around the calendar, moving from June to August to October to Christmas.
The film, Tenet, Christine Nolan's epic thriller, which was originally set to be released in July, delayed until August, albeit with a rocky start. CNN reported that the film, which cost $200 million (Sh22 billion) to produce only made roughly $30 million (Sh3.3 billion) in the US.
However, for Warner Bros, the news is not all bad since Tenet performed admirably overseas. It seems theatre is dead, at least for this year, and the only chance we have to view our favorite films is if studios release a film digitally like Mulan on Disney+.
Locally, however, it could not be a better time for filmmakers. We saw films shot, produced and directed by Kenyans premiere on Netflix, the biggest international streaming service. Not one, or two, but four movies had a chance to open on Netflix, receiving overwhelming support from Kenyans for finally entering the international scene.
Debut on Netflix
Poacher was the first local production to be carried on the site, directed by Tom Whitworth, two years after it was made. A month later, on October 9, Sincerely Daisy premiered. The film was scripted by Natasha Likimani, who also wrote Veve that became the first Kenyan film available for streaming on Netflix. Sincerely Daisy was directed and produced by Nick Mutuma, and starred Ellah Maina, Foi Wambui and Sam Psenjen, among others.
Nick Mutuma also cast in yet another Kenyan production titled Disconnect, which made its debut on Netflix. Premiering on the platform on October 16, and directed by David 'Tosh' Gitonga and Michael Jones, the film explores the intricacies and absurdities of the Nairobi dating scene. The film features Kenya's most notable actors like Brenda Wairimu, Nick Mutuma, Bridget Shighadi, Pascal Tokodi and Catherine Kamau.
The latest Kenyan movie to grace Netflix this November was 40 Sticks, a thriller that revolves around a group of death row prisoners trapped in a crashed prison bus striving to stay alive while a mysterious killer lurks in the shadows. The movie is risky, seeing as thrillers are not Kenya's preferred genre. But as producer Sarah Hassan told The Standard in an interview, "We took a chance on it but it paid off. The message here really is to dare because no idea is too big or too small."
Away from Netflix, on November 10, the Kenya Film Commission announced The Letter as Kenya's official submission for the 93rd Academy Awards (Oscars) in the Best International Feature Film Category. The commission is also officially recognised by the Academy of Motion Pictures, Arts and Sciences to set up an Oscars Selection Committee from industry associations and guilds to make submissions for the Best International Feature Film Category Award (formerly known as the Best Foreign Language Film Category Award) on behalf of the Kenyan film industry.
However, Kenya has had a long walk to success, as the industry was marred by controversy just five months ago. Spearheaded by Likarion Wainaina of Super Modo fame, filmmakers and fans rallied behind the hashtag #KECreativesDeserveBettter.
Wainaina's story roused anger among netizen, as he explained in a series of tweets that he returned from Europe after winning the award only to find his house locked due to rent arrears. The hashtag was a call to action against rogue production companies that have taken monopoly of the industry and allegedly been exploiting and mistreating crew and cast members for years.
In a June 11 presser, the Kenya Film Commission said a working group committee would be formed to address some of the issues of concern and the code of business conduct that touches on all filmmakers.
Riverwood is bedeviled with a myriad of other issues like little infrastructure and skill development, financing, equipment provision, and promotion.
Despite all these hurdles, getting representation in an international platform indicates, if nothing else, a bright future for the Kenyan film industry.