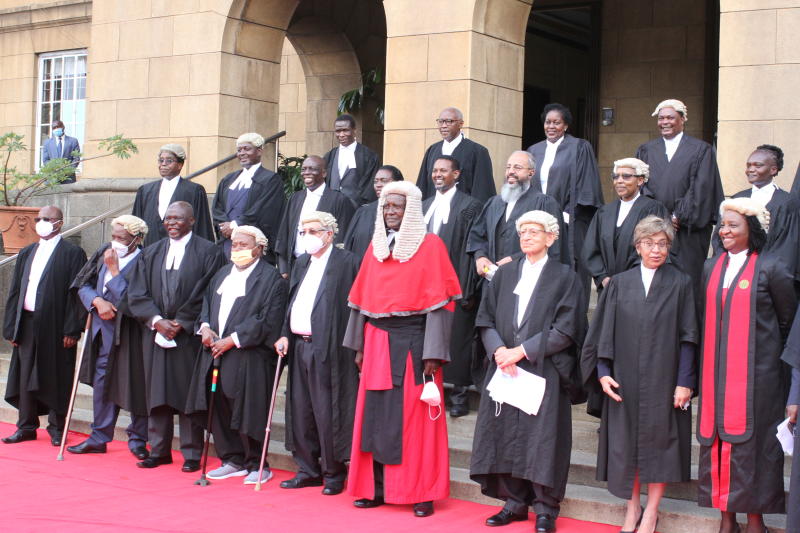 A last-ditch effort to scuttle a ceremony in which 24 lawyers were to join the prestigious senior counsel club is said to have played out hours before the event.
It was only a call by Judiciary Chief Registrar Anne Amadi that spared the advocates, who had already taken their seats at the Supreme Court grounds, from embarrassment.
Chief Justice David Maraga was on his way home for lunch when he directed his driver to make a U-turn near the Bomas of Kenya and return to the city centre. "I was told the CJ has no role to play in this ceremony," Mr Maraga said on Thursday without disclosing any names.
Ms Amadi only called the Chief Justice after the Government Printer released a special Kenya Gazette notice with a list of the recipients' names.
As this was going on, the advocates–resplendent in black robes and wigs–waited patiently in the company of family and friends. Maraga, who was dressed in a red robe and wig, walked into the venue at 1.35pm in the company of Amadi, Senior Counsel Fred Ojiambo and Omesh Kapila, who is a member of the Committee on Appointment of Senior Counsel.
Maraga said even without the conferment, the 24 advocates had treated the courts with the respect and honesty demanded of senior counsel.
He disclosed that while judges and magistrates had voiced concerns about some advocates they claimed had no respect for the courts, none of the 24 featured on the list.
"If you were brought before me to assess if you deserve being admitted to the rank, I honestly would admit all of you," said Maraga.
The Law Society of Kenya had earlier revoked the nomination of the advocates on the grounds that the Committee on Appointment of Senior Counsel had allegedly overlooked some deserving candidates.
After President Uhuru Kenyatta nominated the advocates on July 20, LSK President Nelson Havi opposed the selection process on the grounds that some of the appointments were based on impartiality and favouritism.
But on Thursday, Mr Ojiambo said the opposition had been overtaken by events. "This cohort of senior counsel has finally signed the roll after a rather regrettable delay. There were a few hiccups along the way, including a rather unfortunate attempt by LSK to scuttle this process."
Senior counsel
The new senior counsel include Parkash Nagpal, Fackson Kagwe, Pravin Bowry, Rautta Athiambo, Fredrick Ngatia, Philip Murgor, Albert Mumma, Beauttah Siganga, Charles Gatonye, Kiragu Kimani, Kioko Kilukumi, Wilfred Nderitu and John Chigiti, Abdikadir Mohammed and Otiende Amollo.
Wiper leader Kalonzo Musyoka, who was also gazetted, did not attend the ceremony as he was away on official duty in the Democratic Republic of Congo.
Central Bank of Kenya chairman Mohammed Nyaoga, former Mombasa mayor Taib Ali Taib and the Sports Tribunal chairman John Ohaga also joined the rank. The number of women in the senior rank increased following the conferment of Martha Karua, Judy Thongori, Zehrabanu Janmohamed, Patricia Nyaundi and Deputy DPP Dorcas Oduor.