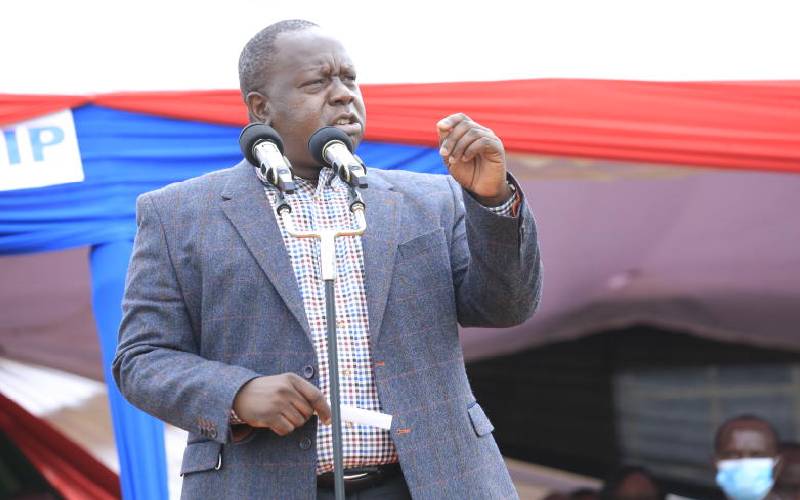 Interior Cabinet Secretary Fred Matiang'i asked parents to instil ethics in their children to curb the rising cases of moral decadence among teenagers.
Speaking during an interview on a local TV station on Monday, Matiang'i (pictured) said the recent cases of teens taking alcohol and engaging in indecent activities was down to poor parenting, adding that parents should not shift that responsibility to the society.
"The level of parental responsibility in our country is very low. Let us not pretend…Society will not raise your children for you.
"The government will not raise your children for you either. It is upon us to make our contribution and support institutions that are creating frameworks for supporting law and order in the country," he said.
Read More
Matiang'i said his ministry is still probing the recent cases where school-going teenagers eloped from homes to attend weird parties and engage in immoral activities, adding that he was reliably informed that there is a network influenced by adults preying on young people.
He warned that those responsible would face the full force of the law but emphasised that the government can only do so much.
This comes just days after police pounced on 44 teenagers making merry in a house in Mountain View.
According to one of the teenagers, there was a link doing rounds on Instagram, inviting any young person interested in attending the birthday party to check-in.
Most of the people who attended the party met for the first time in the house. The instruction was for them to arrive at a mall in the area and call the owner of the house to direct them to the place, which was a few metres away.
Police say they have arrested a 41-year-old woman and her son in connection with the incident.
The teenagers came from different parts of the country, with some travelling from as far as Kericho and Machakos counties.
Police say when they arrived at the home, most of the teenagers were intoxicated. Some were so drunk they could barely walk and were unaware of where they were.
The music had been turned low and lights in some rooms switched off; perhaps to avoid attention.
The party had attracted girls and boys aged between 11 and 18. Some of them had left home in the guise of going to study and changed to revealing clothing once they arrived at the party.