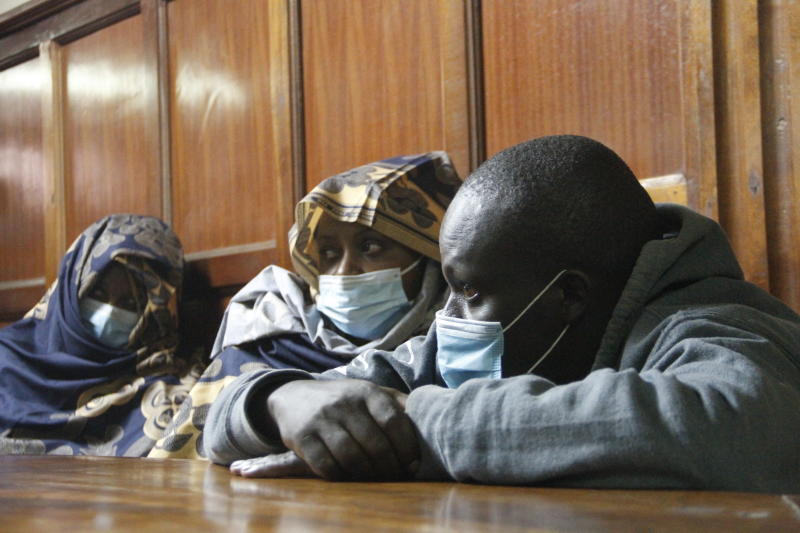 A child trafficking scandal has hit Mama Lucy Hospital in Nairobi as the State moved to confront an international media report on a suspected child theft syndicate.
Hospital Chief Executive Officer Emma Mutio, administrator Regina Musembi and a social worker Fred Makallah were presented to court on Wednesday but did not plead to charges of child trafficking as investigators sought 10 days to enable them complete investigations.
Chief Inspector Wanga Masake, in his application to have the three detained, said they began investigations following reports that children born at the hospital were being sold at between Sh100,000 to Sh300,000.
According to the investigator, they followed leads from a BBC exposé on child trafficking at the hospital in which Makallah was reportedly seen negotiating with an undercover journalist to sell a child who had been abandoned at the hospital.
He said Makallah was seen receiving a substantial amount from the journalist after handing over three children, and that they believe he was working with other staff including the CEO.
Read More
Complex chain
"Upon his arrest, he mentioned his bosses, Dr Mutio and Ms Musembi as part of the complex chain of child trafficking. Our intelligence has discovered that many children have been stolen from the hospital between March and June this year," said Masake.
Masake pleaded with the court to grant the request for 10 day's detention, arguing that the CEO and the administrator have influence over staff who are witnesses in the case and would interfere with the investigations.
He added that the two are also custodians of important documents investigators will require to unravel the child theft syndicate and that they are likely to destroy the evidence if released before investigations are concluded.
"This is a cartel and we need time to go to the root of the matter and arrest those still at large. This is a well organised criminal gang whose other players are yet to be established," said Masake.
But the suspects' lawyers led by Dunstan Omari opposed the 10 days detention, arguing that there were no compelling reasons to give police more days to conduct investigations.
According to Omari, the DCI made a mistake by arresting Dr Mutio who just joined the institution 10 days ago from Mbagathi Hospital where she also served as the CEO.
"She was transferred to the hospital just 10 days ago and has not even been able to take full control of the facility. You cannot arrest and charge her for an offence which allegedly took place between March and June when she was not in charge," said Omari.
Omari told the magistrate that the 10 days requested by investigators were unlawful and pleaded with the magistrate to release them given that they are health workers whose services are required in the fight against Covid-19.
In the proposed charge sheet filed in court, investigators want to charge them with three counts of promoting child trafficking.
Milimani Principal Magistrate Bernard Ochoi will rule today on the application to detain the suspects for ten days.