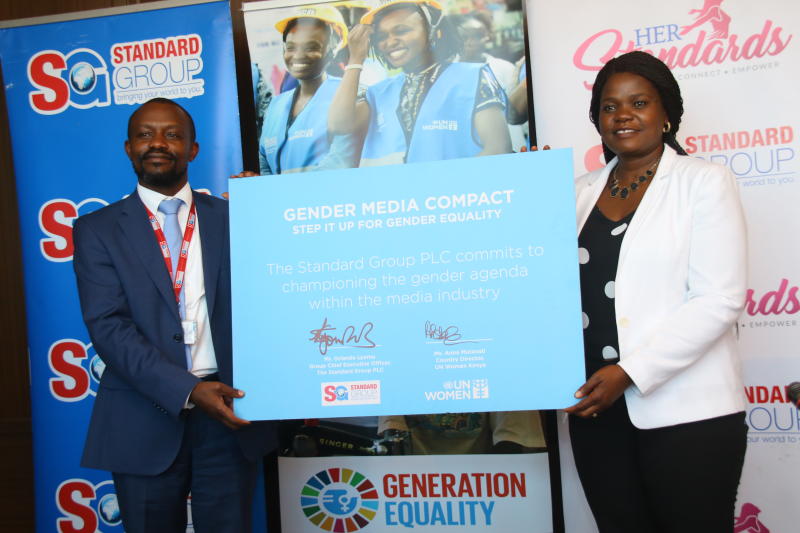 The Standard Group has signed a partnership with UN Women to champion the gender agenda in the media industry
The Media Compact Agreement will see the Standard Group use its platforms to highlight issues that concern women.
Speaking on Wednesday, Standard Group CEO Orlando Lyomu said gender equality and women's empowerment were integral to achieving inclusive and sustainable development.
"Women and girls everywhere must have equal rights and opportunity, and be able to live free of violence and discrimination. Gender equality by 2030 requires urgent action to eliminate the many root causes of discrimination that still curtail women's rights in private and public spheres," Lyomu said.
He added that the Standard Group was committed to improving the physical environment and facilities for women, enforcing a zero-tolerance policy to sexual harassment, and promoting gender-balanced editorial coverage.
Read More
In October 2018, the company launched the Standard Group Women Network to improve the welfare of its female employees.
UN Women Country Director Anna Mutavati applauded the company's efforts and said the media was key in advancing women's issues.
"Media is the most pervasive and one of the most powerful tools in the modern world. It influences how we view men and women. Woven in our daily lives, media insinuate their messages into our consciousness at every turn. Deep seated discriminatory norms, stereotypes and prejudice remain pervasive, thus holding back women and girls from realising their rights.
"This is why we are advocating for media houses to make gender equality integral to how they operate, whether in terms of stories they produce, people they hire or skills they develop," said Mutavati.