Keep off rent matters, Badi now tells Sonko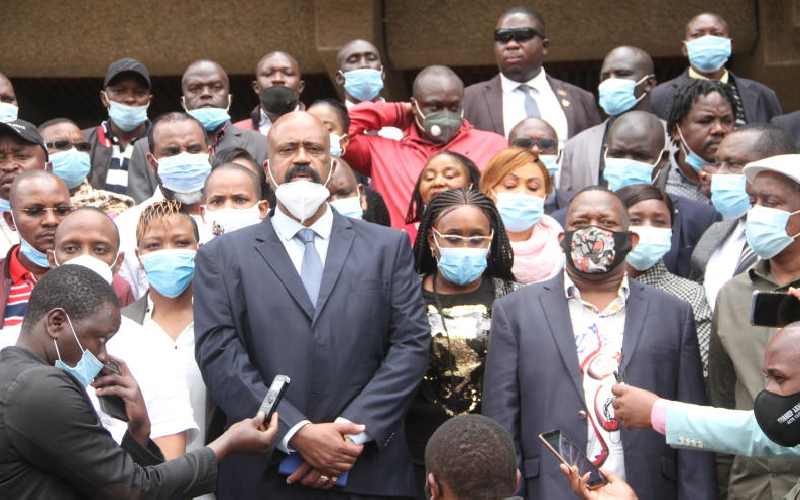 A new tussle between Nairobi Governor Mike Sonko and Nairobi Metropolitan Service (NMS) boss Mohammed Badi has emerged over issuance of rent waivers.
NMS Director General Badi criticised Sonko for issuing rental waivers to tenants living in county houses, noting he has no such authority since housing function was moved from the governor's docket under the deed of transfer.
Sonko last month extended rent waivers to tenants residing in county houses for six more months.
Sonko, in a statement, said the extension was occasioned by the financial challenges presented by Covid-19.
The governor also accused Kenya Revenue Authority (KRA) and NMS officials of harassing vulnerable city residents over rent arrears despite the current economic crisis occasioned by the pandemic.
But in a rejoinder, Badi said the governor was over-stepping his mandate.
"It (the rent waiver) is not legitimate because housing is a transferred function to NMS. Sonko has absolutely no authority to waive. After all, the Kenya Revenue Authority is the one collecting revenue, not the governor," said Badi during an interview on Citizen TV last week.
The move by Sonko to declare a rent waiver emanated from the Nairobi County Assembly after MCAs put Sonko to task over the issue.
Woodley MCA Mwangi Njahia had sought to know why county employees are threatening tenants with eviction despite rate and rent waivers on arrears issued by Sonko.
The county has 17,000 houses in Maringo, Uhuru, Kaloleni, Jericho, Buru, Kariobangi South, Ziwani and Jerusalem whose tenants pay between Sh2,000 and Sh20,000 monthly rent depending on the location.
The declaration by Sonko has, however, put him on a war path with Badi, with each claiming control of rent matters.